'Bachelorette' Star Kaitlyn Bristowe's New Gig Is On Broadway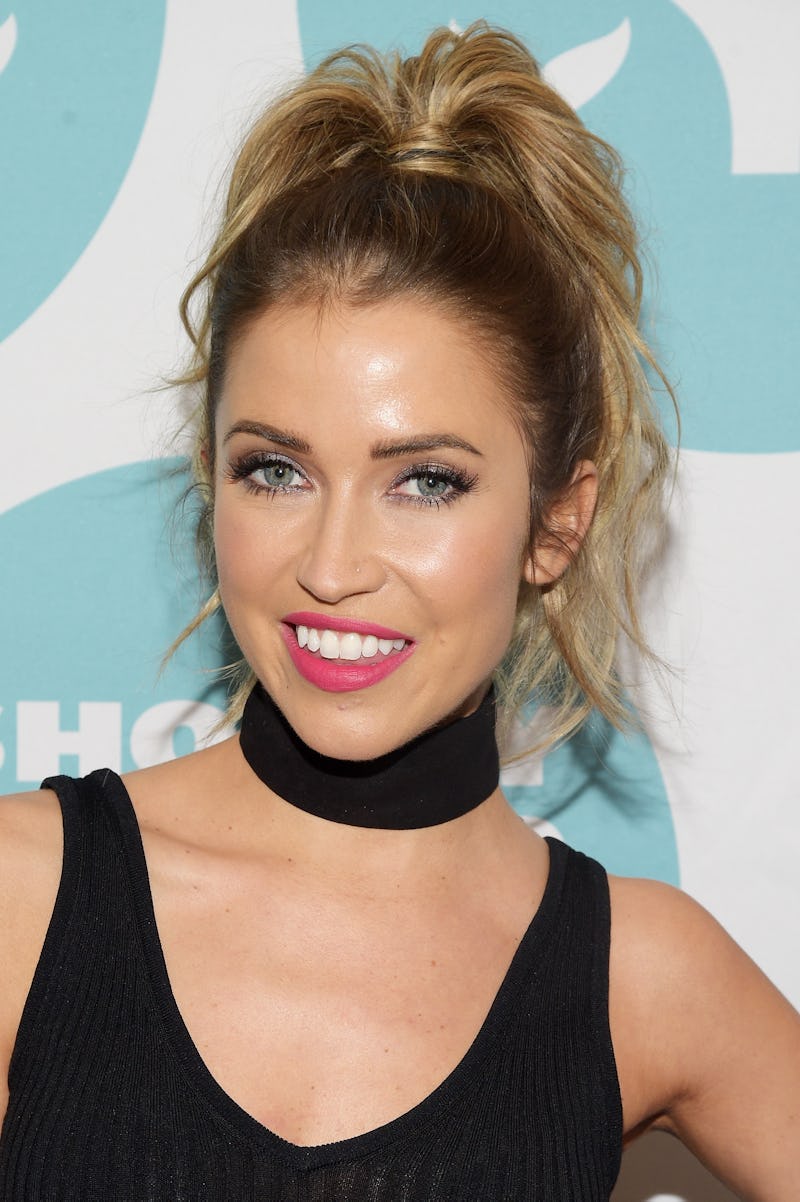 Jason Kempin/Getty Images Entertainment/Getty Images
Most Bachelor and Bachelorette alums go on to a career of posting sponsored photos on Instagram. There's nothing wrong for striking while the iron is hot, but Kaitlyn Bristowe has done more than that. She has turned her reality TV stardom into a bona fide career, and Kaitlyn Bristowe's newest gig is on the Broadway stage, as People reports.
Kaitlyn shared the news that she will make her Broadway debut in the show Home for the Holidays during the Oct. 24 episode of her Off the Vine podcast. She had her fiancé, Shawn Booth, on as her special guest to discuss her big announcement. The star of The Bachelorette Season 11 shared, "That's what dreams are made of, if you ask me. If you had asked me when I was little, like, 'Imagine you were on Broadway,' I'd be like, 'Yeah, right.'"
Kaitlyn actually does have a great deal of dance experience, which explains her Broadway dreams. She told Shawn, "I grew up dancing and singing and I just love everything about that. I love going to Broadway shows." Plus, anyone in Bachelor Nation knows that her occupation was listed as "dance instructor" when she pursued Chris Soules during Season 19 of The Bachelor.
People reports that the show was supposed to take place in Las Vegas, but will be at the Wilson Theater in New York City in November and December of this year. It will also feature reality competition stars from American Idol, The Voice, and America's Got Talent.
Kaitlyn was so excited about the news that she also posted about it on Twitter. She exclaimed, "DREAMS REALLY DO COME TRUE" with a link to an tweet about her new role.
She also clarified her role in Home for the Holidays via tweet along with a promotional image from the show. She shared that she would be "hosting and joining the cast for a couple songs!!!" This combines everything that Kaitlyn's fans know her for. She can bring her witty charm that she was known for on The Bachelor and The Bachelorette, her hosting abilities that she has perfected on her podcast, and she gets to tap into her background as a performer.
Aside from the applicable dance experience that Kaitlyn has, this Broadway stint will allow her to show off something that she's been working on for a long time. In a March 2016 interview with Entertainment Tonight Canada, Kaitlyn shared, "I've gotten into singing out in Nashville." The former reality star added, "I absolutely love singing and I'm gonna go for it!" She also said that she was working with a vocal coach and a songwriter. It really does seem like everything is coming together perfectly and that Broadway is the right move for Kaitlyn.
She isn't completely leaving the Bachelor world behind, though. No, there is no reality TV broadcast of this performance, but in true Bachelor spon-con fashion, Kaitlyn even comes through for her followers with a promotional code to get discounted tickets to the show.
It's nice to see that Kaitlyn finally gets to share her dance experience with the world. In February 2017, the last Bachelor star, Nick Viall, was announced as a cast member on Dancing With the Stars, which prompted Kaitlyn's fellow Bachelor 19 alum Whitney Bischoff to tweet, "why does a bachelorette never get this gig @BachelorABC?!? I wanted to see @kaitlynbristowe shake her tail feather!"
Kaitlyn then responded and claimed, "Actually I was offered it, had the contract & Mike Fliess told me I wasn't allowed. He said he didnt want people wanting fame after his show."
Kaitlyn explained her DWTS tweet in an interview with Us Weekly. She said, "I believe men and women should be afforded the same opportunities. That has not been the case with the Bachelorettes and the Bachelors." She then claimed, "I had an offer to do Dancing With the Stars and was told by [Bachelor creator] Mike [Fleiss] I could not. I was told by Mike that it is bad for his brand, and that he is sick of people wanting fame from his show." Which is painfully ironic considering that so many people parlay "looking for love" into paid club appearances and selling gummy bears on Instagram.
Kaitlyn went on and claimed, "I am a dancer and wanted to do it. Shawn wanted me to as well. He even wrote Mike emails. I told Mike it was my passion. I was told Shawn should be my only passion."
At the time ABC and a rep for Mike Fleiss had no comment for Bustle on Kaitlyn's statement to Us Weekly, but he did tweet a response at the time Kaitlyn first spoke out on Twitter:
Even though Dancing With the Stars did not work out, now Kaitlyn will be able to pursue her passions of singing, dancing, and hosting on Broadway all while maintaining her passion with Shawn. She can do it all and she is.