Kamala Harris Made Her Thoughts On The Kavanaugh Allegations Crystal Clear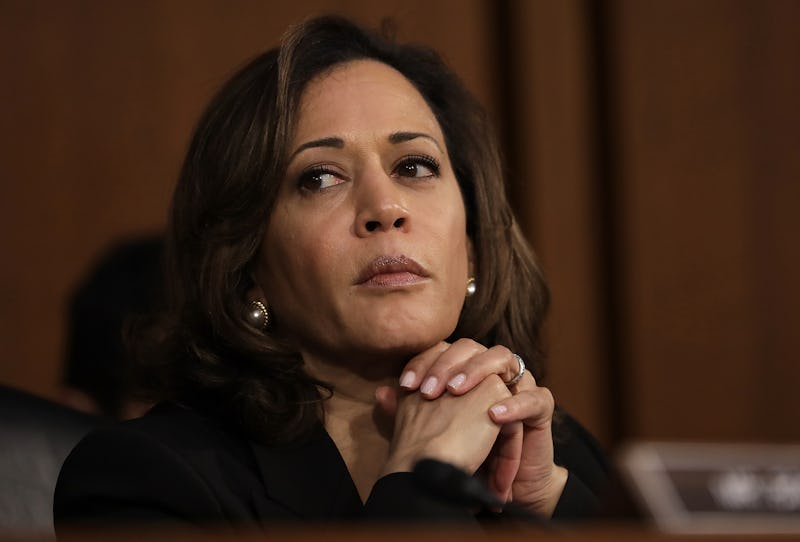 Drew Angerer/Getty Images News/Getty Images
The California senator who participated in Democrats' efforts to postpone Brett Kavanaugh's initial confirmation hearing spoke out about new allegations against the judicial appointee on Tuesday. Kamala Harris' comments on Christine Blasey Ford made it crystal clear that she believes the professor's accusation that President Donald Trump's Supreme Court nominee tried to assault her in high school. Kavanaugh "categorically and unequivocally" denied Ford's claim in a statement last week.
"I believe her," Harris told CBS This Morning on Tuesday. "Listen, first of all, anybody who comes forward at this point to be prepared to testify in the United States Senate against someone who's being nominated to one of the most powerful positions in the united States government, that takes an extraordinary amount of courage."
Both Ford and Kavanaugh are scheduled to testify before the Senate Judiciary Committee on Monday, although Politico notes that Ford hasn't yet confirmed that she'll be there. Ford's lawyer, Debra Katz, did tell CBS This Morning on Monday that her client is "willing to hopefully tell her story in a manner that is a fair proceeding."
As a member of the Judiciary Committee, Harris told CBS that she will listen to Kavanaugh and Ford's testimonies next week. But her comments on Tuesday left no doubt that she believes Ford.
"My concern is, and she knows this, she is putting herself out there, knowing they're going to try to excoriate her and she's doing it because she knows this is an important matter, it's a serious matter who serves on that court and she has the courage to come forward, she has nothing to gain," Harris told CBS.
Ford came forward in an interview with The Washington Post alleging that Kavanaugh held her down and attempted to rape her at a party when they were both teenagers. She said she got away, but that her life was "derailed" for years afterwards. "I did not do this back in high school or at any time," Kavanaugh said in a statement released by the White House.
Harris went on to tell CBS that the FBI should re-open the investigation into Kavanaugh's background, adding that the agency hasn't been given the authority to do so. In fact, President Trump said on Tuesday that the FBI shouldn't be involved because "it's not really their thing."
"It's a process, and we all feel, speaking for all Republicans, we want to go through this process, and we want to give everyone a chance to say what they have to say... We will delay the process until it's finished out," Trump said at the White House, per CNBC. "We want to get to the bottom of everything."
If Ford does agree to testify on Monday, the public will hear a first-hand account of the allegations against Kavanaugh, as well as his side of the story. And Harris' comments confirm that Ford will have at least one ally in the Senate hearing room.
"The American public deserves to know the character of someone who will serve for his entire life on the highest court in our country," Harris said.