Here's What Kamala Harris Said When Asked If She'd Consider A Woman Running Mate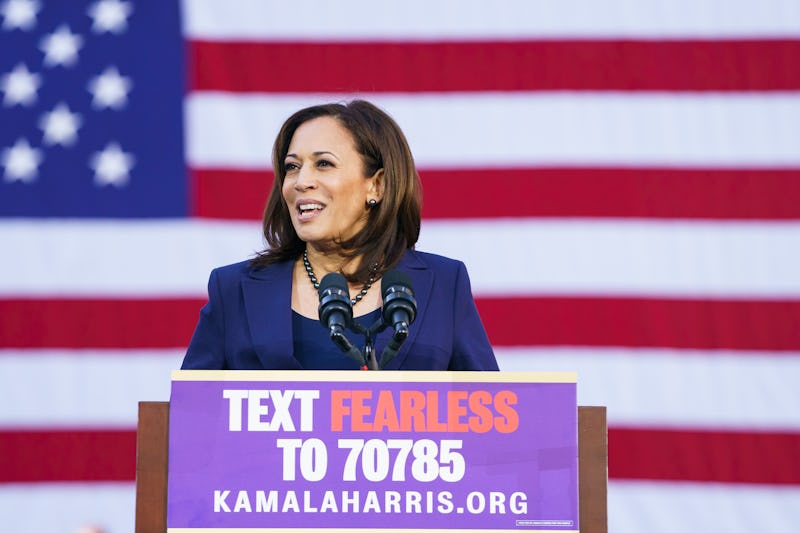 Mason Trinca/Getty Images News/Getty Images
As the 2020 field becomes increasingly more crowded, a number of male candidates have been asked if they'd be willing to select a woman as their vice presidential partner. Now, however, the question has been popped to one of the race's female contenders. California Sen. Kamala Harris said she'd consider a woman running mate, describing an all-female 2020 ticket as "fabulous."
"Yeah, I would. I would," Harris said when asked if she would consider choosing a woman as her running mate during an interview with Mark Thompson, also known as Rev. Matsimela Mapfumo, on SiriusXM Progress' Make It Plain. "Wouldn't that be fabulous?" she added, referencing an all-woman ticket.
"Is America ready for that?" Thompson asked.
"We'll see if it happens," Harris replied. "There are all kinds of interesting scenarios."
This isn't the first time Harris' campaign team has appeared to suggest that it was open to the idea of an all-women 2020 ticket. In January, Harris' communications director, Lily Adams, responded to a reporter questioning if women could be both "the standard-bearer" and the running mate on a presidential ticket. "Well we've tried two males on a ticket together more than a few times so... let's try something new," she tweeted.
A number of other 2020 contenders have also said they'd consider female candidates when selecting their running mates. Sen. Bernie Sanders and former Rep. Beto O'Rourke have both suggested that they might name a woman as their vice presidential pick. In February, Sanders told The Young Turks he thought his team would "look for somebody who is maybe not of the same gender" as he is when considering veep candidates. Speaking to voters in March, O'Rourke said it was "hard" for him to think of a reason that he would not name a woman as his running mate. "That would be my preference," he said, per CNN.
But they're not the only ones. A few months ago, Sen. Cory Booker told MSNBC's Rachel Maddow that while he couldn't make any commitments just yet, he would "be looking to women first" should he become the Democratic Party's 2020 nominee. Late last month, South Bend, Indiana, mayor Pete Buttigieg told The Intercept's Deconstructed that he felt gender diversity and racial diversity needed to be "a top priority" for Democrats "at the highest levels," implying that an all-male or all-white presidential ticket would be "problematic." And former Secretary of Housing and Urban Development Julián Castro revealed that he'd "for sure" name a woman running mate, The Houston Chronicle reported last year, before he'd even officially announced his presidential bid.
Yet as The Washington Post's Monica Hesse has pointed out, asking male candidates if they'd name a woman as their 2020 running mate seems problematic if the goal is gender equality. "Why are men being asked whether they'd choose a female VP instead of being asked whether they'd be a woman's VP?" Hesse questioned.
In some instances, however, the tables may appear to be turning. According to CNN, 2020 contender Sen. Elizabeth Warren was recently asked if she'd name a man as her vice presidential partner. "I want someone who is going to get out there and fight on behalf of working people," Warren said. "That's what matters most."
According to the Hill, pollsters have said they see "potential" for Harris in 2020 despite the fact that the California senator is not the most well-known candidate among voters. "Not many of them are well known right now, with your exception of Joe Biden and Bernie Sanders," pollster Mallory Newall told the Hill in March. "But among those who do know Kamala Harris, a majority of them feel favorable, feel positive toward her."