Kanye West's Jewelry Line Should Look Familiar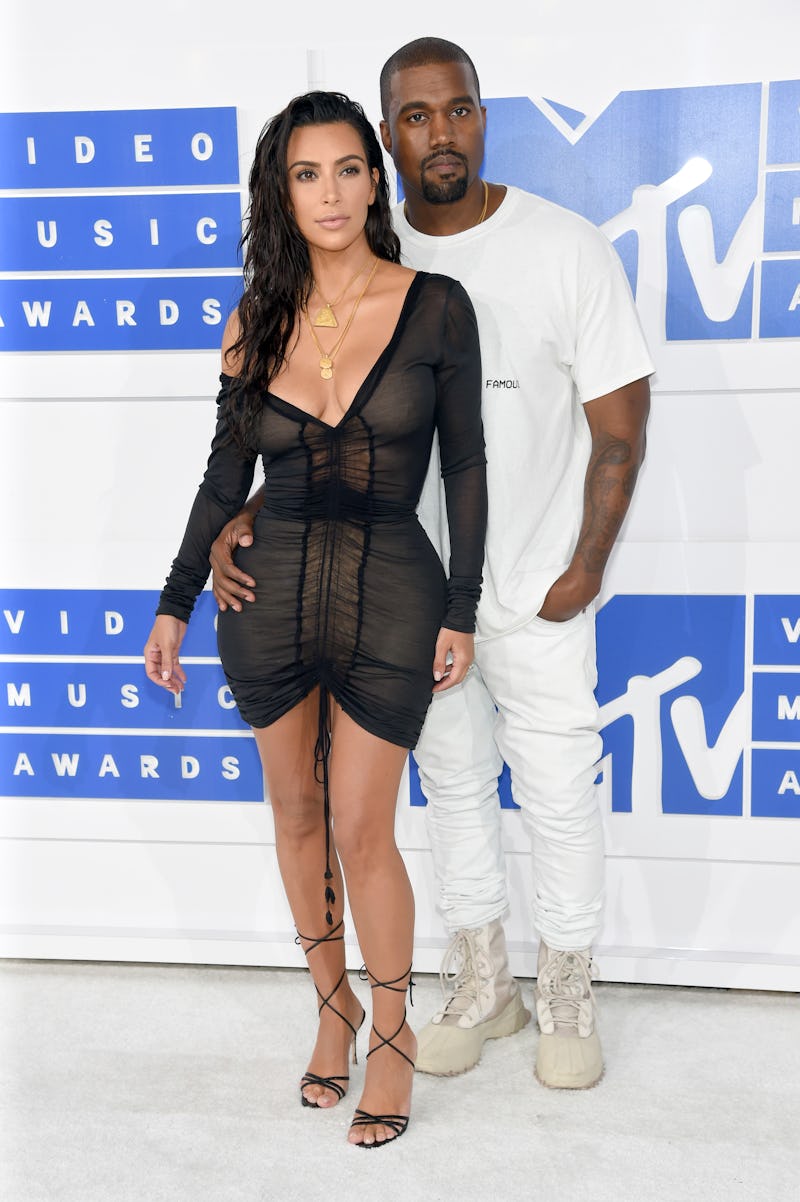 Jamie McCarthy/Getty Images Entertainment/Getty Images
While the beauty world was focussed on Kim Kardashian's "wet" hair look at the 2016 Video Music Awards, it turns out that they should have been looking a little bit closer at her outfit. According to Vogue, Kanye West's jewelry line is officially here, and Kardashian has been giving us sneak peeks for month. The rapper teamed up with Jacob Arabov, aka Jacob the Jeweler, on an all-gold, 12-piece collection.
This might be West's first jewelry line, but he's starting out with a bang. The collection features thick, 18 karat gold pendants and sculpted rings that, according to Vogue, were inspired by 14th-century Florentine art, such as Donatello's bas relief portraits. There's everything from necklaces featuring different figures to a ring that reads "A God Dream," which Refinery 29 notes is a reference to "Ultralight Beam," a song from The Life of Pablo. The gold pieces have a classic and timeless look, which is good considering that you'll likely need to tap into your life savings to buy them.
West first caused a stir with his highly coveted and slightly pricy sneakers. Then came his high-ticket, yet seemingly basic, Yeezy fashion line. But it turns out that we haven't seen anything yet. In true Kanye form, each piece in this new range basically costs more than a downpayment on a car. According to Refinery 29 line ranges from a cool $1,530 to $13,360.
There are a few key details you should know if you're looking to buy from this range. According to the website, all sales on the collection are final and you're only allowed to purchase one piece at a time.
18K YELLOW GOLD 60" CHAIN WEIGHT 95.6G, $13,360, yeezysupply.com
As you might have already guessed, some people aren't getting too excited about this launch, mainly because of the prices. That doesn't mean people don't have opinions about the collection though. Here's what fans have to say about the West and Arabov designs.
If this isn't the purest thing you've ever read, then you're lying.
What do you actually want, Kanye?
Some people really do like it
But others are just moving on.
Reviews are mixed, to say the least. I'll let you decide on this one for yourself.