Karlie Kloss Subtly Acknowledged Her New Connection To The Trumps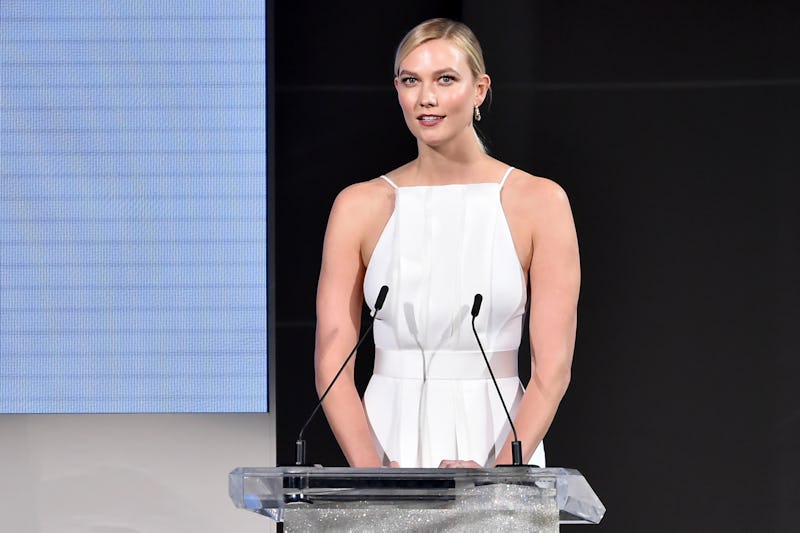 Theo Wargo/Getty Images Entertainment/Getty Images
After getting engaged in June, Joshua Kushner and Karlie Kloss, his supermodel fiancée, continued to remain private about their relationship. But in a recent interview, the latter opened about her love life, women in the world of tech, and yes, politics. (Kushner's older brother, Jared Kushner, is a White House adviser and President Trump's son-in-law.) Now, in an interview with Vogue published on Tuesday, Kloss subtly acknowledged Kushner's connection to Trump — without directly naming anyone at all.
The fashion model touched upon her politics and the "complications" that came with her engagement with Kushner. "At the end of the day, I've had to make decisions based on my own moral compass — forget what the public says, forget social media," she told Vogue writer Chioma Nnadi.
"I've chosen to be with the man I love despite the complications," Kloss added. "It's frustrating, to be honest, that the spotlight is always shifted away from my career toward my relationship. I don't think the same happens in conversations with men."
Some of the details in the Vogue interview may surprise readers. After all, the model has kept her relationship, including her engagement with Kushner, pretty quiet. According to Nnadi, Kloss did not reveal that she got engaged with the venture capitalist for a month until she shared a post on Instagram in July. "The proposal was romantic and sweet," Kloss told Nnadi. "We spent the weekend in upstate New York, just the two of us."
But while they have been quiet about their relationship, their politics are somewhat known. According to Vogue, Kushner is a "lifelong Democrat" who also attended the March for Our Lives protest in Washington, D.C., with Kloss. The supermodel told the magazine, "Josh and I share a lot of the same liberal values that guide our lives and the things we stand for."
In case you didn't know, Kloss also pinned a #ImWithHer hashtag for Hillary Clinton on her Instagram in the 2016 presidential election. She added, "We've really grown together personally and professionally. Josh knows that I'm just a nerdy, curious human being. I think that's why he loves me. We have each other's back."
Life seems to have been a dynamic, surprising one for Kloss. The model told Vogue, "When I was fifteen growing up in St. Louis, I didn't know anything about fashion or coding — I had never even been on a plane! I hope the next ten years bring as many surprises and adventures, and that no matter what I'm doing, I'm happy, healthy, and surrounded by loved ones."
Kloss said that she wanted to go on working in fashion while also digging deeper in entrepreneurship. The supermodel also told Vogue that she would like to create more educational opportunities for young women.
Just like keeping her relationship private, Kloss kept her political leanings private, including her connection to the Trump presidency. When it came to her future, the supermodel said, "The truth is, I don't know where I'll be a decade from now. Nothing about the last ten years has gone exactly to plan, which is part of the beauty of life."