Kat Von D Got Married & Matched Her Black Manicure To Her Husband's Nails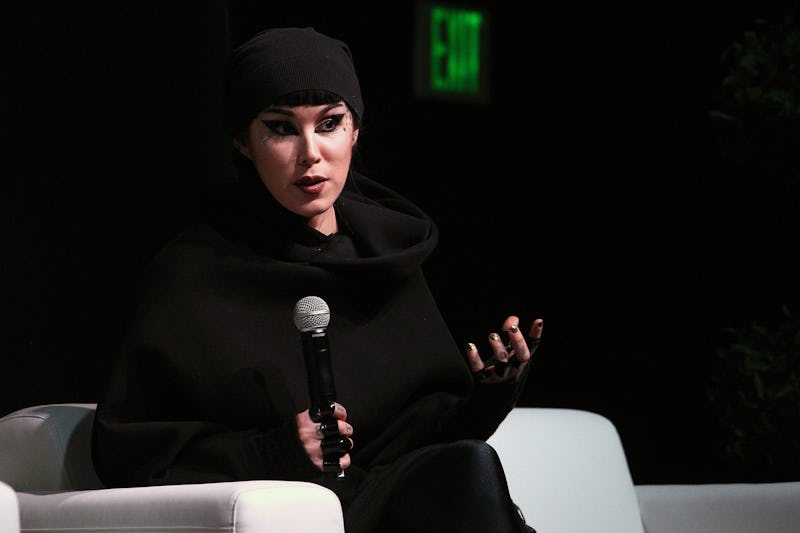 Tommaso Boddi/Getty Images Entertainment/Getty Images
Surprise! Makeup maven and tattoo artist Kat Von D married Prayers vocalist Leafar Seyer aka Rafael Reyes. For their big day, the heavily tattooed, all black-wearing duo had matching rings and manicures. In addition to their silver wedding bands and equally tattooed hands, they both rocked filed-to-a-point, almond shaped nails that were painted a silvery black shade with a dose of sheen. The manis are gloriously goth and fall right in line with both of their edgy aesthetics.
Furthermore, the manis were beautiful expression of their love! It's visual proof of just how right for one another these two creative and open-minded souls are.
If you look down past their coordinated manis and rings, you can see they also share the same taste in footwear, too. Both the bride and groom were rocking pointed black shoes with gold detailing.
Even the backs of their hands and their knuckles match.
Von D shared the news on her Instagram feed. That shouldn't surprise her millions of followers or Kat Von D-evotees. She is prone to revealing details about her life, as well as much-anticipated new products from her massively successful and hugely adored Kat Von D Beauty brand. In fact, Von D dropped intel on her forthcoking Lash Liner just the other day and it whipped fans up into a frenzy.
So, yeah, it's been a week of huge reveals on the KVD Instagram.
Did you just clutch your heart and let out a big, "Aww!" upon seeing the matching, weapon-like manicures of KVD and her husband? That's a totally acceptable reaction to this display of nail art and love. We admit that we responded the same exact way.
Earlier this month, Kat Von D shared a video of her heavily tattooed new hubs on Instagram. He was rocking the wedding manicure and the ring. Check out how the polish shade gives off even more of a silver gleam in the daylight. Clearly, these two share the same love of body art and are totally about the "all black everything" presentation.
Kat Von D is obviously a fan of thick, almond-shaped nail. Her nails mimic claws. In this post revealing her forthcoming Lash Liner product, Von D showed off a similarly shaped nail. The polish looks darker — that could be due to lighting, though. She also had gold accents that looked like crosses on each nail.
For her wedding, Von D chose to be completely coordinated with her new hubby.
Fans reacted to the news of KVD's marriage and the matching manicures on Twitter. This tweet says it best and with a pun.
Yep! The nails are such an effective statement. It's one that speaks volumes.
One user was curious as to why their nails were the same length. Another user offered the essential reply — why not? The Prayers singer is confident and comfortable slaying long nails. That's all that matters. He has been rocking long, black, and pointed nails for quite a while. There are lots of images of his man-icure on his Instagram.
"Cute" seems like an understatement. The nails are dark and dagger-like. That makes them dope and delightfully dangerous.
Someone else noticed the shoes, which also match.
Here's another pic of the duo before they swapped wows. They have matching sunglasses and manis in this image, too. Von D has been vocal about her husband being her mind's twin. He is also her fashion twin.
Congrats to the newlyweds on their nuptials! Perhaps they will collaborate on Kat Von D Beauty products in the future — like a nail lacquer inspired by their public wedding photo. We can dream, can't we?!