Kat Von D Just Released The Perfect Halloween Shade — But There's A Catch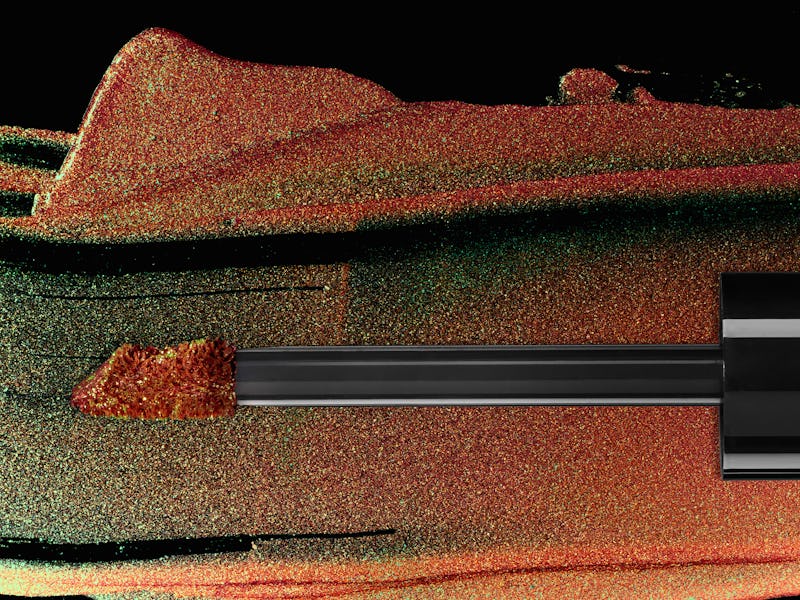 Courtesy Kat Von D Beauty
'Tis the season for festive lippies. And this month's Kat Von D Beauty Everlasting Flash Sale features what's bound to be a Halloween staple — the Super Sonic Glimmer Veil. The lipstick combines all the colors of fall into the perfect glittery shade for spooky festivities, but there's a catch. The product is super limited edition. Get your wallets ready, because this color will be gone in the blink of an eye.
In case you missed it, Kat Von D Beauty has been gracing their fans with Everlasting Flash Sales at Sephora every month since the beginning of the year. There's been pre-releases, limited edition shades, and even some bundled deals, but nothing like what you're about to see in October. The limited edition Everlasting Glimmer Veil in Super Sonic was released especially for this sale, and takes all the #fallvibes and combines them into one Halloween-inspired lippie.
While the base of the liquid lipstick is brown, there are shifts of green and gold glitter throughout. According to the Sephora website, the shade looks gorgeous paired with the Everlasting Liquid Lipstick in Crucifix underneath, but shines bright on it's own as well.
The big catch is that it's super limited edition. Like, only available for 48 hours limited edition. After that it will go back into the vault for good.
The Everlasting Glimmer Veil in Super Sonic will be available on Oct. 4 exclusively on the Sephora website. While the sale is meant to last through Oct. 6, there's no guarantee that the shade will be around that long.
Honestly, you could rock this color way past Halloween. There are no rules when it comes to makeup, after all.
"This formula is like heaven on your lips," Kat Von D said in a press release. "I wanted to create something metallic that makes your lips look like a giant Christmas present, but I also wanted to make something that was comfortable and true long-wear."
It's interesting that Kat Von D says that the inspiration was Christmas rather than the upcoming spooky holiday. Sounds like it could be making a comeback for the holiday season, if you ask me. After all, a few of her limited edition Everlasting Flash Sale products did hit the KVD website after the 48 hours at Sephora was up.
Bustle reached out to Kat Von D Beauty for comment. But don't take any chances.
If you're looking for some inspiration on how to wear it, you'll be happy to know that the possibilities are endless. What's so great about Kat Von D Beauty products is that almost all of them are designed to be multi-use. The brand also gives tons of inspiration on their Instagram and YouTube pages.
"The cool thing about Everlasting Glimmer Veil is that you can wear one coat by itself and give you lips a metallic finish, or create a more opaque shimmer with two coats," Kat Von D added in the press release. "You can also mix it and wear it over existing shades."
According to the brand, the shade might look glittery, but it won't feel gritty on your lips. They're also said to be extremely long lasting, which is perfect whether you're looking to add it to your Halloween costume or just wear it out for a night of fun.
If all of that wasn't enough to show you how unique this shade is, then I'll just set this last swatch right here. The color teeters the line between wearable and unconventional, which is what this brand does best. You won't find this color anywhere else, so you'll want to grab it while you still can.