Kate Middleton Just Followed In Ivanka's Footsteps In This Totally Unexpected Way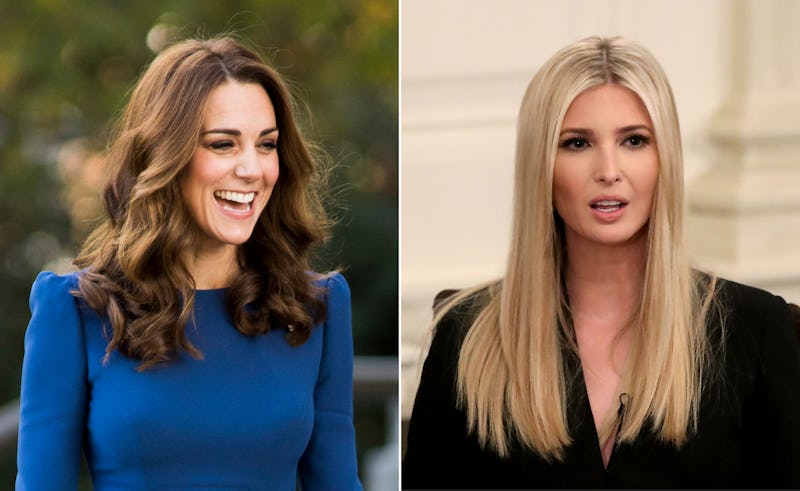 Mark Wilson/Getty Images News/Getty Images // Tristan Fewings/Getty Images Entertainment/Getty Images
Kate Middleton and Ivanka Trump aren't two names you tend to see in the same sentence, but they've been making headlines all day today. A new set of family portraits were released just in time for Prince Charles' 70th birthday and once everybody got over how adorable they were, a few beady-eyed fans honed in on Kate's polka dot dress. It was a strange intersection of the British monarchy and American politics however, as it was pointed out that Kate Middleton wore the same dress as Ivanka Trump did while accompanying her father, President Donald Trump. Yikes.
The dress is a navy polka-dot dress, designed by Alessandra Rich and it retails for a hefty £1,225. With white buttons, a crisp pointed collar and a sweeping floor-length pleated skirt, it's a gorgeous piece and Kate absolutely glowed in it. It's no surprise she wore the dress as, like the late Princess Diana, Kate Middleton has been known to be partial to a good polka-dot print. In fact, she actually wore another blue polka-dot dress on another very important occasion: when she presented her son Prince George to the world on the steps of the Lindo Wing shortly after his birth in 2013.
Although Prince Louis and Prince George appear to be obscuring most of the dress, there's no denying that it's the same one as Ivanka Trump wore earlier this summer. The first daughter joined her father President Trump at appearances in both Illinois and Iowa wearing the dress, which she cinched with a thick white belt. I'm not the biggest fan of her politics, but I will begrudgingly give her the fact that it's a very nice dress.
It turns out that Alessandra Rich is actually one of Ivanka's favourite fashion brands, as she wore a green floral dress by the designer at yet another event earlier this June. To my knowledge however, Kate doesn't own that dress though and she probably never will after this.
As if this wasn't a big enough coincidence, it turns out a third person wore the exact same navy Alessandra Rich dress to another high profile event. Abigail Spencer, an actress who previously starred in Mad Men, was invited to Meghan Markle's wedding and actually wore the polka-dot piece.
I'm going to level with you, I actually think Spencer wore the dress the best. Her red lip, floral hat in the same hue, and minimal black belt really pulled the whole look together and I stan. TBH given that Kate was also in attendance at the wedding, the Duchess of Cambridge might have actually seen the dress and loved it so much she nabbed her own. I wanted it too when I first saw it for the first time on Kate, but I've cooled pretty rapidly on it since I realised it's in Ivanka's closet.
Political links of any kind are typically avoided by the royal family. The BBC explained that a "key unwritten rule is to avoid party politics" and according to the official royal website, "The Queen has to remain strictly neutral with respect to political matters." Given that the rest of the monarchy take their cue from her, it's something that's spread down the ranks (even if Prince Charles is prone to sending a memo or twelve to parliament).
That doesn't mean that the royals haven't been able to use their fashion choices to subtly imply their allegiances. In fact, Liz proved she wasn't just literally a queen — she's also a shade queen as during President Donald Trump's visit to the UK, she wore a sentimental brooch gifted to her by the Obama family, the Guardian reports. After Trump also started verbally attacking Canada, a Commonwealth country, the Queen also wore a brooch gifted to her by the country in what was read by some as a silent show of support.
Although Kate generally stays away from making any obvious statements and would never have been allowed to participate in the BAFTAs all black dress code to honour the Me Too movement earlier this year, the black waistband on her deep green dress was about as close as she could get.
That said, I don't think the Duchess of Cambridge was making any political statement by wearing the same dress as Ivanka Trump. I honestly think she and her stylist just thought it was a nice dress and this is all just an awkward coincidence. That said, I doubt we'll be seeing her wear it out in public again any time soon.