Kate Middleton Keeps Wearing Instagram's Favorite New Hair Accessory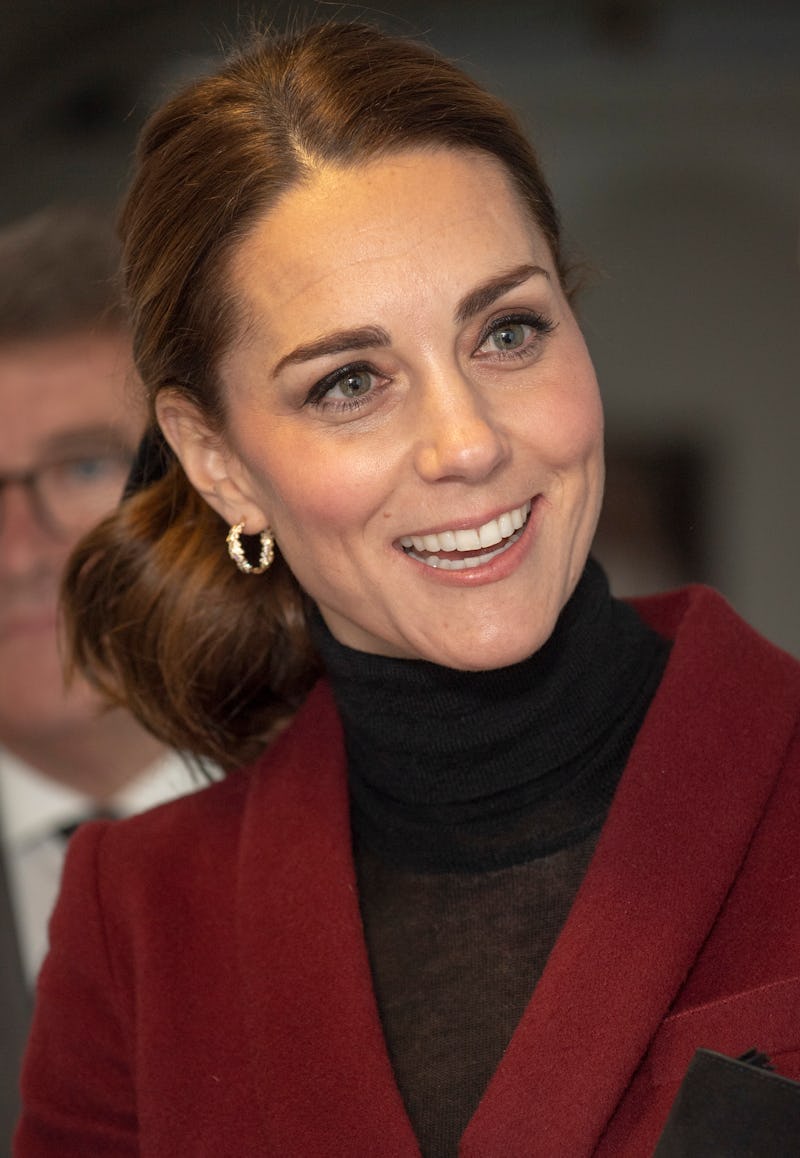 WPA Pool/Getty Images Entertainment/Getty Images
Kate Middleton has long been a fashion trendsetter, where all she does is don a new style and people scramble to copy her classic look — even if what she is wearing is a simple hair accessory. Kate Middleton wore a velvet bow in her ponytail, and the simple and feminine fashion choice will have you itching to dig up a black ribbon from your junk drawer and do the same thing.
The Duchess of Cambridge paid tribute earlier this week to those who passed away in the helicopter crash at Leicester City Football Club's King Power Stadium in late October, where both she and her husband, Prince William, laid flowers at the crash site and spoke to players and people attending the event.
For the solemn event, Middleton wore a black and white houndstooth pleated coat and pulled her hair back into a sleek, blown out ponytail, accenting the simple hairstyle with a black velvet ribbon tied into a bow. It was preppy, elegant, and fit right into the Duchess's classic, timeless style.
This isn't the first time that Middleton donned the velvet hair ribbon, either. She also sported a similar look when she visited a UCL Developmental Neuroscience Lab in London earlier last week during a solo trip, supporting research into how trauma in young children can affect their brain development in the long term.
Middleton is starting a new campaign in 2019 that will help disadvantage families help their children with anti-social behavior, addiction, and mental health, so the trip was in line with her project. In the visit, she wore a sharp maroon blazer with a matching fit and flare skirt, with her hair pulled back into a lower ponytail and topped off with the black velvet ribbon.
Middleton has a penchant for feminine designs and silhouettes, so the playful ribbon accessory fits right in with her usual aesthetic.
Seeing how we are encroaching the holiday season right now, velvet is about to become a staple texture, so the velvet bow is very in-season at the moment. Whether she pairs it with a skirt-suit for school visits, or slips it around her pony tail while donning her statement winter jackets, it adds a chic touch to any outfit.
If you're inspired by the Duchess's preppy hair accessory, then there are a few bows that you can shop and mimic the look yourself. You can always go to the craft store and snip yourself a small length of black velvet ribbon, but if you want something a little more tailor-made, check out some picks below.
J.Crew Velvet Hair Tie
Nordstrom Bow Ponytail Holder
Ann Taylor Velvet Bow Hair Tie Set
Get your prep on this holiday season and add a touch of velvet to your hairstyles.