A Dupe Of Kate Middleton's Wedding Gown Is Now Available At H&M For Less Than $300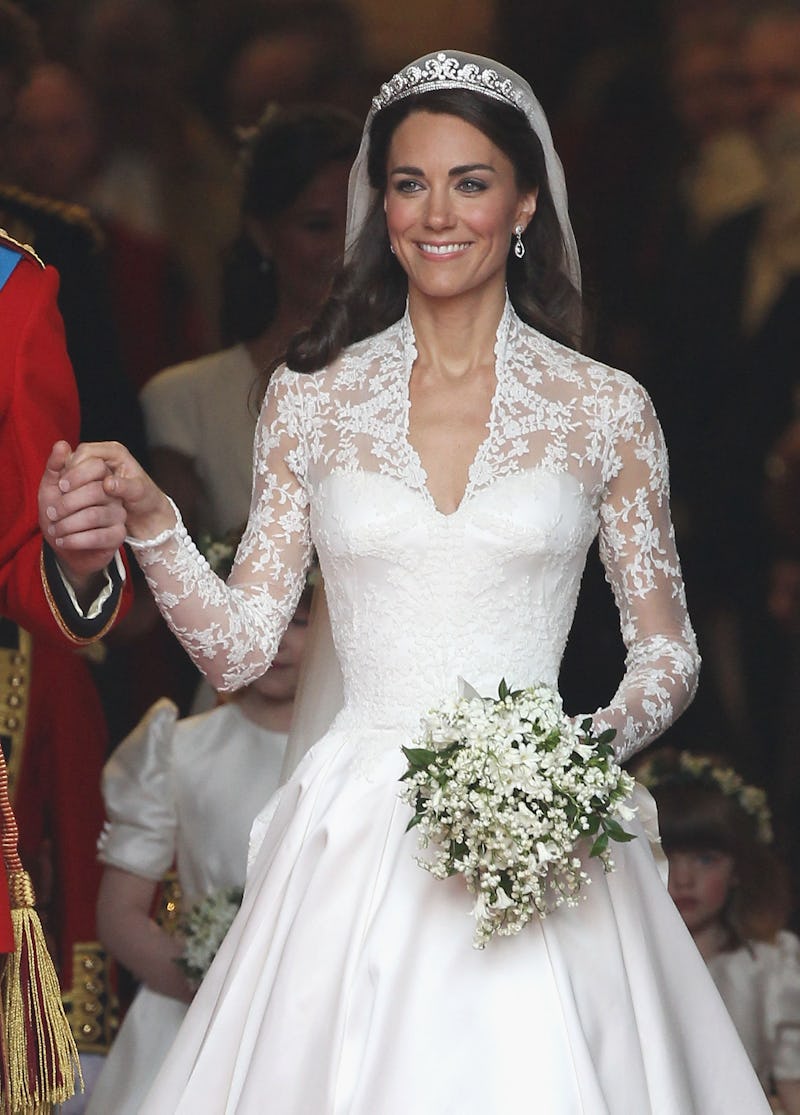 Chris Jackson/Getty Images Entertainment/Getty Images
While royal watchers and fashion followers are patiently waiting for May 19 so we can see what dress Meghan Markle wears when walking down the aisle to meet Prince Harry, let's recall the majesty of Kate Middleton's Alexander McQueen wedding gown. There's a new dupe available that's both pretty and affordable. H&M created a fast fashion version of Middleton's wedding gown. This dress is less than $300 and it's currently available in the H&M Wedding Shop.
Middleton's memorable and chic lace dress, designed by McQueen creative director Sarah Burton, was both traditional and modern. It also reportedly cost over $430,000.
So if you are planning your very own trip down the aisle, love Middleton's classic style, have a serious case of "dress envy" regarding her big day attire, and are operating on a budget, then the H&M gown is certainly worth scoping out. It boasts the same long, lace sleeves, empire waist, and scalloped V neck as Middleton's dress.
But it's not an exact copy, since it has a more streamlined, gently flared bottom half and much less of a train. The train of Middleton's gown was nine feet in length. This dress skips that detail — for practical and IRL purposes.
It's really lovely, isn't it? But it's also more of a cream color, whereas Middleton's dress was snow white.
For visual comparison purposes, here's Middleton's breathtaking gown. Her dress also had a higher collar. The similarities are most definitely there and H&M isn't masking its main source of info — even if it's not a note-for-note recreation.
Remember the iconic pics of Middleton's little sister Pippa assisting with the bottom of her dress?
Even minus the flowing and absolutely epic train, you can still look and feel like a princess in the H&M dress.
The open neck offers endless styling possibilities, too. You can wear an updo and a necklace. Or you can wear your hair down and skip a bauble around the neck altogether, allowing the V to serve as a visual accessory.
It is very and undeniably Kate-like. Sure, there will be critics who accuse the discount retailer of ripping off a high-end fashion house and its intellectual property. But enough of the details have been altered so it's not a replica.
It's also not simply fast fashion, since Kate and Prince William swapped vows back in April of 2011. So this dress has been revered, respected, and coveted for several years now. It's also not the first and only homage to the gown, either.
The Long Lace Dress is an online exclusive. While it is ladylike and deceptively simple, the size range is incredibly disappointing. The frock starts at 2 and goes up to a size 12. It would have been a fashion and inclusivity win to see this dress offered in sizes well beyond 12 and 14. Perhaps H&M will expand sizing for this gown sooner than later.
The H&M Wedding Shop has plenty of lovely and wearable dresses with modern flourishes at attractive prices. It offers dresses for brides, the bridesmaids, and flower girls. There are accessories, too. Weddings can get expensive — and quick.
H&M is giving brides and bridal parties stylish and affordable options. Plus, some of these dresses are versatile enough to be worn to multiple occasions and to events other than weddings. That makes the cost per wear even better.
Yes, we are expecting the H&M Wedding Shop feature a frock inspired by whatever dress Markle wears in just over a month when she weds her prince. Here's one last look at Middleton's dress, whose inspo is obvious and felt.