Katy Perry Breaks A Major Twitter Record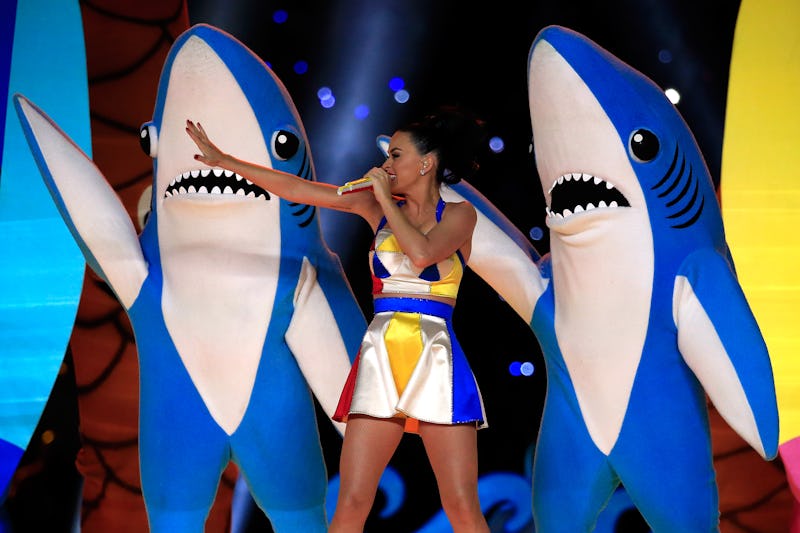 Rob Carr/Getty Images Sport/Getty Images
There is a small population of celebrities who pretty much rule all of social media. Specifically on Twitter, Rihanna, Kylie Jenner, Selena Gomez, and Taylor Swift all boast an incredible number of followers, with Justin Bieber beating them all at 96.7 million followers. But above him? Katy Perry, who has now become the first person to reach 100 million followers on the platform. While Perry reaching 100 million followers is pretty impressive, her biggest moment on the app involved a little someone in a shark suit.
Sure, that many millions of followers is kind of cool, but the day that #LeftShark was born is the actual day that Perry broke Twitter. According to a press release from Twitter, the day with the biggest conversation about Perry was when the infamous Left Shark joined her on stage during her Super Bowl XLIV performance.
Why was it so amazing? Well, because the shark to the left of Perry during her performance was absolutely having the time of his life, which meant that some of his little shark fin movements were more than a little out of sync with Right Shark's in front of millions of viewers across the world.
Suddenly, Left Shark was all of us. He was us awkwardly asking our crush to dance. He was us when we try to stand up after tripping and making sure no one was looking. As Billboard put it after the performance, "the shark on her left seemed to have gone rogue," which is the kind of statement I would want to be said about myself.
To celebrate this Perry milestone, I thought it'd be fun to take a little trip down memory lane and relive her most popular day on Twitter with everyones favorite uncoordinated shark.
When He Was The Only One To Overshadow Beyoncé
During the next year's Super Bowl halftime show, people were still on the look out for Left Shark.
When He Gave Us What We Needed To Get Through Tough Times
The inspiration we need in dark times.
When He Represented Any & All Relationship Problems
It's just true.
When He Was Us On The Daily Grind
That face, I understand it.
When People Were Just Really Into Him
Praise be.
When He Was Snoop Dogg
I have never wanted something to be more true.
Congrats to Perry and #LeftShark on their special day. Hope to see you again, Left Shark.