This Video Of Katy Perry's Concert Accident Will Make You Laugh For More Reasons Than One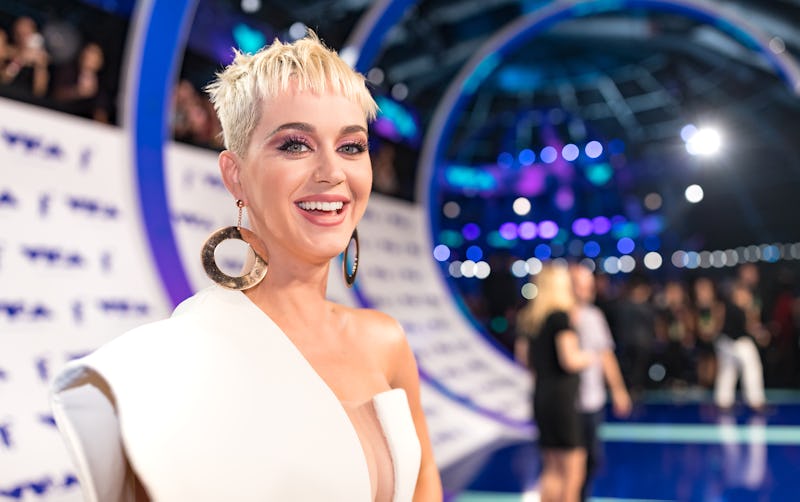 Christopher Polk/Getty Images Entertainment/Getty Images
To parrot the Irving Berlin song, there's no business like show business — especially when you're working with mechanical props. So snaps to Katy Perry after her concert malfunction, as she was nothing if not calm, measured and a masterclass on how to take control of a stressful situation. The star is currently on her Witness World Tour, but, according to The Tennessean, she ran into problems on her Wednesday, Oct. 18 performance at the Bridgestone Arena in Nashville, Tennessee. Apparently, Perry got stuck in the air on her Saturn-themed float while performing "Thinking of You" on an acoustic guitar.
The "Chained to the Rhythm" singer was suspended in mid-air, but instead of freaking out at a technical mishap, like the average person might when, say, their laptop freezes during a meeting when it's supposed to play a Keynote presentation, she just kept it casual. She started joking with the crowd, saying, "I'm really stuck, this is the first time I've been stuck in space, I know I'm kind of a space cadet." She kept the mood sunny by telling fans that they "better pick their phones up because it's a YouTube moment."
With what felt like a 200-word-per-minute delivery of the sort normally reserved for a Gilmore Girls scene, the singer proved that, if this whole music thing doesn't work out, she'll be a shoo-in for her own stand-up comedy show.
According to The Tennessean, eventually the stage crew had to lower the singer down manually over some of the seating, which, in theory, sounds a little clunky. But while Insider has reported the Perry stuck in space incident was "pretty awkward," honestly? Not really. The beauty of this is how smoothly the pop star handles it. She gauges the room, asking, "Shall I tell some jokes, shall I tell some stories, shall I do another song?" Bear in mind that this is all taking place while someone backstage gives her updates into her earpiece; at the beginning of the video above, she explains, "They're talking to me in my ear, it's a whole big deal."
She manages to turn what could be something embarrassing into a moment of connection between her and everyone in the room, telling them as she's lowered, "Y'all are the real stars tonight." And this feels important. The way the California native manages to swerve humiliation is by leaving her ego out of it. She manages to preempt anyone else making fun of her by making fun of herself from the beginning of the technical mishap, encouraging audiences to film her. No wonder the crowd is so joyful when she dives into them. To them, she's become more beloved — and, let's be honest, more relatable — than ever.
When yet another part of the set, a shooting star, "failed to appear on cue," Perry sang, "there's no business like show business" in response, The Tennessean reported. That also feels smart, because, by this point, the pop star was turning the unreliability of technology into its own form of entertainment, weaving it into the show. And what could be defter than that? On huge arena tours, it would be hard for audiences to resist a touch of cynicism. Would their heroine really take the time to individualize each show? After all, according to E!, she would be playing over 40 tour dates on her Witness World Tour, and that's exhausting. Well, consider that fear assuaged by this very video.
So, next time you're freaking out because your tech has messed up at the worst possible moment? Think of the "Swish Swish" singer. This isn't a problem; this is an opportunity.