Trump's SCOTUS Pick Refused To Say Whether He Agrees That RBG's "Mind Is Shot"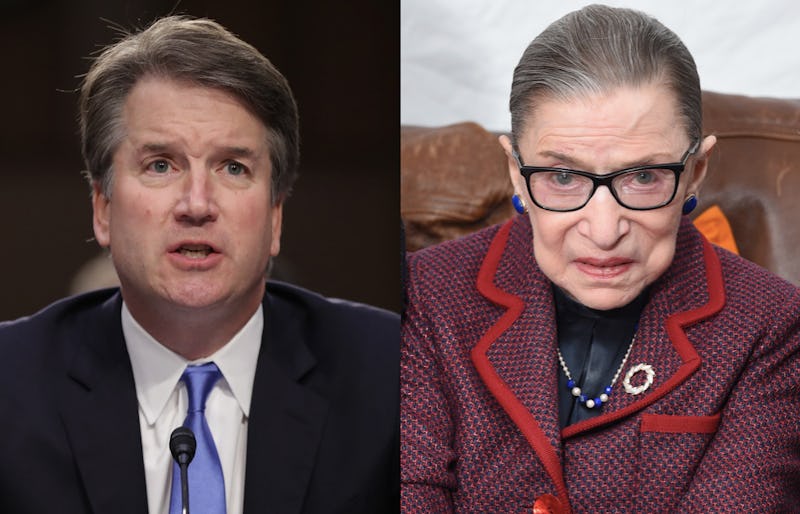 Chip Somodevilla/Getty Images News; Michael Loccisano/Getty Images Entertainment/Getty Images
Things got intense for Supreme Court nominee Brett Kavanaugh — and this time it involved Donald Trump's rancorous tweets about a Supreme Court justice. On the third day of his Senate confirmation hearing, Connecticut Sen. Richard Blumenthal sought Kavanaugh's opinion on Trump's tweet about Ruth Bader Ginsburg. But although he was grilled over and over again, Kavanaugh hedged the question, calling the president's tweet about Ginsburg a "political controversy" that he'd rather avoid.
During the Senate hearing, Blumenthal brought up the president's tweets about the Ginsburg. In 2016, Trump had tweeted about the Supreme Court justice, "Justice Ginsburg of the U.S. Supreme Court has embarrassed all by making very dumb political statements about me." In another tweet shortly thereafter, Trump attacked Ginsburg once more. "Is Supreme Court Justice Ruth Bader Ginsburg going to apologize to me for her misconduct?" he tweeted. "Big mistake by an incompetent judge!"
When asked if he agreed with Trump's tweet about Ginsburg, Kavanaugh said, "Senator, I've — of course — spoken about all the justices individually during the course of this hearing." Here, Blumenthal stopped Kavanaugh and said, "If I may interrupt — and I say this with all due respect — this is a question where less is more in the answer. Do you think Justice Ginsburg has embarrassed us all?"
Kavanaugh answered with: "Senator, I am not going to get drawn into a political controversy — a line I've maintained. I'm not going to get within three zip codes of a political controversy here." Blumenthal then repeated his question, pressing on Kavanaugh to give a definitive response.
"Senator, respectfully, you're asking me to comment on something another person said and I'm not going to do that," Kavanaugh said.
Going further, Kavanaugh said, "I have spoken about my respect and appreciation for the eight justices on the Supreme Court. My, the honor it would be if I were to be confirmed to be part of that team of nine with those eight people all of whom I know and respect and I know they're all dedicated public servants who've given a great deal to this country. And so I've made that clear throughout this hearing."
Although Sen. Blumenthal did not raise this other tweet, Trump had also said on Twitter, "Even the @NYTimes and @WashingtonPost Editorial Boards condemned Justice Ginsburg for her ethical and legal breach. What was she thinking?"
In addition to Ginsburg, Blumenthal raised Trump's comments from 2016 against District Judge Gonzalo Curiel who was born in Indiana. Two years ago, Trump publicly questioned the impartiality of Curiel as a judge based on his "Mexican" background. Blumenthal said, "The president of the United States attacked Gonzalo Curiel. Do you believe judges should be attacked based on their heritage?"
Here the SCOTUS nominee, again, refused to take a stance and said, "Senator, I'm not going to comment."
The SCOTUS nominee had two moments where he could have given conclusive responses to the president's tirades against Ginsburg and Curiel. But he chose to respond to neither. Still, that's not the only "controversy" Kavanaugh found himself in; on the same day, he seemed to have raised additional red flags about his understanding of birth control, too.