Kavanaugh Says The Allegations Are "Fueled By Pent-Up Anger" Over Trump's Election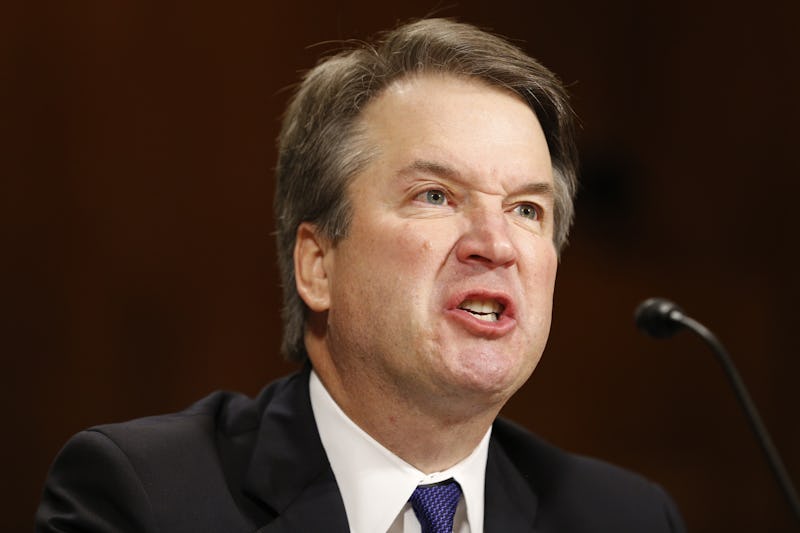 Pool/Getty Images News/Getty Images
A visibly angry Brett Kavanaugh appeared before the Senate Judiciary Committee on Thursday to testify about Dr. Christine Blasey Ford's sexual assault allegation against him, which he has denied. In a heated opening statement, the SCOTUS nominee claimed that Ford's allegation, along with two other women's claims (that he's similarly denied), was "fueled by pent-up anger" over Donald Trump's election victory in 2016. Kavanaugh called it an "orchestrated political hit," according to The Wall Street Journal.
"This whole two-week effort has been a calculated and orchestrated political hit, fueled by pent-up anger over President Trump in the 2016 election, fear that has been unfairly stoked about my judicial record, revenge on behalf of the Clintons, and millions of dollars in money from outside left-wing opposition groups," Kavanaugh said in his testimony.
"This confirmation process has become a national disgrace," Kavanaugh said during his Senate Judiciary Committee hearing. "You have replaced advice and consent with search and destroy."
Kavanaugh also took issue with some Democrats describing him as an "evil" person who would "threaten the lives of millions of Americans for decades to come." The enraged SCOTUS nominee, who broke down multiple times during his opening statement, said, "Given comments like those, is it any surprise that people have been willing to do anything, to make any physical threat against my family, to send any violent email to my wife, to make any kind of allegation against me and against my friends, to blow me up and take me down?"
"You sowed the wind for decades to come," Kavanaugh added. "The whole country will reap the whirlwind."
In his written statement, Kavanaugh went on a detailed rant against a supposed plot to bring him down. "Over the past few days, other false and uncorroborated accusations have been aired," he wrote. "There has been a frenzy to come up with something — anything, no matter how far-fetched or odious — that will block a vote on my nomination. These are last-minute smears, pure and simple."
"They debase our public discourse," he added. "And the consequences extend beyond any one nomination. Such grotesque and obvious character assassination — if allowed to succeed — will dissuade competent and good people of all political persuasions from serving our country."
During the hearing, Kavanaugh had cried at several points, recalled his predilection for beer, and reminisced about football during high school, among other things. In his opening statement, he noted, "I drank beer with my friends. Almost everyone did. Sometimes I had too many beers. Sometimes others did. I liked beer. I still like beer. But I did not drink beer to the point of blacking out, and I never sexually assaulted anyone."
At the Senate Judiciary Committee hearing, Kavanaugh lamented that the allegation had "totally and permanently destroyed" his name and reputation. Outside hearing, protesters gathered to oppose Kavanaugh while a smaller number of supporters gathered for the SCOTUS nominee.
Amid these circumstances, Kavanaugh said in his opening statement, "I categorically and unequivocally deny the allegation against me by Dr. Ford. I never had any sexual or physical encounter of any kind with Dr. Ford."