26 Advocacy Groups Want Congress To Investigate Kavanaugh's "Sham Confirmation Process"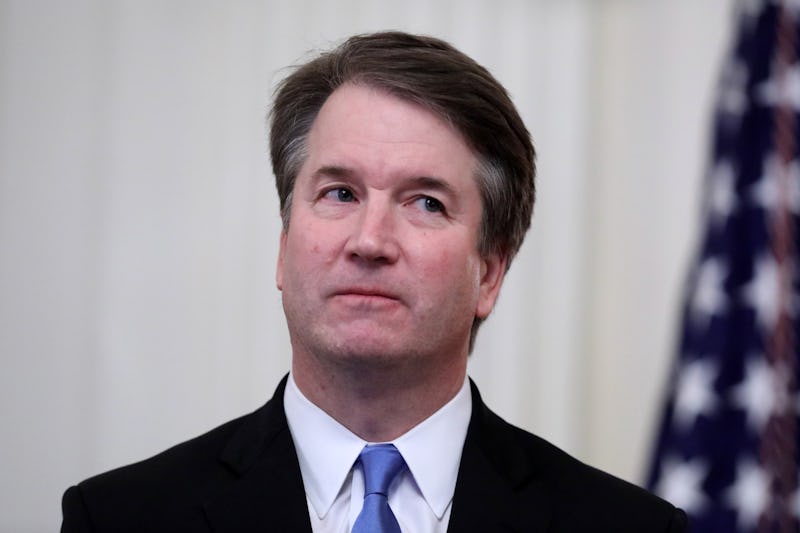 Chip Somodevilla/Getty Images News/Getty Images
Six months after Brett Kavanaugh was sworn in as a Supreme Court justice, numerous progressive groups are demanding an investigation into Kavanaugh's confirmation process. According to BuzzFeed News, more than two dozen progressive groups — including the Women's March and Know Your IX — signed a letter Thursday in which they urged House Democrats to investigate what they described as a "sham."
The letter, which was addressed to both the House Judiciary Committee and the House Committee on Oversight and Reform, asked House Democrats to investigate the 83 reported ethics complaints filed against Kavanaugh last year, as well as any unresolved concerns that arose during his confirmation hearings.
"Senate Republicans jettisoned all procedural norms and abandoned any sense of fairness, and they must be investigated," the letter read. "Serious questions remain about whether Justice Kavanaugh lied to the Senate; whether he sexually assaulted the women who credibly accused him of doing so; whether there are cases on which his impartiality might reasonably be questioned and from which he must be recused; whether he lied about his financial debt and how it was repaid; and whether he is ultimately fit to be a justice on the Supreme Court."
Kavanaugh has denied all of the sexual misconduct allegations against him, CNN reported last year. But the progressive groups that signed off on Thursday's letter expressed concern that Senate Republicans had "manipulated the confirmation process" in Kavanaugh's favor.
All of the ethics complaints against Kavanaugh were dismissed in December by a panel of federal judges, BuzzFeed News reported, on the grounds that he was no longer covered by the judiciary's disciplinary process. The complaints included allegations that he had lied to senators during his confirmation hearings, and that he did not have the appropriate temperament to be a Supreme Court justice given his outspoken criticism of Democrats and others who opposed his nomination.
However, progressive groups insisted in their letter that Congressional officials can and should "bring transparency and accountability to this process" by opening their own investigation into the various complaints against Kavanaugh. The groups — which included women's rights organizations and environmental advocates — pointed to seemingly unresolved concerns about Kavanaugh's confirmation process, such as his sizable debt and the possibility that he committed perjury when discussing the allegations against him by Dr. Christine Blasey Ford.
The letter concluded with a call for House committees to investigate these and other concerns, and for lawmakers to make all of Kavanaugh's records from the National Archives available to the public.
"Senate Republicans made a mockery of their constitutional responsibility to provide 'advice and consent' on the president's nomination of Justice Kavanaugh, and the American people deserve to know how and why the process was such a sham," the letter stated. "The public is just as entitled to a thorough review of Justice Kavanaugh's record now as it was before he was elevated to the Supreme Court and to know whether allegations against him of sexual assault and perjury have any factual basis."
These demands have not been the only backlash against Kavanaugh in recent weeks. Earlier this week, a progressive judicial advocacy group called Demand Justice announced its plans to run digital ads to protest George Mason University's decision to let Kavanaugh teach a summer course.