Trump's SCOTUS Nominee Hints At A "Neutral" Stance On Abortion, Despite His History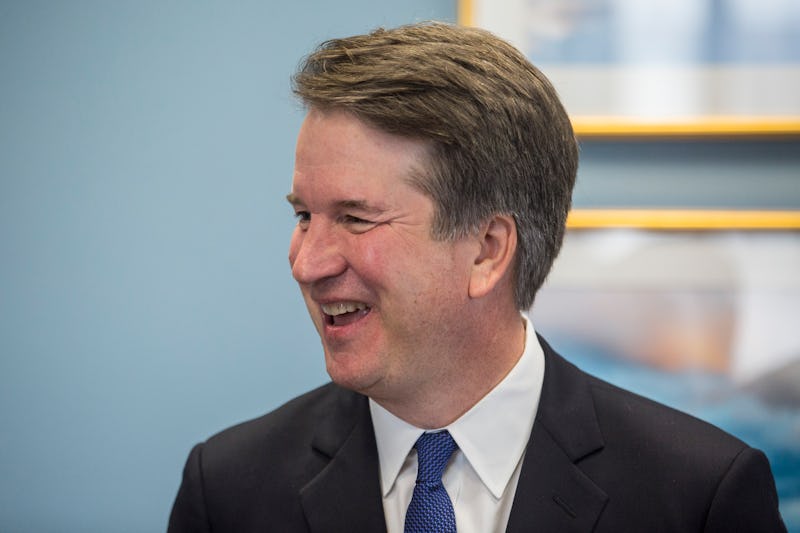 Zach Gibson/Getty Images News/Getty Images
President Donald Trump's latest U.S. Supreme Court nominee began confirmation hearings on Tuesday, Sept. 4 — and an excerpt of Brett Kavanaugh's opening statement obtained by The Hill foreshadows a debate on the future of Roe v. Wade. While Senate Democrats and reproductive rights advocates have voiced concerns that the justice would move to dismantle the precedent guaranteeing the right to abortion if confirmed to the bench, Kavanaugh's statement stressed the importance of remaining "a neutral and impartial" member of the high court.
"A good judge must be an umpire — a neutral and impartial arbiter who favors no litigant or policy," Kavanaugh said in an opening statement released by the White House Tuesday morning and obtained by multiple outlets. "I don't decide cases based on personal or policy preferences. I am not a pro-plaintiff or pro-defendant judge. I am not a pro-prosecution or pro-defense judge. I am a pro-law judge."
Democrats are expected to ask Kavanaugh about his views on Roe v. Wade during his confirmation hearings, and this comment signals that his answers will remain vague. Although Sen. Susan Collins (R-ME) said last month that Kavanaugh assured her Roe is "settled law," it's unclear whether he believes the 1973 case was settled correctly.
"If confirmed to the Court, I would be part of a Team of Nine, committed to deciding cases according to the Constitution and laws of the United States," a copy of his statement obtained by CNN read. "I would always strive to be a team player on the Team of Nine."
Despite Kavanaugh's claim that he favors "no litigant or policy," reproductive rights advocates have pointed to his previous rulings as a sign that he would vote against abortion rights if a relevant case reached the Supreme Court. Last year, he voted to block a 17-year-old immigrant from obtaining an abortion while in federal custody.
"The majority apparently thinks that the Government must allow unlawful immigrant minors to have an immediate abortion on demand," he wrote in his dissenting opinion.
In a speech Kavanaugh delivered last year at the American Enterprise Institute, he also praised former Chief Justice William Rehnquist's Roe v. Wade dissent. "It is fair to say that Justice Rehnquist was not successful in convincing a majority of justices in the context of abortion, either in Roe itself or in later cases such as Casey," Kavanaugh said, as reported by Vox. "But he was successful in stemming the general tide of free-wheeling judicial creation of unenumerated rights that were not rooted in the nation's history and tradition."
Yet Kavanaugh's opening statement hints that his answers to any confirmation hearing questions related to abortion rights won't skew one way or the other — which would make it more difficult for senators and the public to determine how he might vote on abortion cases that reach the high court. If his answers remains "neutral," as he said in his statement, his confirmation hearing probably won't reveal much about what type of decisions he would make as a Supreme Court justice for the next few decades.