Kavanaugh's High School Yearbook References To "Renate Alumni" Are Under Scrutiny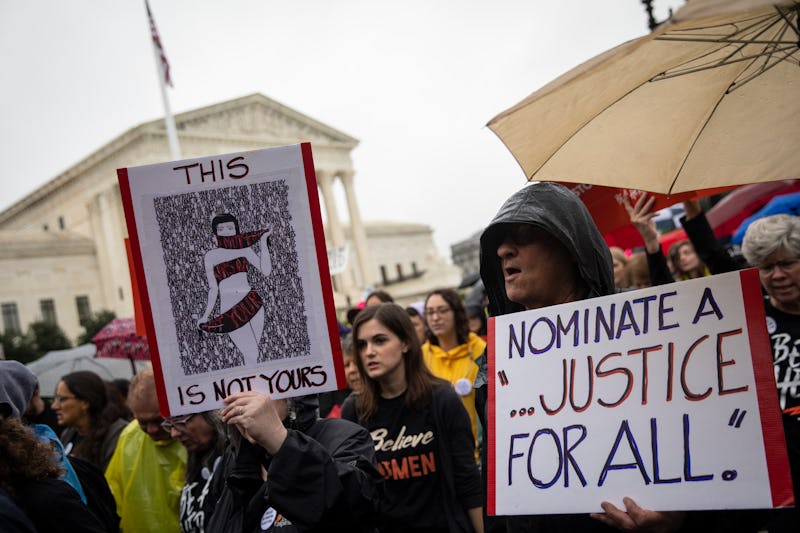 Drew Angerer/Getty Images News/Getty Images
In the latest report detailing his high school years, The New York Times revealed that Brett Kavanaugh's "Renate Alumni" yearbook references might be about a real woman — and she's not amused. Renate Schroeder Dolphin was reportedly the subject of the "Renate Alumni" reference, which was mentioned by 13 Georgetown Prep classmates in various ways throughout the yearbook. What's more, multiple sources have claimed in the report that the reference to Dolphin had something to do with "conquests." Bustle has reached out to the White House for comment.
Sean Hagan, a classmate of Kavanaugh's at Georgetown Prep, claimed to The New York Times that the "Renate Alumni" joke was about Dolphin in particular. He said, "They were very disrespectful, at least verbally, with Renate. I can't express how disgusted I am with them, then and now."
Kavanaugh's lawyer, Alexandra Walsh, gave the following statement to The New York Times regarding the report:
Judge Kavanaugh was friends with Renate Dolphin in high school. He admired her very much then, and he admires her to this day. Judge Kavanaugh and Ms. Dolphin attended one high school event together and shared a brief kiss good night following that event. They had no other such encounter. The language from Judge Kavanaugh's high school yearbook refers to the fact that he and Ms. Dolphin attended that one high school event together and nothing else.
But Dolphin doesn't agree with that explanation of events. She told The New York Times that they never kissed. Additionally, she said she had no idea that Kavanaugh and his fellow classmates were making a reference to her until a few days ago.
In a statement, Dolphin said to The New York Times,
I learned about these yearbook pages only a few days ago. I don't know what "Renate Alumnus" actually means. I can't begin to comprehend what goes through the minds of 17-year-old boys who write such things, but the insinuation is horrible, hurtful and simply untrue. I pray their daughters are never treated this way. I will have no further comment.
Though her name might sound new to most people, this actually isn't the first time she has become involved in Kavanaugh's confirmation process. Prior to knowing about the inside joke shared between Kavanaugh and several of his classmates, Dolphin was one of the 65 women who signed a letter earlier this month attesting to Kavanaugh's character and good behavior during his high school days.
BuzzFeed News reports that Dolphin explained she got the information about the Sept. 14 letter "from a friend of ours from high school years," then she quickly hung up.
This isn't the first instance in which Kavanaugh's yearbook has come under speculation. On Sunday evening, Michael Avenatti, the lawyer for Stormy Daniels who claims to be representing a third Kavanaugh accuser, tweeted out a theory regarding Kavanaugh's reference to the "FFFFFFourth of July" in his yearbook.
Avenatti wrote, "Brett Kavanaugh must also be asked about this entry in his yearbook: 'FFFFFFFourth of July.' We believe that this stands for: Find them, French them, Feel them, Finger them, F*ck them, Forget them. As well as the term 'Devil's Triangle.' Perhaps Sen. Grassley can ask him. #Basta"
Kavanaugh has not yet responded to speculation over any of the phrases Avenatti has acknowledged. He and Ford will both appear before the Senate Judiciary Committee on Thursday, barring any changes to the latest schedule. Bustle has reached out to the White House for comment regarding Avenatti's latest claims.
If you or someone you know has been sexually assaulted, call the National Sexual Assault Telephone Hotline at 800-656-HOPE (4673) or visit online.rainn.org.