The Kardashian Family's Latest TV Deal Means 'KUWTK' Isn't Going Anywhere Anytime Soon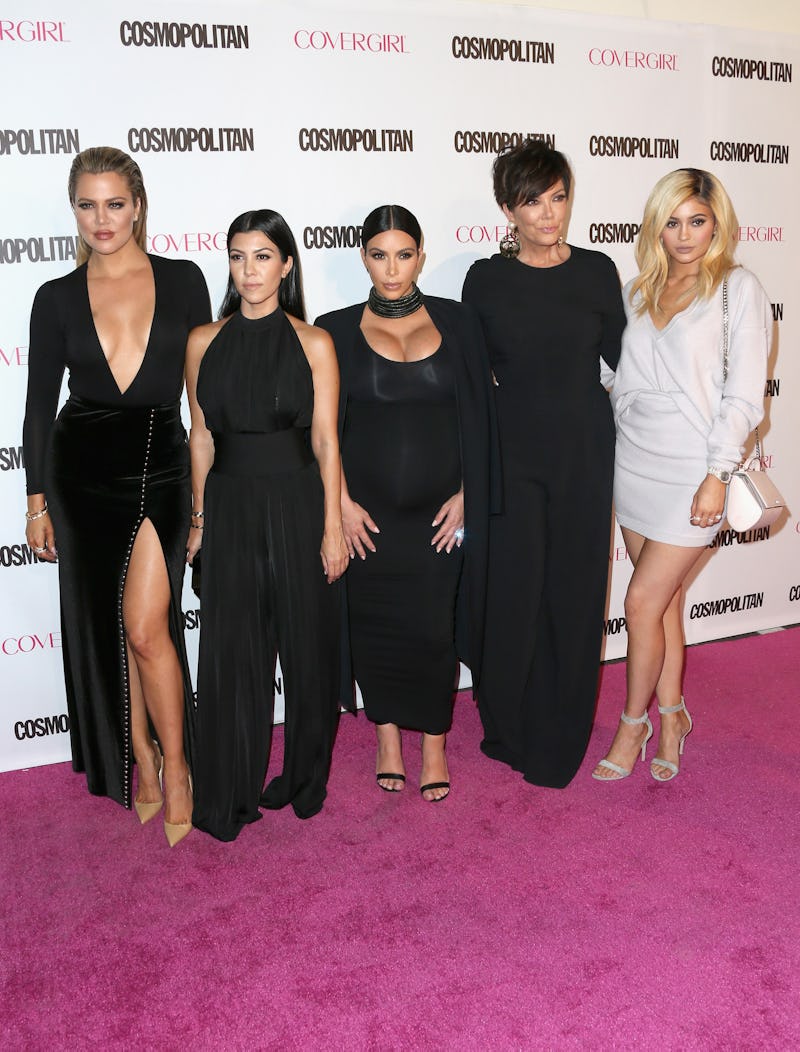 Frederick M. Brown/Getty Images Entertainment/Getty Images
If you thought that America's favorite reality TV family was winding things down amidst their recent 10 year anniversary celebration, you should think again. Keeping Up With The Kardashians inked a deal for five more seasons, according to TMZ. The site reports that this contract will push their popular reality series into the year 2019 on the E! network, and, in response to this news, an E! spokesperson released a statement to Bustle:
"We recently celebrated the milestone 10th anniversary of 'Keeping Up with the Kardashians' on E! We have aired 13 wildly successful seasons of the franchise as well as 11 spin-offs, and season 14 is off to a strong start. We are incredibly proud of our partnership with the Kardashians and they remain an important part of the E! family. We look forward to continuing our collaboration for years to come."
According to TMZ, the KUWTK agreement is reportedly set up so that the family can decide how to divide the $150 million pot amongst themselves, leaving it immediately unclear who will make what in the new raise. This reportedly increases their earnings from their previous 2015 contract of $20 million a cycle for five cycles, per TMZ. The new deal, which is worth a whopping $30 million per season, will allow fans the opportunity to catch a highly anticipated glimpse into the rumored impending Kardashian-Jenner births which are reportedly set to occur sometime during the upcoming year.
With interest in the family's recent baby boom at an all-time high, the announcement of the contract extension couldn't prove to be more perfect. It's certainly safe to say that there will be a lot to cover in the months leading up to and following Kim Kardashian-West, Khloe Kardashian, and Kylie Jenner's respective potential baby arrivals.
Although, Khloe and Kylie have yet to confirm their alleged pregnancies in the media, Kim did make the announcement that she and husband, Kanye West are expecting via surrogate. The reality superstar, in fact, made the revelation in a tweet of the KUWTK Season 14 trailer earlier this year.
In light of the mounting pregnancy news, it's just about guaranteed the KUWTK cameras will be on-hand to capture every single moment. And perhaps it will be just as intricately detailed as the moments when Kourtney Kardashian gave birth to her children, Mason and Penelope Disick, on television in years past. There was even recent speculation that Kourtney may be expecting her fourth child, although she was quick to put those rumors to rest in a tweet on Oct. 24, telling fans that her comments in a recent interview with Grazia were "taken out of context."
As far as storylines are concerned, the Kardashians certainly have plenty of ground to cover. For starters, there's been a lot of interest generated surrounding Kylie's rumored pregnancy and her relationship with her boyfriend, rapper Travis Scott.
There's also been a lot of buzz in the media about Khloe's reported pregnancy and whirlwind romance with NBA baller boyfriend, Tristan Thompson after her highly publicized struggles with fertility and her decision to finally divorce ex-husband Lamar Odom late last year.
Then there's the curiosity surrounding Kim and husband Kanye West's news that they're expecting their third child via surrogate. It's a storyline that fans have wanted to know more about since the announcement first made headlines back in September.
Essentially, with 14 seasons of highs and lows already under their belt, the Kardashians have proven that they have an overwhelming ability to keep audiences engaged year after year, so get ready to see the Kardashian brand live on our TV screens for many more decades to come.