Kendall Jenner's Tall Boots Are Extreme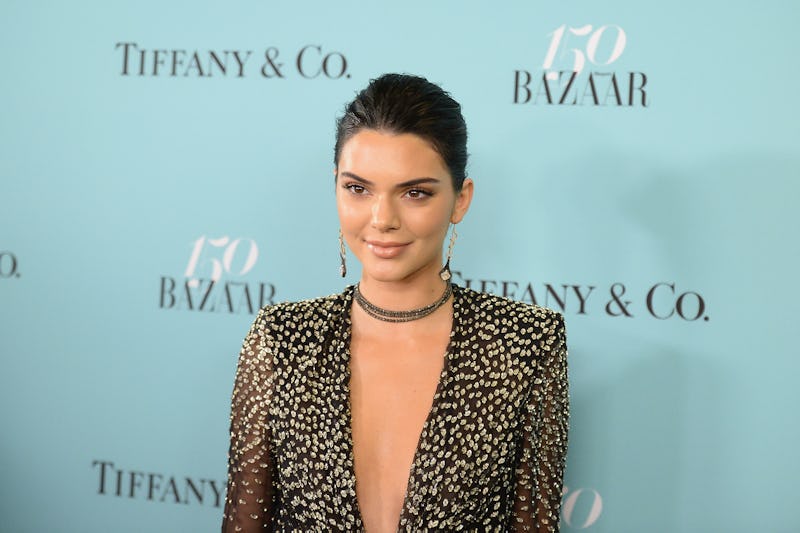 Andrew Toth/Getty Images Entertainment/Getty Images
I'm convinced that this model can wear anything and look amazing. I mean — she even pulled off jeans with attached anklets better than anyone else could. To prove my point, Kendall Jenner just wore the tallest boots ever, so add that to the long list of things she could totally rock on a daily basis.
Now, I know what you're thinking. "So Jenner wore thigh-high boots, what's the big deal?" Hear me out. These aren't your average tall shoes. This pair, in particular, comes up to the waistline of her pants, and at my 5'2" stature, I guarantee they're my height. Crazy, right? I'm telling you — this is definitely a "you have to see it to believe it" fashion moment.
Jenner posted a photo of these extremely lengthy boots with the caption "playing dress up" to Instagram. One person on Twitter compared her look to a toddler trying on their mother's clothes, and this outfit does have similar "this is too big for me" feeling, for sure. Again, however, if anyone could make this work, it'd be Jenner. So, hat's off to her for being able to wear the Eiffel Tower of boots. That nickname is completely accurate for these shoes, too. Seriously, Jenner's just introduced the tallest footwear I've ever seen.
Who even knew they made boots this long?
People online aren't quite sure what to think of these.
I totally understand this comparison, but could a two-year-old slay like Jenner? I think not!
These are so long that Jenner's jeans are barely visible.
You've never seen kicks quite like these before.
This isn't the first time Jenner's been adventurous with her footwear choices.
She's most certainly worn thigh-high versions in the past, but that still doesn't compare to her most recent round of dress-up.
Like I said, boots this lengthy are a first, even for Jenner.