Kevin Hart Jokes About His Alleged Infidelity But It's Just Not Funny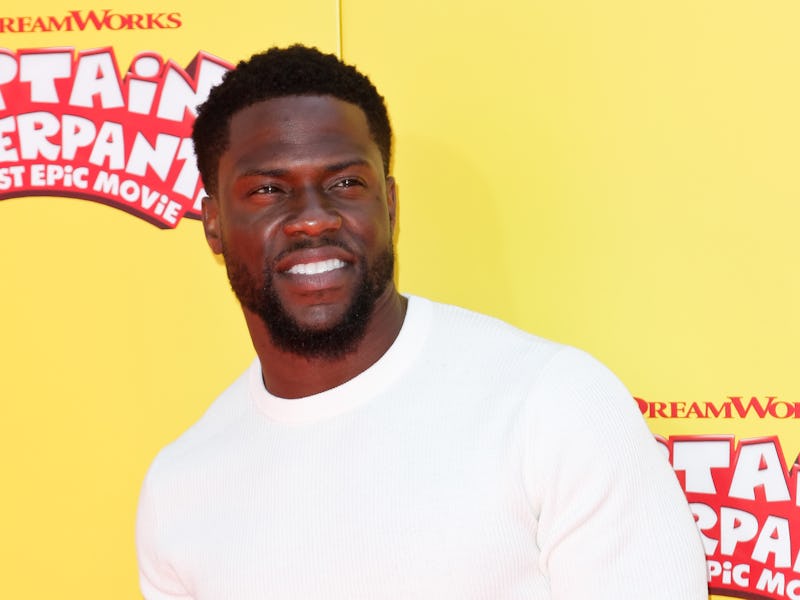 TIBRINA HOBSON/AFP/Getty Images
Rumors of family drama surfacing won't keep Kevin Hart down. The comedian announced Monday that he is going on the road soon. But, getting back to work in the midst of chaos isn't the issue here. Hart using the tour's promotional video to poke fun at his alleged infidelity is.
The funny man released the promotional video on his Twitter page, with a telling skit that's sure to get those following the star's recent media headlines up in arms. Within, Hart takes on multiple roles of himself, and talks about his "irresponsible" behavior as of late. "You've been behaving like a miscreant," Hart says to a clone of himself. "Down right stupid, if you ask me," another Hart-clone voices. Hart, taken aback by the criticism, asks the clones to provide examples of his poor behavior, only to be hit with the many allegations of infidelity that took over the web.
In case you've been living under a rock, the entertainer was caught in a cross-fire of rumors, which involved him allegedly cheating on his pregnant wife Eniko Hart, starting in July. Appropriately — or inappropriately, depending on how you look at it — dubbed The Kevin Hart Irresponsible Tour, it looks like the talent will be using the grand stage to address his situation, and tickets for its first leg are set to go on sale later in the week.
July footage of Hart seemingly canoodling with an unidentified woman in the backseat of a car in Las Vegas was later followed by a September video of someone who allegedly looked a lot like Hart engaging in sexual activity with model and actress Montia Sabbag. According to Hart, the September footage coming to light was apart of an alleged extortion scandal, which resulted in the comedian taking to his Instagram account to apologize to his family for his "wrong behavior."
"At the end of the day, man, I just simply got to do better," Hart says in the video clip. "But I'm not going to also allow a person to have financial gain off of my mistakes. And in this particular situation, that's what was just attempted. I said I'd rather 'fess up to my mistakes."
Hart has yet to address any of the rumors in depth, but his September apology hints that he may be guilty of something. Could the comedy tour be one of Hart's tactics to combat the validity of the rumors, or could the star be using his platform to publicly apologize for hurting his family? Either way, Hart's September apology on his social media account now seems a bit confusing. And if taken seriously by his family, its sincereness could also seemingly feel a bit short-lived, as the star laughs at his alleged infidelity with his latest tour announcement.
The "mistakes" that Hart was regretful of just a month prior were countered by his tone of sarcasm in the October promo. It's hard to find humor in such a serious situation, especially when the possible demise of one's family life and reputation could potentially be at risk, but laughing in the midst of chaos seems to something that Hart is quite fond of. The comedian has built his career of the loosely-based and humorous retellings of his divorce from ex-wife Torrei Hart — including his 2011 hit standup special Laugh At My Pain and his hit television show Real Husbands of Hollywood.
Though perhaps monopolizing off of his recent scandal, The Kevin Hart Irresponsible Tour will more than likely be a way for Hart to give his take on the controversial situation on his terms. However, that doesn't make the potential sorrow his family has experienced as a result of his alleged "wrongdoings" sting any less — or make it any more funny.