This 'Brooklyn Nine-Nine' Relationship Got Even More Adorable After A Brave & Dangerous Rescue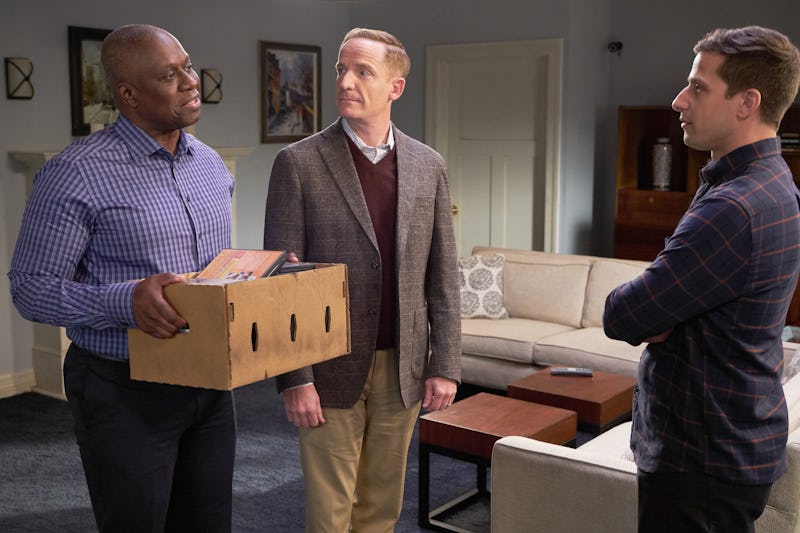 John P Fleenor/ FOX
Kevin Cozner (Marc Evan Jackson) and Captain Raymond Holt (Andre Braugher) on Brooklyn Nine-Nine have always had one of the most consistent, loving, and goal-worthy relationships on the show. Kevin brings out a side of Holt that is gentler and happier than he tends to be at work, but we usually see the relationship from the chief's perspective. In the Brooklyn Nine-Nine Season 5 midseason premiere, however, Holt puts Kevin and Jake (Andy Samberg) into a safe house after crime boss Seamus Murphy (Paul Adelstein) threatens Kevin's life. Spoilers ahead. The entire episode is centered around Holt going to extreme lengths to protect his husband, but the end delivers the real twist. When Hole is captured by Seamus, it is Kevin who faces the bad guys and bravely saves the day — because love makes people capable of breaking out of their usual patterns of behavior.
Kevin drives his van into Seamus and his associates, then punches Seamus, all to protect the man he loves. While much of the episode is focused on time spent in the safe house between Jake and Kevin — a dynamic that has been funny since its introduction — the real revelation is Kevin's recklessly heroic move. Much of the humor that Kevin brings to the series is based in how different his tastes and comfort level are in contrast to almost everyone's in the precinct, but this episode had him step into that world in order to save his husband.
The intention behind Kevin's bravery is perfectly clear. When Jake tells Kevin to go home, so that he alone can go try to rescue Raymond, Kevin's hard and direct response confirms his motives. Kevin says, "No. I'm not abandoning my husband. I love him." Jake then insists that Kevin go back to the safe house, giving him direct orders. While at first it appears that Kevin has listened to instructions, he instead reemerges to save the day. After Kevin punches out the bad guy, he and Holt share a sweet and very in-character moment where they refuse to call Seamus a dirtbag because it's a "very useful part of a vacuum cleaner." Jake exclaims that Kevin and Holt are perfect for each other, a reflection of what we all feel.
This episode is unique in that Kevin steps into a new role, but it doesn't feel dramatically out of character for him. The steady relationship between Kevin and Raymond, established over multiple seasons, saves this moment from being unrealistic. They are each other's soulmate so of course they are willing to go to great lengths to protect one another.
It will be interesting to see if this moment of extreme bravery affects Holt and Kevin moving forward or if this break in character is momentary. The Seamus storyline feels complete, with him and his men being arrested in the end, but the emotional arc for the characters may not be quite as finished. At the end of the episode, Jake and Kevin have an interaction that may suggest that Kevin is a little bolder then before.
During their time in the safe house, Jake and Kevin watch Nicholas Cage films, much to the high-brow Kevin's distaste. When Seamus is caught, Jake reveals that he kept some of Cage's more well respected films from Kevin, including Leaving Los Vegas, for which Cage was nominated for an Oscar. Upon hearing this, Kevin knocks the DVD out of Jake's hand and shrieks, perhaps not how he would have handled the situation at the beginning of the episode.
Change or no change, it'll be fun to see new ways in which the show explores the always hilarious and complex Kevin and Holt dynamic moving forward. Kevin is a more fleshed out character than ever before, and now maybe he'll become an even more integral part of the team.