Khizr Khan Writes A Letter About Jeff Sessions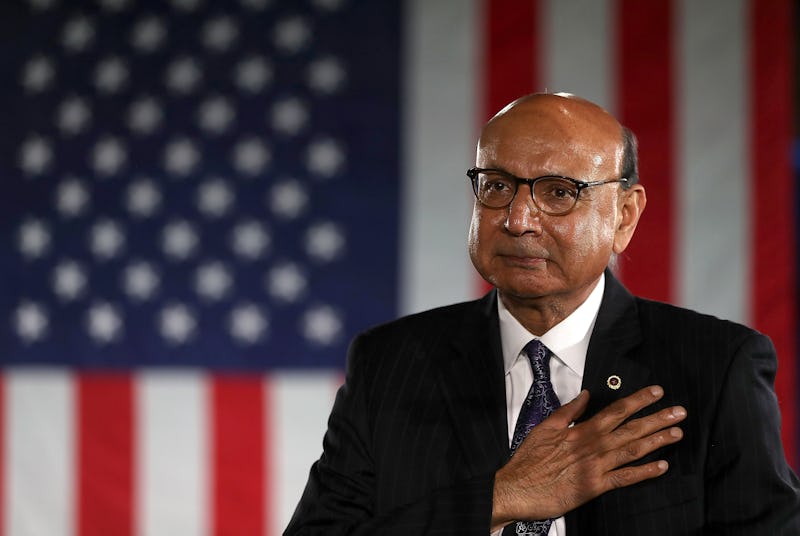 Justin Sullivan/Getty Images News/Getty Images
With Republicans promising to proceed with confirmation hearings for President-elect Trump's Cabinet picks this week despite concerns about several of the nominees' backgrounds, Khizr Khan has written a letter opposing Jeff Sessions' confirmation for attorney general to the Senate Judiciary Committee and urging voting members to do the same. Khan's letter comes a day after Senate Majority Leader Mitch McConnell's insistence that Democrats need to "grow up" and allow the confirmations to take place. The concerns laid out in Khan's letter perfectly illustrate why McConnell should follow the procedures he demanded of Harry Reid in 2009 and not allow the hearings to take place prior to nominees being fully vetted.
Khan, a Gold Star father who was thrown into the national spotlight after giving a powerful speech criticizing Trump's views of Muslim-Americans at the Democratic National Convention, dedicated the majority of his letter to citing instances in Sessions' record that have led to unrest and fear among immigrants and racial minorities, including criticizing the Voting Rights act, cultivating "close relationships with organizations that promote racial and religious divisiveness and hostility toward immigrants," defending "proposals that would single Muslim immigrants out for discriminatory treatment," and accepting "awards from the most intensely anti-Muslim organizations and groups."
Khan also referenced the Senate and Judiciary Committee's 1983 rejection of President Reagan's nomination of Sessions to serve as a federal judge "in part because he used the power of his office as a U.S. Attorney to prosecute community activists who helped poor and elderly people exercise their right to vote."
While Senate aides have stated that Sessions' background check and paperwork has been completed, McConnell's characterization of concerns from the Office of Government Ethics as a case of sore losers needing to "grow up," it suggests that he and his Republican peers have been flippant regarding the required ethics reviews.
Aside from Sessions, a noteworthy amount of Trump's cabinet picks have either not submitted their ethics reports, or still have pending FBI background check results. This list includes Rex Tillerson, Betsy DeVos, Ben Carson, and Wilbur Ross.
"No administration, Republican or Democrat, has tried to do what these Republicans are trying to do with their nominees," said Senate Minority Leader Charles Schumer in a statement. "Rather than ensuring that nominees are thoroughly vetted and will remove themselves from conflicts of interests, Senate Republicans are trying to ram them through as quickly as possible."
Given McConnell's 2009 letter to Harry Reid demanding that background checks and ethics reviews, among a list of other things, be completed prior to the confirmation hearings for President Obama's cabinet nominees, the current situation comes across as hypocritical.
Hopefully McConnell and those on the Judiciary Committee have a chance to read and thoroughly think about Khan's letter prior to these hearings.
You can read the letter in full over at BuzzFeed News.