Khloe Kardashian Opens Up About Having Kids With Tristan Thompson During The 'KUWTK' Premiere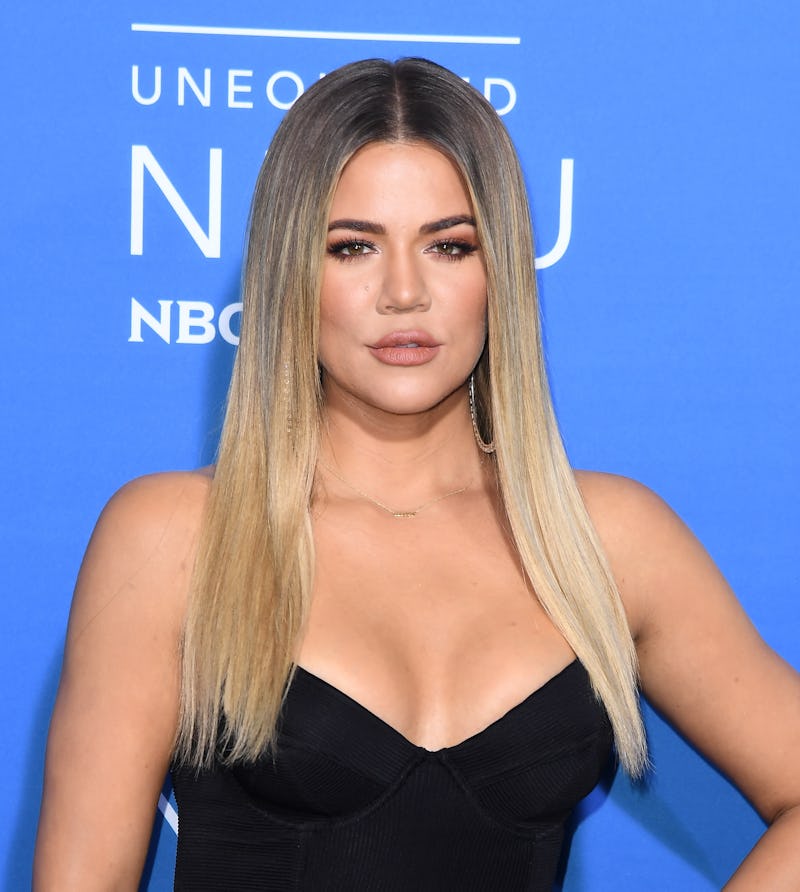 ANGELA WEISS/AFP/Getty Images
It's been a wild couple of weeks for fans of the Kardashians. On the heels of Kylie Jenner's pregnancy rumors, Khloé Kardashian has sparked a few of her own. And now, Khloé has admitted she wants kids with boyfriend Tristan Thompson. On Sunday night's Keeping Up With The Kardashians Season 14 premiere, Khloé opened up about where she sees her future headed with Tristan, and it sounds like starting a family is definitely part of that — whether the rumors end up being true or not.
Of course, it's been obvious for awhile that Khloé and Tristan have been getting serious, judging by how often she attends his games playing with the Cleveland Cavaliers and the fact that she's open about their relationship on her social media and on KUWTK. But this week's ep made it pretty clear that they're even more serious than some fans might have thought... and it even surprised her family a little.
Kim and Kourtney went to Cleveland to see what Khloé's life is like when she's there with Tristan. And during one of their dinners together on the trip, the conversation turned to the topic of babies... and whether or not Khloé was itching to have one with her boyfriend.
During a game where they asked each other questions that required 100 percent honest answers, Tristan's best friend asked Khloé when she wants to have kids with Tristan. Her initial answer was "I don't know," but then she ended up going a bit more into detail, admitting that it's part of their plan for the future but she really just wants to see how things go and let it happen on its own.
It's exciting to hear that this is something Khloé's been thinking about, and it was even better to see how happy and at home she seems in Cleveland. She kept saying that she was "free" there, and she was — it was hard to believe how easily she and her sisters were able to walk down the street without causing much of a scene.
And let's face it: That indoor amusement park was pretty killer. If Khloé and Tristan do have a baby and he keeps playing in Cleveland, that kid is going to love eating funnel cake and riding rides there.
Khloé's answer to the baby question is not mind blowing information, but it does make it seem like babies are something that's been on her radar... and since she's opened up about wanting to have kids so many times in the past, it all makes a lot of sense.
But even though she talked about having children on KUWTK, she still hasn't addressed the rumors that she's already expecting head on — and neither have her sisters. The past couple of weeks have been a whirlwind of pregnancy rumors about Khloé, Kylie Jenner, and Kim Kardashian's reported surrogate, and none of the three have officially been confirmed by the famous sisters themselves.
Unfortunately, that means some fans are pretty disappointed that the Season 14 premiere didn't include confirmation on these pregnancies, including Khloé's. It would have been awesome if Sunday night's episode included one big announcement that cleared everything up, but obviously, that just wasn't in the cards.
But if curiosity is getting the best of you, you can take comfort in the fact that Khloé and her sisters will probably fill their fans in on what's really going on sooner or later. If the Kardashians are skilled at one thing, it's announcing big news with a major splash. When Khloé is ready to let us in on her reported pregnancy, she will, and it will almost certainly be worth the wait.