Leo DiCaprio Is Bringing Another True Crime Book To The Big Screen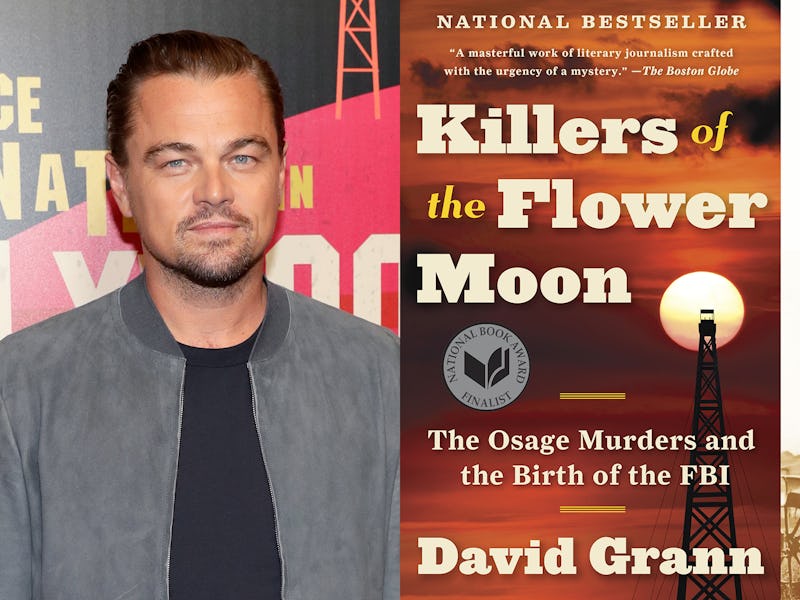 Isaac Brekken/Getty Images Entertainment/Getty Images
Listen up, true crime fans: Killers of the Flower Moon is coming to the big screen, and Martin Scorsese and Leonardo DiCaprio are the ones bringing it there. Get ready for some dramatic lighting, spooky scoring, and a lot of close-up shots of Leo's sweaty, dirt-streaked face as he peers inquisitively into the Oklahoma horizon. This isn't the only true crime history book DiCaprio and Scorsese have considered for the big screen; the two previously announced an adaptation of Erik Larson's The Devil In The White City, which is reportedly still in development.
Variety reported on Wednesday that the actor-director team responsible for such films as The Wolf of Wall Street, The Departed and Gangs of New York (in total, Scorsese and DiCaprio have collaborated on five productions) has officially signed on to direct and star in a film adaptation of David Grann's 2017 best-selling book, Killers of the Flower Moon. Eric Roth has also been named as the script's head writer. You may have heard of Roth's work? A little film called Forrest Gump? A small movie named The Curious Case of Benjamin Button? In other words, big money is being thrown behind this adaptation.
In a post-Hamilton world (remember, Lin-Manuel Miranda's musical was inspired by Ron Chernow's tome of the same name), readers are increasingly willing to dive deep into historical biographies and non-fiction books. What were once considered "Dad Books" have been embraced by younger generations who have realized there's so much more beyond what they had to read in ninth grade history textbooks. That what's happening today is not happening in a vacuum. That there are patterns and traditions being repeated over and over again. And that a story doesn't have to be fiction to be compelling.
David Grann, a journalist who often writes for the New Yorker, understands the power of a well-told historical moment. His listography includes The Lost City of Z, which was adapted into a 2016 film starring Charlie Hunnam and charts the real-life trek of British explorer Percy Fawcett. Fawcett spent years in Brazil, trying to find an ancient, "lost" city of the Amazon. Sound captivating? Oh, wait until you hear the premise of Killers of the Flower Moon.
Killers of the Flower Moon by David Grann, $16.95, Amazon or Indiebound
In the 1920s, Oklahoma's Osage Nation were the richest people per capita in the world. Oil had been found beneath their land, and in the wealthy aftermath they built mansions, drove big cars and sent their children to school in Europe. And then, one by one, someone began murdering the Osage Nation. Whenever a tribe member tried to investigate, they, too, were targeted. Poisonings, shootings — the Osage Nation was terrified and dwindling at an alarming pace.
As the deaths rose, the case caught the attention of the newly created FBI and its young director, J. Edgar Hoover. Hoover then called upon a former Texas Ranger named Tom White to unravel the mystery. White built an undercover team, featuring a Native American agent who "infiltrated" the Osage Nation. No word yet on whether DiCaprio will be playing Hoover or White, but I have to hope to that we'll get to hear Leo pulling out a deep, resonant Texas drawl a la Bradley Cooper in A Star is Born. Please, Hollywood universe, give us that much, at least.
The movie is set to begin filming next summer. The release date has yet to be announced.