Kim Cattrall May Not Want To Do 'Sex & The City 3,' But She Suggested A Great Alternative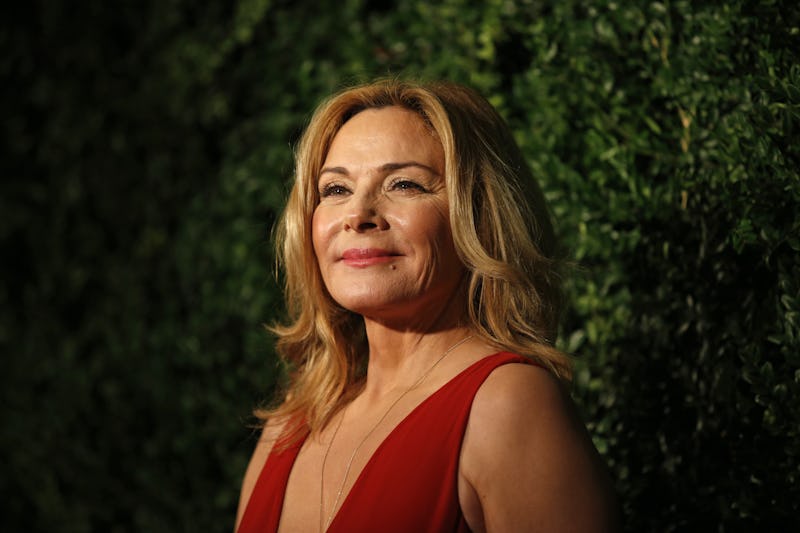 JUSTIN TALLIS/AFP/Getty Images
Amid rumors that her diva-like behavior was to blame for production delays, Kim Cattrall responded to Sex & The City 3's cancellation with an enlightening suggestion. According to Daily Mail, in a recent sit-down for Piers Morgan's show Life Stories, Cattrall openly discussed her reason for not wanting to participate in the third installment, along with a few righteous words for the filmmakers, if they do ever decide to move forward with her SATC character, Samantha Jones.
During the interview, Cattrall acknowledged she'd like to see more diversity within the franchise's cast, even offering a socially conscious suggestion for Samantha's future. She said,
"I want them to make the movie, if that's what they want to do. It's a great part. I played it past the finish line and then some and I loved it and another actress should play it, maybe they could make it an African American Samantha Jones or a Hispanic Samantha Jones?"
As far as Sex and the City 3's cancellation is concerned, Cattrall revealed that although she'll "never" step into the role again, she was a bit baffled by the bad press she received amid rumors that her demanding behavior was the reason for the movie getting halted. She said,
"Me playing her, that I can assure you will never happen. For me it's over, it's over with no regrets ... I'm at a point in my life where I am making decisions that make me happy and going backwards in life doesn't make me happy."
As far as the "diva" rumors, the Big Trouble in Little China actor tried to clear the air, saying, "At this very moment it's quite extraordinary to get any kind of negative press about something that I've been saying for almost a year of 'no' that I'm demanding or a diva."
Although some fans are disappointed that the movie isn't happening, they may be more shocked to hear about the real-life melodrama supposedly occurring off-screen. Cattrall appears to have taken issue with co-star Sarah Jessica Parker's reaction to her decision not to participate in the film. According to Daily Mail, Cattrall explained,
"And this is really where I take to task the people from 'Sex and the City' and specifically Sarah Jessica Parker, in that I think she could have been nicer."
The animosity between the former co-stars may, presumably, stem from a previously rumored beef. Cattrall and Parker were reportedly at odds with one another during their time filming the iconic HBO series and subsequent movies together — a notion that Cattrall seemingly confirmed in her rebuttal to her fellow castmate's criticism, according to Daily Mail.
Cattrall elaborated, "I really think she could have been nicer. I don't know what her issue is. I never have." She even went as far to compare the situation to a "toxic" relationship. (Bustle reached out to Parker's rep about these comments, but did not receive an immediate response.) However, SATC actor Willie Garson, who played Stanford, seemed to dismiss the "toxic" notion in a tweet on Wednesday, showing he has Carrie Bradshaw's back off-screen, too.
For her part, SJP has remained mum about the situation with Cattrall. But when speaking with Extra recently, Parker confirmed the movie's shelving, while sharing regret that the project wasn't moving forward. She said,
"I'm disappointed. We had this beautiful, funny, heartbreaking, joyful, very relatable script and story. It's not just disappointing that we don't get to tell the story and have that experience, but more so for that audience that has been so vocal in wanting another movie."
Cattrall and Parker aren't the only members of the fashionably savvy cast to come forward with a statement amidst the cancellation news. Actor Kristin Davis, who portrayed the optimistic and sometimes naive Charlotte York, took to Instagram to divulge her feelings next to side-by-side screenshots of her beloved SATC character. Davis wrote,
"I wish that we could have made the final chapter, on our own terms, to complete the stories of our characters. It is deeply frustrating not to able to share that chapter (beautifully written by MPK) with all of you."
So it seems that Sex and The City 3 is officially over for now. That is, unless, producers decide to take Cattrall's brilliant advice and add a bit of diversity to the role. Maybe even a total reboot with an entirely new cast would work. There are quite a few actors like — Gabrielle Union, Zoe Saldana, Tracee Ellis Ross, Taraji P. Henson, Sofia Vergara, and Kerry Washington (just to name a few) — that could easily step into Samantha's Manolo heels and take on the city with the best of them.