Kim Cattrall Just Revealed She Has Never Actually Been Friends With Her 'SATC' Co-Stars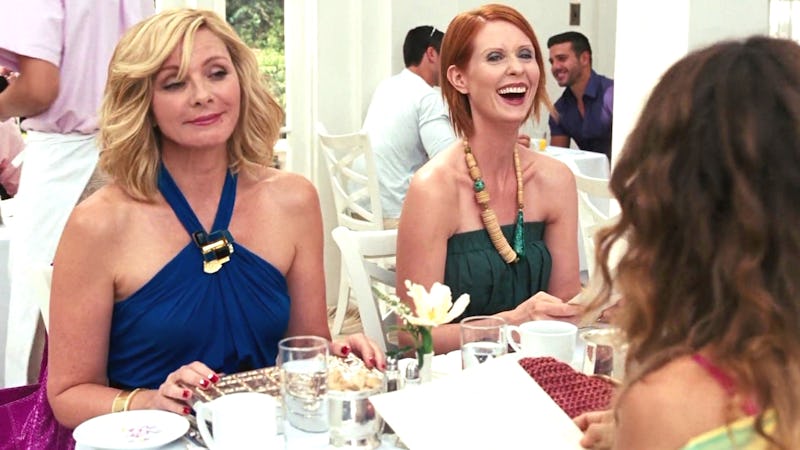 New Line Cinema
By now, you're probably well aware that Sex and the City 3 isn't happening. You've also probably heard that it's because Kim Cattrall doesn't want to do another Sex and the City movie. But, now fans are getting a chance to hear the real reason why Cattrall turned down another Sex and the City sequel — it's actually a good one. So good that fans might reconsider any disappointment they feel towards the actor best known as Samantha Jones, especially since she has some suggestions on how the movie could continue on without her.
Cattrall sat down with Piers Morgan on Monday night to tell her side of the recent SATC movie controversy. She explained that she had made the decision not to sign on after getting a call back in December about the third movie. "The answer was simply, 'thank you, but no,'" she said. Later, she added, "We've never been friends" in regards to her cast mates. It's something that may be hard for fans to hear, but she says it's actually "a very healthy place to be because then you have a clear line between your professional life and relationship and your personal."
However, the negative press "about something she's been saying for almost a year" is surprising to the actor, but worse is the reports that she's "demanding" or a "diva." For that, she is placing some of the blame for those false reports on her Sex and the City co-stars, specifically Sarah Jessica Parker. "I think she could have been nicer," Cattrall told Morgan. "I really think she could have been nicer."
Last month, Parker told Extra that, after years of teasing another movie, there officially would be no threequel. "It's over," she said, "we're not doing it," telling the reporter:
"I'm disappointed. We had this beautiful, funny, heartbreaking, joyful, very relatable script and story. It's not just disappointing that we don't get to tell the story and have that experience, but more so for that audience that has been so vocal in wanting another movie."
Parker didn't say exactly why it was called off, but The Daily Mail soon reported that it was Cattrall and her "outrageous demands" that led to it being canceled. The tabloid claimed that Cattrall wanted Warner Bros to produce her other movies that were in development or "she wouldn't sign up for the project."
However, Cattrall now says she didn't want to do another Sex and the City movie because she made "an empowered decision in my life to end one chapter and start another." And who can blame someone for wanting to move on with their career? After all, she starting playing Samantha back in 1998, and continued to do so for six seasons and two movies, the last one being released in 2010.
"It's a great part," she told Morgan. "I played it past the finish line and then some and I loved it." She loved it so much that she'd like to see it continue without her. "Another actress should play it," Cattrall said. "Maybe they could make it an African American Samantha Jones. Or, a Hispanic Samantha Jones."
For some SATC fans, it may be hard to imagine Samantha being played by anyone else but Cattrall, but she doesn't. She may not want to do another movie, but she's not stopping it from happening. Cattrall made a choice based on what's best for her and isn't that what we should all do when it comes to our careers? What it comes down to is that her decision to not do the movie wasn't personal; it was business. It wasn't a slight to her cast mates, and Cattrall isn't trying to sabotage a third film. She just made a deal that works for her. Fans shouldn't begrudge her of that; they should support it.
Sex and the City was a show that was about four independent women who made their own decisions based on what's best for them. They helped other women do the same. Now, Cattrall is putting that into practice. Fans shouldn't get wrapped up in whether the actors are friends are not, but start thinking about who could play the "new" Samantha. Just like Cattrall, it's time for fans to move on. Maybe not to something better, but certainly something new.