Kim K Reportedly Describes Her Horrific Robbery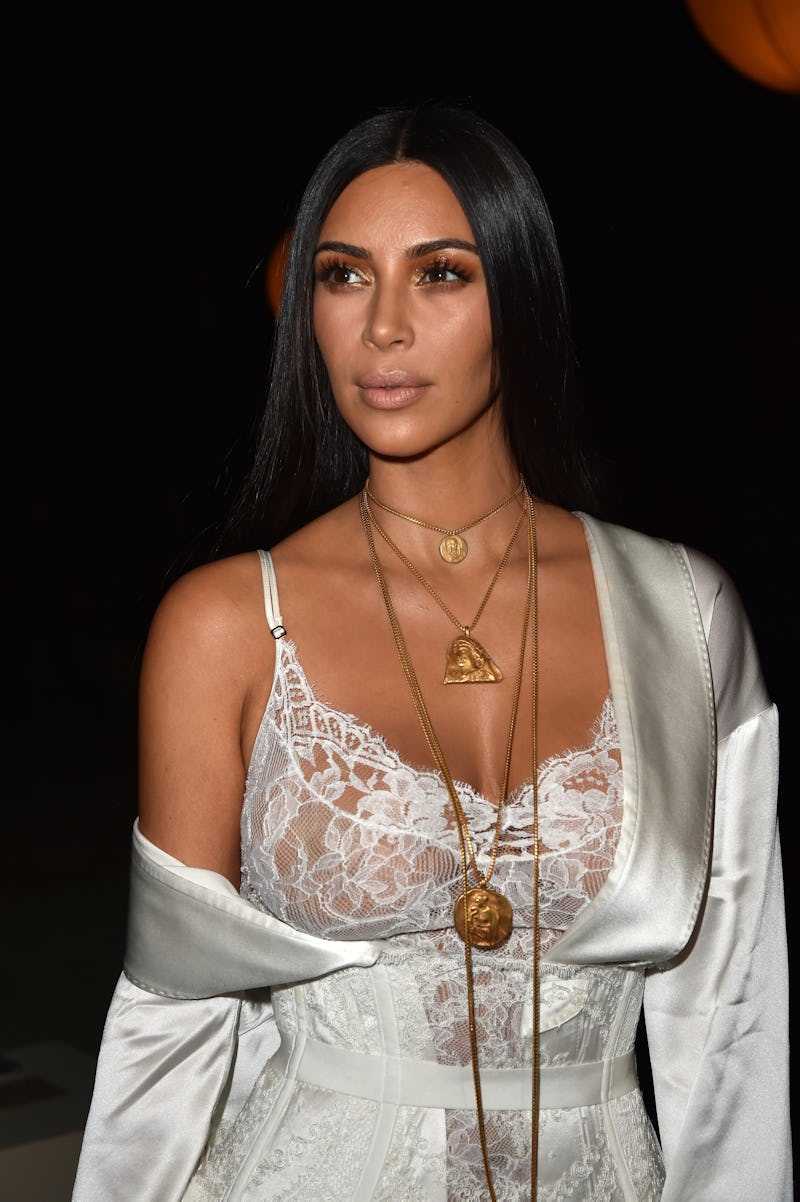 Pascal Le Segretain/Getty Images Entertainment/Getty Images
After a long period of (understandable) silence, Kim Kardashian is back in the public eye. Not only has the reality TV star returned to social media, but details about her October robbery are emerging. A recently released police report allegedly contains Kardashian's firsthand description of the robbery. The report, which reportedly contains Kardashian's first account to police immediately following the robbery, was published in part by the French newspaper Le Journal du Dimanche on Sunday. Bustle has reached out to Kardashian's rep, but hasn't heard back at this time.
Many details about the robbery were already public knowledge. It's known that in the early morning of Oct. 3, 2016, Kardashian was robbed at gunpoint in a French hotel by men dressed as police. The men tied her up and robbed her of millions of dollars worth of possessions. Kanye West, Kardashian's husband, left a New York concert halfway through upon hearing the news.
The new alleged testimony from Kardashian doesn't reveal a lot of new information, but if it is indeed Kardashian's own words, the first person perspective does reveal how scary the ordeal must have been for the star. "I heard a noise at the door, like footsteps, and I shouted, asking, 'Who's there?'" she reportedly told police, according to the alleged testimony. "No one answered. I called my bodyguard at 2:56 a.m. Through the door, I saw two people arrive, plus the night man who was tied up."
Her alleged description of being tied up is particularly chilling. "They grabbed me and took me into the hallway," she reportedly detailed. "I was wearing a bathrobe, naked underneath. Then we went in the room again and they pushed me on the bed. And, it was this time, they tied me up with plastic cables and taped my hands, then they put tape over my mouth and my legs."
Kardashian also reportedly listed the objects stolen from her, including her diamond ring, two diamond Cartier bracelets, a gold and diamond Jacob necklace, Lorraine Schwartz diamond earrings, and a gold Rolex. "I think they robbed me of 5 million dollars," she allegedly said, according to the report. "Then they left on the run."
Kardashian reportedly wasn't able to describe too many physical details about her robbers, as one of them was allegedly wearing ski goggles. She did reportedly reveal that they didn't seem overly professional, however. "I felt they were a bit inexperienced because of the way they tied me up," she allegedly said, according to the report. French authorities arrested 17 people suspected of ties to the robbery on Monday, so the identity of the thieves will hopefully be revealed soon.
This alleged police report won't be the last we hear from Kardashian on the subject of her robbery. Keeping Up With The Kardashians, which temporarily ceased filming following the Paris incident, will depict the aftermath of the robbery, so we'll officially be able to hear Kim K describe the harrowing experience in her own words.