Kim Kardashian Lumee Cases Are Coming, So Your Selfie Game Can Be Stronger Than Ever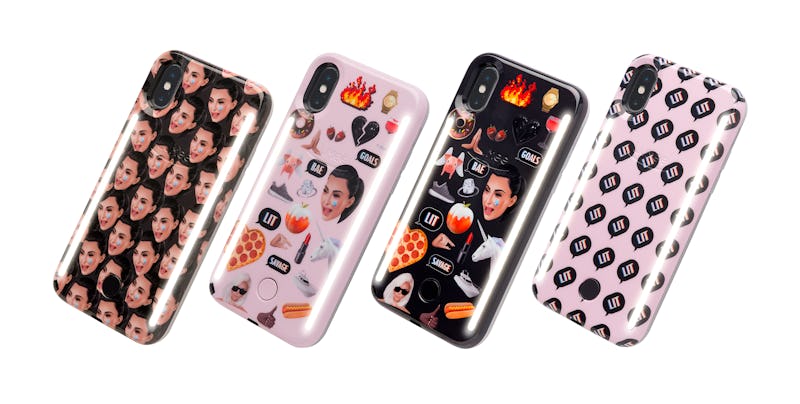 Courtesy LuMee
In a turn of events that you in no way saw coming — *eyeroll* — Kim Kardashian and LuMee have teamed up for Kimoji cases. You can now get all of your favorite Kardashian faces and the perfect selfie-enhancing glow, no matter what kind of iPhone that you have. What a time to be alive, my friends.
If there's one thing that Kardashian knows about, it's taking selfies. The social media star has been rocking a LuMee case since the very beginning, and now she's combining two of her social media passions into one. You know, her Kimojis and LuMee phone case.
Kardashian has created patterns with the brand before, but this is the first time that her icons will be on the back of one of the brand's cases. The two came up with four designs for the initial launch. There's Kardashian crying faces, a collection of different Kimojis with a pink background and one in black, and then one with the word "lit" all over it. Because, duh.
If this is anything like the rest of Kardashian's launches, there will likely be a ton of other patterns on the same item to come. Who knows, maybe there will even be a Kimoji x LuMee case that holds KKW Beauty products.
Like all things that the Kardashian family creates, this will likely fly off the virtual shelves — regardless of the $79.95 price tag. Yes, really. You didn't think that you could get this kind of social media goodness for an affordable price, did you? The price is $10 more than the traditional LuMee cases currently offered on the website.
No matter which version of the iPhone you have, you can stock up on a Kimoji x LuMee case to outfit it in. According to the press release, all of the patterns will be available for iPhones 6, 7, and 8 in all of the different versions as well as iPhone X. Because good selfie light should not be limited to one certain model.
You can preorder the Kimoji x LuMee cases on April 17 on the LuMee website. The brand will be shipping out to all their eager selfie-takers on May 3, when the products officially launch.
In case you're not familiar with the idea of LuMee, let's break it down. Each case is a hard-shell on one side, just like your traditional phone case. On the other, there's a "professional quality, LED lighting with an adjustable dimmer" around the edges. You know, so you can really get that Kardashian-level glow while you take images.
The light works with both photos and videos as well. That means that you can look you can document your selfies in all sort of lights and conditions. You'll be able to choose between three different levels of light, so you can set the mood just right. Don't say that Kim K never did anything for you.
There are tons of other LuMee designs available on the brand's website, if you're not into the Kimoji look. The brand just launched a festival collection that features holographic and desert flower designs. There's also a marble collection that is perfect for all year 'round.
The chance to get one of these incredible Kimoji x LuMee cases only comes around so often, so you're going to want to act fast. Unless, you know, this sale goes over extremely well. Then there will likely be a new Kimoji case every single week. Either way, you won't want to miss out on the latest Kardashian endeavor.