Kim K Met Trump To Talk About Another Person She Says Was Unfairly Sentenced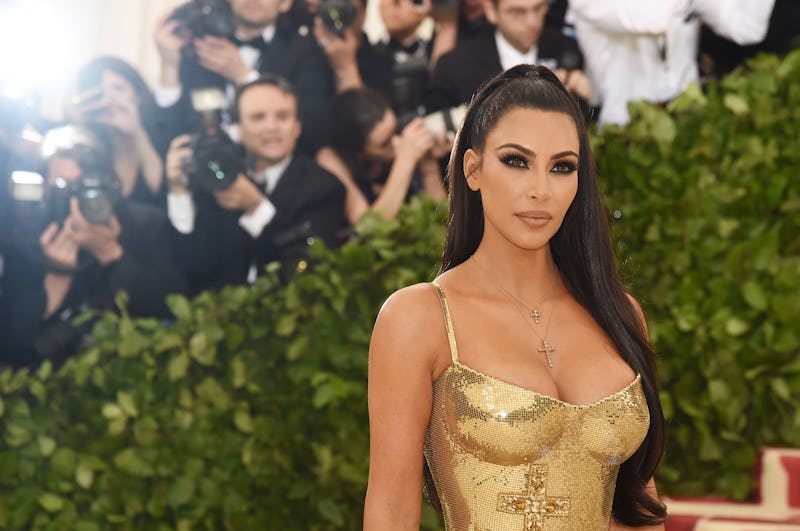 Jamie McCarthy/Getty Images Entertainment/Getty Images
This spring, Kim Kardashian successfully lobbied President Donald Trump to pardon Alice Marie Johnson, who was serving a lifelong prison sentence for a nonviolence drug offense. But that was just the beginning of her venture into criminal justice issues. She's now working to help free others she says were wrongfully sentenced, and according to TMZ, Kardashian met with Trump on Wednesday to discuss one individual in particular.
It's not confirmed whose case she raised, but Page Six reports that one of Kardashian's next interests is Chris Young. Young was arrested in 2010, at the age of 22, and was convicted of conspiracy with intent to possess and distribute crack and cocaine, per VICE. He's one of those highlighted by the Buried Alive Project, which opposes life-without-parole sentences for drug convictions. "He does not deserve to die in prison," the project says of Young.
His case has caught Kardashian's eye, and she reportedly talks about it on an upcoming episode of Jason Flom's "Wrongful Conviction" podcast, previewed by Page Six. She describes talking to Young on the phone and says that his case is "so unfair. He's 30 years old. He's been in for almost 10 years."
Kardashian may have already put her plans to lobby on Young's behalf into motion. According to TMZ (and confirmed by the AP), she flew in the middle of the night on Tuesday from L.A. to Washington D.C. to meet with President Trump on Wednesday morning. TMZ reports that she's there "to talk prison reform" and advocate for one individual in particular, though that person's name has not yet been released. Bustle has also reached out to the White House for comment.
As Kardashian reportedly notes on the podcast, even the judge who sentenced Young opposed giving him life without parole. His hands were tied by the law, though, in part because it was Young's third offense. "Each defendant is supposed to be treated as an individual," Judge Kevin H. Sharp told the court at the end of his trial, according to VICE. "I don't think that's happening here. But you are sentenced to a term of imprisonment in the custody of the Bureau of Prisons for life."
"I was on the phone with the judge that sentenced him to life," Kardashian said on the podcast, "who resigned because he had never been on the side of having to do something so unfair, and now he is fighting [alongside] us to get [Young] out."
Kardashian previously met with Trump on May 30 to discuss the case of Alice Marie Johnson, a grandmother who'd already been in prison for around two decades after being convicted of nonviolent charges, including conspiracy to possess and distribute cocaine. The president pardoned Johnson a week later.
Kardashian's kept in contact with the White House since then, even prior to her visit to D.C. on Wednesday. According to TMZ, she talks to Jared Kushner frequently and says that he's "passionate" about reforming laws about criminal sentencing. Vanity Fair reported in mid-June that she'd given Kushner a list for Trump with names of people whose sentences she wants commuted.