Kim Kardashian Reportedly Dyed Her Hair Blonde As An Anniversary Gift To Kanye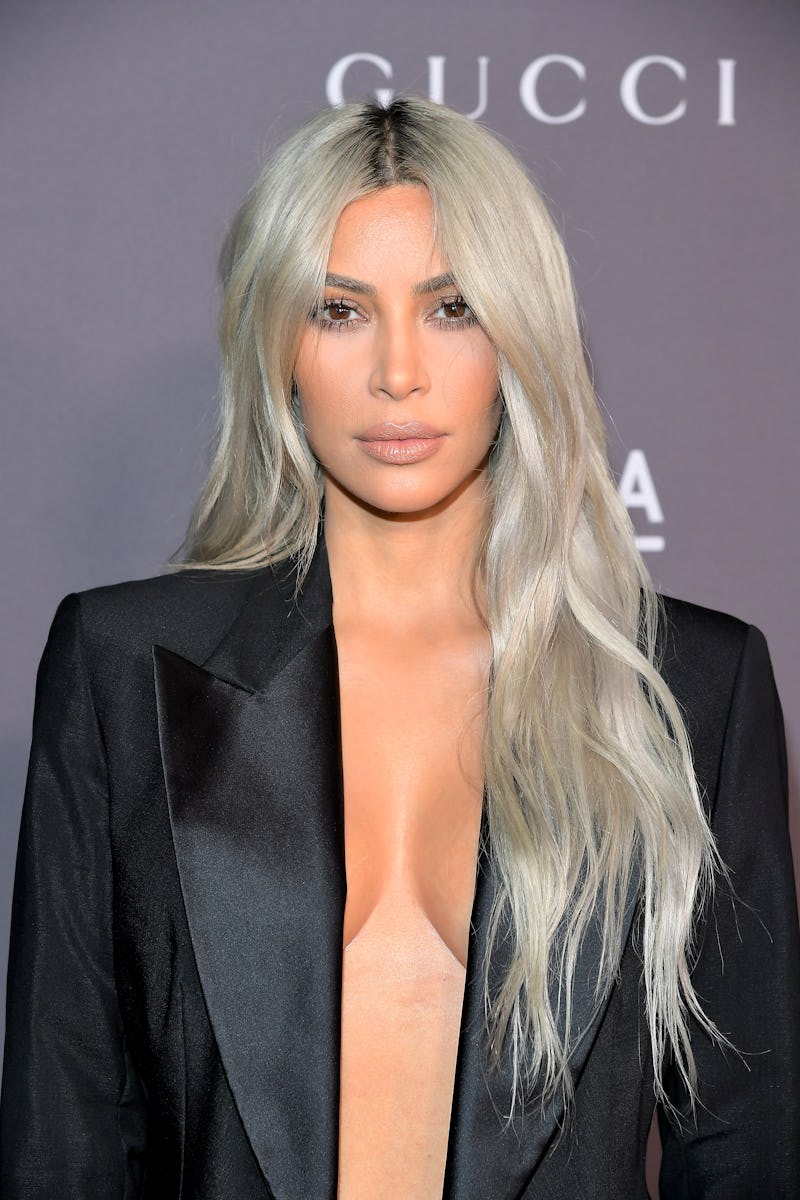 Charley Gallay/Getty Images Entertainment/Getty Images
Apparently blondes have more fun in the Kardashian-West household. As Cosmopolitan originally reported, Kim Kardashian dyed her hair blonde again as an anniversary present to Kanye. Because beauty is the gift that everyone can enjoy. This might be a similar look to the one that she's had before, but it has a whole lot more meaning this time.
You know when your anniversary rolls around and you dress in that outfit that you and your significant other like? Well, this is kind of like that, but more Kardashian style. The A-lister took to Instagram Stories to show off the new, but also not-so-new look.
"I am back blonde," Kim said in the Instagram video. "Kanye's favorite is blonde, so I did it for our anniversary."
Kardashian showed off a pin-straight middle part 'do with, you guessed it, platinum blonde locks. Her roots are dark, but the rest of the hair is the same bright blonde shade that she's been before. Instead of a bob, she opted for ultra-long hair instead.
The only real different with this hairstyle is the filters that she's using to show them off on her social media. There's no word on what West thinks of the hairstyle, but Kardashian knows him best.
Yes, the hairstyle is fire, and so is the filter. This isn't the first time that she's gone blonde. The KKW Beauty founder first went blonde during Fashion Week 2015. She sported the new hair change with wet-looking hair, while walking hand-in-hand with hubby West. She let her fans know that it was West who inspired her to try the look, so it only makes sense that he likes it now, too.
She's worn the style plenty of times between then and now. According to People Style, she's actually dyed her hair every single time that she's gone blonde, too.
"I've been talking about going blonde again for a long time, and I'm so happy I did! I know a lot of people initially thought I was wearing a wig, but it's my real hair," Kardashian confirmed. "My amazing stylist, Chris Appleton, dyed my hair and got it to the most perfect platinum, silvery-white color."
The most recent style is a lot less silver and way more platinum. There's no word on who dyed her hair this time.
This isn't the first time that she's alluded to West loving her platinum hair, either. She's told multiple publications that the rapper loves to see her with blonde hair. After all, he was the mastermind behind the look. She even jokingly posted a blonde-haired photo of herself on Instagram with the caption, "I'd go blonde for that D."
"Kanye likes the blonde," Kardashian told People in 2014. "I was talking about this yesterday actually with Kanye. He asked if I would ever go back to blonde."
It cute that she takes into consideration that he likes the style for their anniversary. Ultimately, it's up to Kardashian what she does to her hair, though. It's safe to say that she's feeling it, too, from looking at the Instagram video.
It's not uncommon for Kardashian to switch up her style. She's constantly trying out different makeup trends and playing with the color of her hair. Heck, she's even gone with pink locks not too long ago. Life is too short to not experiment a little bit, apparently.
There's no telling how long she will have the style. You just never know when it comes to the Kardashians. The only way to know for sure is to check her Instagram throughout the day.