Kim K Has Already Worn 3 Different Halloween Costumes & They've All Been Extravagant AF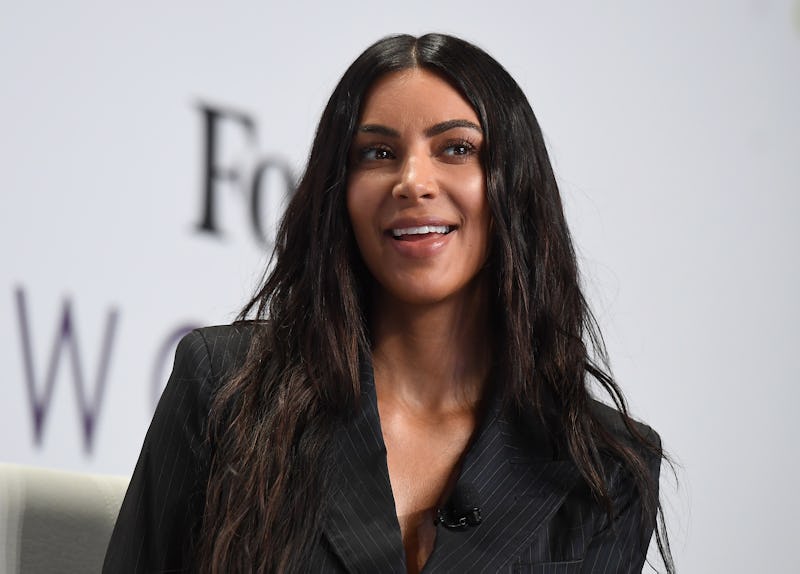 ANGELA WEISS/AFP/Getty Images
Kim Kardashian doesn't do anything halfway, and this includes Halloweekend. Kim Kardashian's 2017 Halloween costumes channeled her favorite musicians, and the results are, to borrow a favorite Kardashian phrase, to die. In just a few days, Kim has already rocked a Sonny and Cher costume with Jonathan Cheban, a solo look from the Aaliyah music video "Try Again," and now she's fully transformed into an '80s icon. Take a deep breath, because there's no way to unsee this costume: Kim and Kourtney went as Madonna and Michael Jackson. Madonna. And Michael Jackson. Is anything more perfect than Kim Kardashian dressing as Madonna, who was echoing an iconic Marilyn Monroe look herself at the time? Honestly, yes: Kourtney Kardashian fully leaned into her Michael Jackson look. Respectfully, of course.
Kim's commitment to Halloween 2017 is admirable. She's insanely busy, and she's an expectant mother on top of that! Plus, the actual night of Halloween falls on a Tuesday, which could make celebrating tough for the less-prepared. Kim K's passion, dedication, and creative inspiration makes her a legitimate Halloween goddess. Kim even went all out by playing her idols' music while getting ready, which you can hear in the background of videos posted to her Twitter.
She's like the Heidi Klum of glamorous looks. And she is running away with Halloween 2017.
As Kim established on Oct. 28, she had a theme in mind for Halloweekend 2017: Music legends. Her Aaliyah look is pure magic. Also, what a reference. It's incredibly endearing that on Kim K's list of music icons worth channeling on Halloween, the 2001 Aaliyah video for "Try Again" is up there with Madonna and Cher. It's so honestly, uniquely Kim. Especially the part where she's channeling a sexy music video look from 16 years ago. May everyone be blessed with the ability to pull that off.
The day before her Aaliyah realness, she served up a classic Cher moment with best friend Jonathan Cheban. Kim has long been obsessed with Cher, and for good reason. First of all, everyone should be obsessed with Cher. That needs no explaining. But for Kim, Cher is significant; not only is she an award-winning actress, singer, TV host, and fashion genius with amazing hair, but she's also a proud Armenian woman. (Cher's full name is Cherilyn Sarkisian.) The Kardashians, of course, are Armenian as well; father Robert was born to a long line of Armenian-American immigrants. As one episode of their E! series explored, the Kardashian siblings are among the last living families with their name. So why not rock one of Cher's most inspirational looks? And leave it to Kim to recreate it so faithfully.
Kim's grand finale for Halloween 2017, though, has to be her Madonna look. The floor-length dress is a masterpiece, and her white furs are just beyond. The hair, the lip, and the regal poses? Just perfect. To Kourtney's credit, though, her Michael Jackson is impressive, too. The lone front curl of her hair is a special detail. Plus, it's sweet to see Kim and Kourtney doing this together. As even a casual fan of the show would know, Kourtney and Khloe are the closest of the three Kardashian sisters.
Kim and Kourtney are both in relationships — Kim is married to rapper Kanye West, and Kourtney is dating 24-year-old Younes Bendjima — but they went for a Madonna and Michael Jackson look together, which is hilarious. Seeing the two older Kardashians take on a couples costume is oddly heartwarming, too. Good for Kourtney for her respectful take on MJ. But really, Kim Kardashian channeling her favorite musicians wins Halloween 2017.