Kim Kardashian Went Bling-Free For The 2017 Met Gala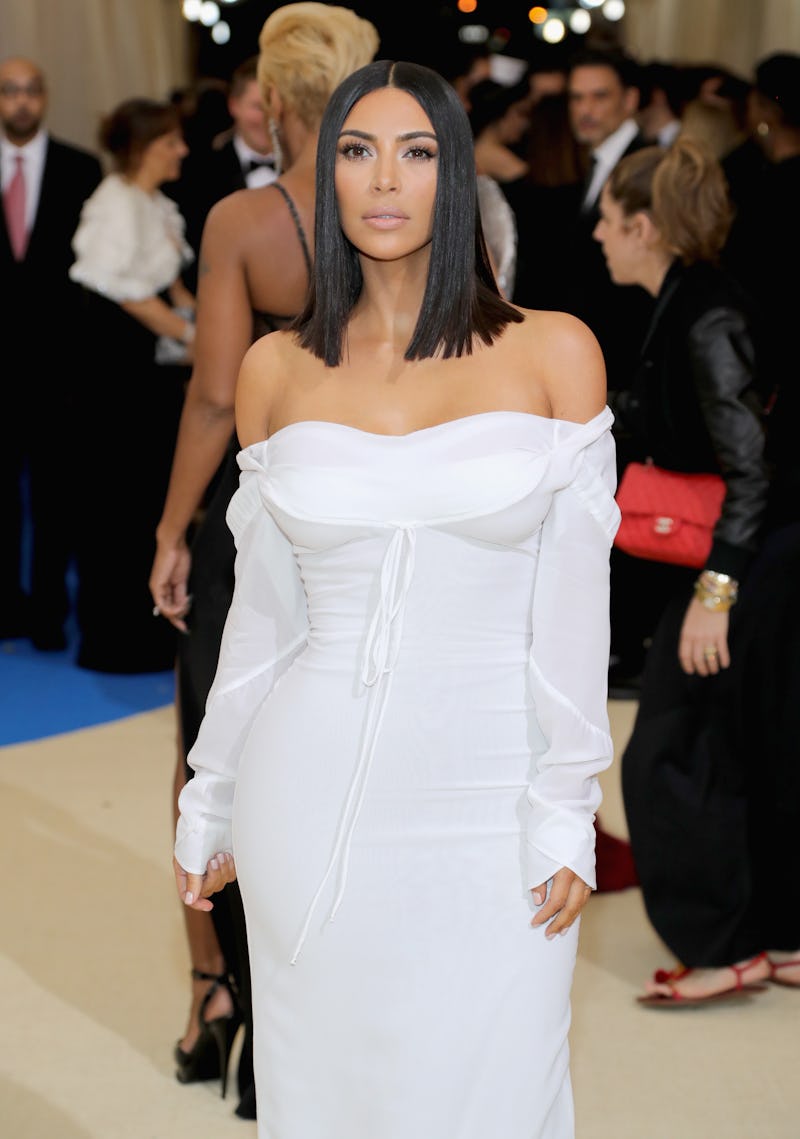 Neilson Barnard/Getty Images Entertainment/Getty Images
Love her or hate her, you're probably wondering what Kim Kardashian's 2017 Met Gala dress looks like. How could you not? She's always dressed to impress, loves a good theme, and isn't afraid to be fashion-forward. For these reasons, Kardashian's ensemble for tonight's big event is one of the most hotly anticipated, but sadly, she left her fans and Met Gala viewers feeling a bit underwhelmed. However, it's completely understandable that she wanted to be more understated, given what happened in Paris in 2016.
Kim Kardashian wore a simple all white, off-the-shoulder floor-length gown for this year's Commes Des Garcons/Rei Kawakubo theme and I have to say, I was pretty shocked. Not only does Kardashian usually step out looking fierce AF, but the theme also welcomed, if not encouraged Met Gala attendees to go as crazy and imaginative as they wanted. Sky was the limit and for many, Kardashian included, the sky was far from reach. But according to E!, Kardashian omitted wearing any jewelry or bling and decided to keep things more minimal due to the traumatic robbery that occurred in October 2016.
Another surprise? Kardashian stepped out on the Met Gala carpet solo this year, which is rather unusual since husband Kanye West, as everyone knows, is a huge lover of fashion as a designer himself. Sad as that may be (last year, West wore blue contact lenses to match his icy, jewel-encrusted jacket), this really gave Kardashian the opportunity to shine all by her lonesome. Instead, she sort of blended into the background in her pretty, but seriously boring white dress.
There's no question the dress is gorgeous on her.
She's a vision in white, y'all.
I'm in love with Kardashian's blunt lob, too. It's all monochromatic and minimalist perfection.