Why The Internet Is Calling Out Kim Kardashian's Aaliyah Halloween Costume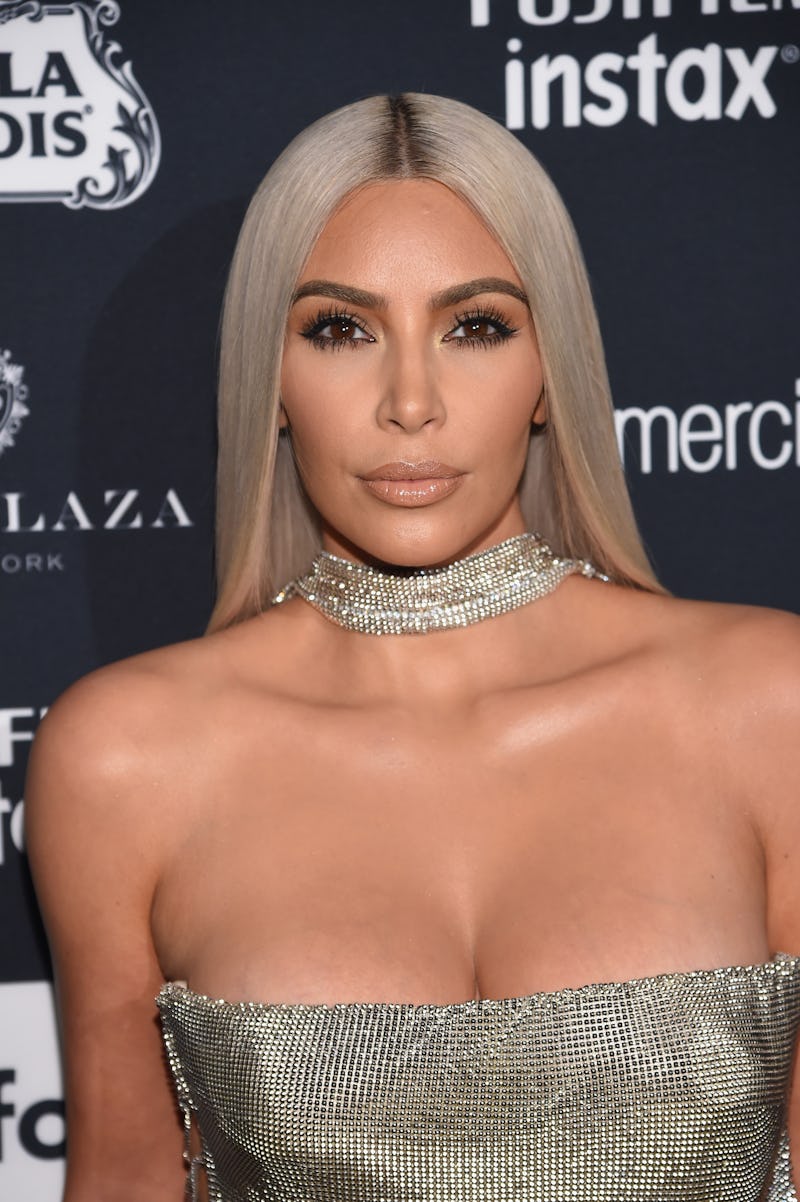 Dimitrios Kambouris/Getty Images Entertainment/Getty Images
Every year, fans look forward to seeing what costume Kim Kardashian will wear on October 31, but this time around, many of them think she missed the mark with one of her outfits. While celebrating the holiday over the weekend, Kardashian dressed as Aaliyah for Halloween, and the internet is having mixed feelings about it. People immediately rushed to Twitter to share their opinions, and although some are cheering her on for recognizing the late "Rock The Boat" singer, others can't believe she even went there in the first place.
All weekend, Kardashian has been paying tribute to legendary musicians through her costume choices. One night, she and friend Jonathan Cheban dressed as Sonny and Cher, and on another night, she and sister Kourtney Kardashian took on Madonna and Michael Jackson's looks from the 1991 Academy Awards. But when she revealed her Aaliyah costume, the Keeping Up With The Kardashians star received a lot of opinions, and not all of them were good.
Kardashian revealed her costume in a video on Twitter, showing off her recreation of Aaliyah's "Try Again" video outfit with the song playing in the background — complete with sparkle choker, bikini top, and belt, along with the same dark eye makeup she wore in the video.
People didn't waste much time voicing their thoughts on Twitter, and the feeling about this look is very split. Fans of Kardashian and Aaliyah alike are so pumped about the costume... but like anything Kardashian does, there have also been a lot of negative reactions.
Some People Are Actually Really Pissed
Some of the haters didn't even give a reason for why they're upset about Kardashian's costume — just that they don't want Kardashian to dress as Aaliyah, period.
Then, there are others who actually do have reasons, like this person, who doesn't think that Kardashian is a true fan. Unfortunately, Kardashian didn't respond to this one.
Some just thought that Kardashian's version of Aaliyah's video look wasn't a good one and that she could have done a better job.
On a more serious note, there are others who feel that Kardashian shouldn't have dressed as a black woman at all since she's not black, and are offended, accusing her of cultural appropriation.
But Others Are Totally Fine With The Costume
In fact, some people are more than fine — some of them love it, and a lot of them are happy that Kardashian would put Aaliyah in the same category as the other musicians she's shown love to this Halloween, and that Aaliyah's name is trending because of her costume.
Of course, some just wanted to comment on how good she looked.
This person tried to get down to the bottom of why Kardashian was receiving so much backlash for her costume, and it makes a lot of sense. Aaliyah is beloved to so many people, so it could just be a sensitive spot to see anyone else dressing as her.
And this tweet also made a good point: Another celebrity may not have received the same backlash for wearing the exact same costume, so there's a good chance that people are using this as an opportunity to pick on Kardashian for being Kardashian.
Considering Kardashian's track record with causing a social media uproar, chances are good that she would have created a buzz with any costume she'd chosen to wear, Aaliyah or not. And October's not over yet. Who knows what else Kardashian might wear as Halloween gets closer?