Kim Kardashian's Cameo In Paris Hilton's New Music Video Pays Homage To Their Iconic Friendship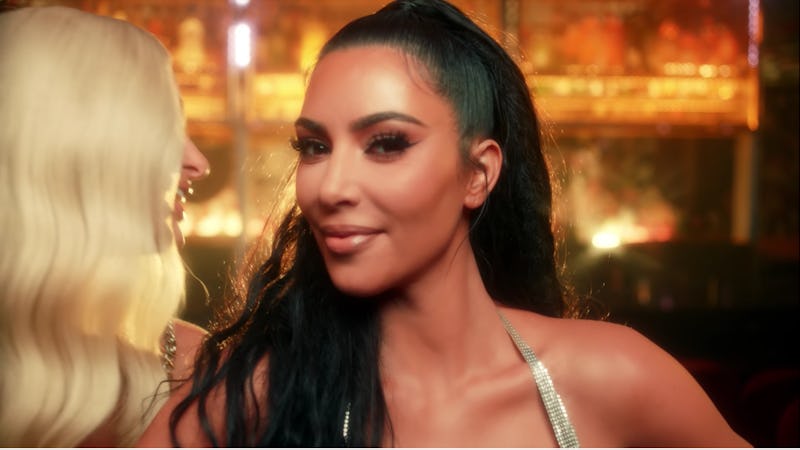 Paris Hilton/YouTube
To paraphrase the newest club banger of the summer, we can't stop looking at Paris and Kim's adorable friendship. After weeks of teasing on social media, the music video for "Best Friend's Ass" finally dropped, and Kim Kardashian's cameo in Paris Hilton's music video proves these two are closer than ever.
The KKW Beauty founder first hinted at her cameo in Hilton's new song — which was done in collaboration with Dimitri Vegas and Like Mike — in early May, sharing a video of themselves wearing matching metallic dresses on social media. "Can you guess what we're doing today?" Kardashian asks in the clip, while Hilton teases, "It's a surprise." The surprise ended up being well worth the wait, as Kardashian's cameo in the "Best Friend's Ass" video highlighted their long-lasting friendship.
In the clip, which was released on Friday, May 24, a young, blonde woman walks into a party wearing a replica of Hilton's iconic 21st birthday dress — which Kendall Jenner famously wore to her own landmark birthday party — with a friend. Once the pair put on their light-up sunglasses, they're transported to a lavish, star-studded party, and transformed into Hilton and YouTube star Nikita Dragun. And while Kardashian's cameo is very brief, with the star first appearing nearly a minute unto the video, it highlights her close relationship with Hilton, with the reality star-turned-perfume mogul whispering in Kardashian's ear while the KUWTK star giggles.
Hilton and Kardashian have been friendly for decades; the "Best Friend's Ass" singer told Entertainment Tonight in 2015 that "We've known each other since we were little girls [so] we've always been friends." However, despite a very public falling out around 2008 — which featured Hilton telling TMZ that her friend's most famous asset looked like "cottage cheese in a trash bag" — the pair reconciled a few years ago, and have grown closer and closer in recent years.
"I've known her my whole life and we've been having so much fun together lately," Hilton told People about her newly-close relationship with Kardashian this week. "We had a good time at Kourtney [Kardashian]'s birthday party and then had fun at Travis [Scott]'s birthday party. It's been really nice."
The singer also confessed to the outlet that there was nobody else she could imagine being in the music video than her famous bestie. Describing "Best Friend's Ass" as a "a summer anthem for girls who rule the night and have fun," Hilton recalled, "When you listen to the lyrics it's hilarious. I sent the song to Kim and she loved it. With a title like that, I, of course, had to have her in it."
Kardashian also gushed about her time working on the music video on Instagram, sharing a trio of photos of the pair goofing around behind the scenes, along with the caption, "So fun shooting this video with @parishilton for her new song #BestFriendsAss." In response, Hilton commented that having her best friend on set was "So Much Fun," adding, "Love you gorgeous!"
Their lifelong relationship is now so strong that Hilton revealed to Extra recently that she spoke with Kardashian while she was in the hospital, awaiting the birth of her fourth child, Psalm. "[We spoke] when she was in the hospital, it's so exciting," Hilton said. "We've known each other since we were little girls. We've grown up with each other and it's amazing to see the empires that we've both built."
If Hilton's recent music video is any indication, it seems as if the Kardashian-Hilton friendship is just as strong as the pair's respective pop culture empires.