Kim K Is Already Winning Halloween With This Couples Costume & No, It Doesn't Involve Kanye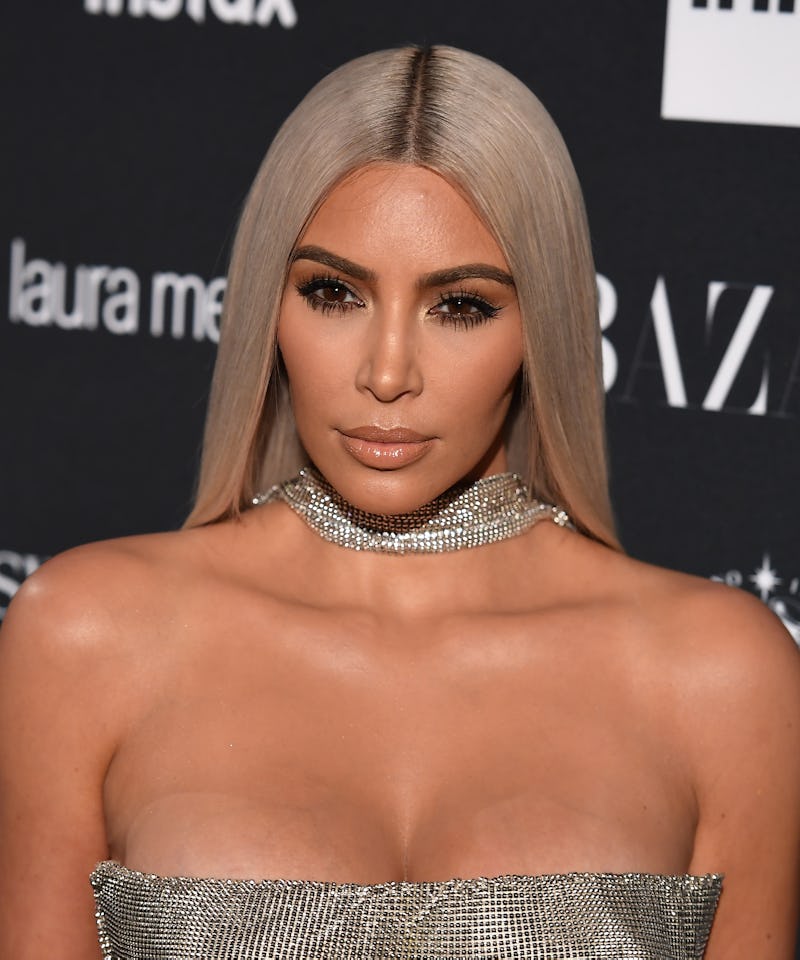 ANGELA WEISS/AFP/Getty Images
The only thing better than being able to dress up for Halloween is scrolling through social media and getting a look at all of the outrageous costumes that your favorite celebrities decide to sport each year. You can always count on everyone to go big, and, so far, Kim Kardashian's Cher costume only proves that she's still the queen of Halloween. Kardashian's costume is nothing short of stunning, but what really takes the cake is who she had on her arm as Sonny: her BFF Jonathan Cheban.
According to People, Kardashian and Cheban, aka the FoodGod, attended Casamigos' annual Halloween party on Friday night where they came dressed as the pop duo, in a custom-made ensemble that imitated their look from the 1973 Academy Awards. The 37-year-old reality star did away with her blonde hair for the night and donned a straight long, black wig that she paired with a two-piece outfit complete with a bedazzled yellow crop top and a matching floor-length skirt. She completed the look with purple eyeshadow and long purple nails.
On the other side of things, Cheban channeled Sonny Bono by wearing a printed black suit, a bowl cut wig, and a mustache. The final look as they both came together was truly iconic, and you can probably go ahead and add this one to the list of the best Halloween costumes of 2017.
Kardashian gave her 56 million Twitter followers a closer look at the costume via multiple photos and videos that she shared on the platform before heading to the big event last night. One video shows the reality star giving the world a peek at her final look while playing Cher's "Believe" in the background.
Another shows the two best friends adorably singing along to Sonny and Cher's 1965 hit, "I Got You Babe."
Kardashian's decision to channel Cher for Halloween this year shouldn't come as too much of a shock, since she's been open about her admiration for her for some time now. Back in August, the mother of two appeared on the cover of Harper's Bazaar Arabia for the magazine's September issue, where she dressed up as the iconic singer — wearing a wavy, waist-length black wig with a beaded fringe dress and strappy, metallic heels — and discussed why she was so inspired by her fashion choices.
"She's always had the sickest style, I'm obsessed with her," she told Harper's Bazaar Arabia. "To think that she was wearing these sheer dresses in the '70s and just what people must have thought back then."
And she's not wrong, as Cher is pretty under-appreciated in terms of being a style icon. The look that Kardashian and Cheban copied is just one of many that made Cher become serious fashion goals.
Obviously this is just the beginning of Halloween weekend, and it's highly likely that there'll be more Kardashian costumes where this came from. She's been known to sport multiple Halloween outfits each year, and each one has been more outrageous than the one before it. 2012 saw her dressing up as Catwoman, while her 2014 skeleton costume completely shut things down thanks to how impressively detailed it was. Last year, she dressed as Princess Jasmine to match North West during her family Halloween celebration, so hopefully fans will see another family costume this year.
It would've been amazing to see her husband Kanye West dressed as the Sonny to match Kardashian's Cher, but maybe his absence means that the husband and wife are planning to dress up together later on this weekend in a a couples costume that tops her look with Cheban. Either way, Kim K is still flawless and still killing Halloween, and we should probably brace ourselves for whatever other tricks she has up her sleeve this year.