Kim K Dressed As Pamela Anderson For Halloween & Her Costume Was $4500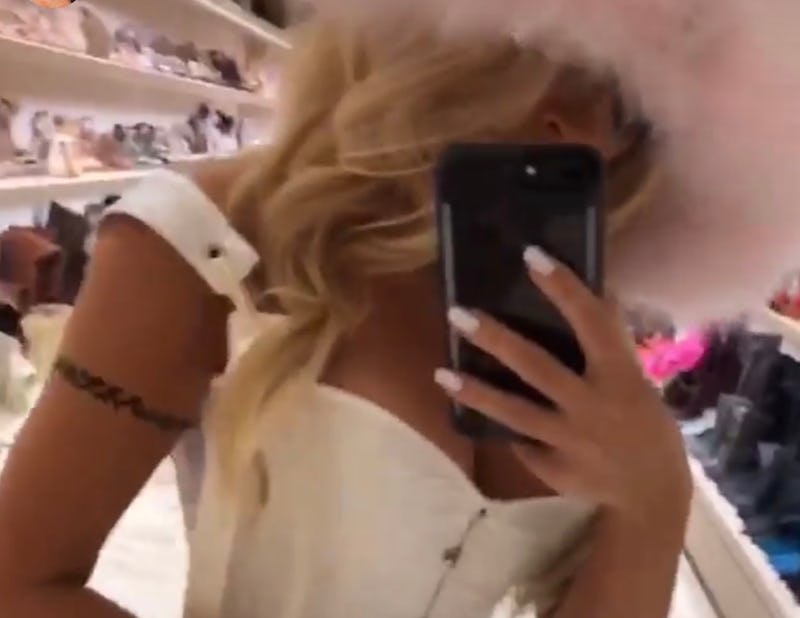 Kim Kardashian/Instagram
Kim Kardashian is no stranger to lewks. In fact, she's low-key known for her fashion sense (whether you love or hate it). Of course, with a holiday that revolves around costumes, the reality star would shine, and Kim Kardashian's Pamela Anderson Halloween costume was a banger.
For the spooky holiday, Kardashian went full-on '90s-era glamour with best friend Jonathan Cheban in what may just be the best couple's costume of the year. Kardashian took to Instagram to reveal her costume, showing off her ensemble in front of her mirror. While some people may associate celebrity couple costumes with former significant others Justin Timberlake and Britney Spears, Kardashian and Cheban (a dynamic duo in their own right) threw it back to the original couple's icon: Pamela Anderson and Tommy Lee.
Kardashian's Pamela Anderson costume is an almost exact replica of the former Baywatch star's iconic 1999 MTV Video Music Awards ensemble. In fact, according to designer of the costume, Alejandro of Alejandro Collection, Kardashian wanted the look to be as accurate as possible and asked for fabrics and details to be as close to the original as could be done.
Making the piece was no easy feat, either. The Halloween costume features custom-dyed feathers for the hat, hand-crafted details on the corset, and custom details for the pants. In total, Kardashian's look cost a cool $4,500, but it was totally worth it, right?
According to Alejandro, each piece had customizations. The sequin-detail pants were hand-embellished and cost a whopping $2,400. Meanwhile, the recreation of the corset was custom done to match Anderson's original to the tune of $1,200, and as for the hat, those feathers didn't dye themselves. That massive piece of Kardashian's costume would run the average person $900. Clearly, Kardashian meant business when it came to her costume this year, and the result is kind of mind-blowingly good.
How many fittings did Kardashian have to have to get that fit so perfect? Turns out, she only needed one. According to Alejandro, Kardashian sent over her exact measurements, and the garments were made to fit her specifically. Given that Kardashian did her body into a mold to create her KKW Body Fragrance, it's not exactly a stretch to think that she and her team know her measurements all the way down to the millimeter.
As for why Kardashian chose Alejandro to take on the massive task of creating a near-exact replica of Anderson's look, it seems to be all about trust. The designer explains that he loves working with Kardashian and her team, and they've ordered dresses before. It's all about trust, and Kardashian appears to trust his artistry.
Clearly, when Kardashian wants to go out for Halloween, she wants to go all out, and her Pamela Anderson costume is next-level amazing. From its closeness to the original to how amazing she looks in the outfit, Kim K. officially crushed Halloween this year.