'Keeping Up With The Kardashians' Is Featuring Planned Parenthood In A Major Way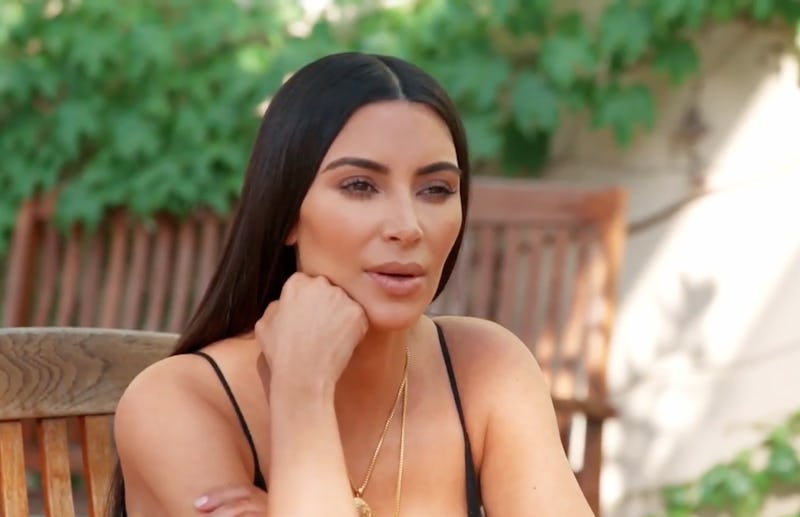 E!
There are many misconceptions when it comes to the women's health organization, and in this Keeping Up With the Kardashians clip about Planned Parenthood, Kim, Khloé, and Kourtney Kardashian find themselves learning more about the nonprofit than they originally knew. While talking with a young woman named Kelly, the sisters discover more about the health care provider that is often solely labeled as an abortion provider.
Upon meeting the Kardashian sisters, Kelly tells her story of how Planned Parenthood helped her. She explains that at the age of 23 she and the guy she was dating started having unprotected sex without getting tested for sexually transmitted infections first. Kelly realized they had made a "silly decision" by not doing so, which in turn pushed her and her partner to visit Planned Parenthood. During their visit, they both learned they had tested positive for HIV.
"Planned Parenthood, they were compassionate and understanding and they told me, you know, your life isn't over, this is manageable, you can live a normal life with this," Kelly says in the video. "Planned Parenthood, basically, kept me alive."
Her story definitely opened up Kim, Khloé, and Kourtney's eyes. "The perception of Planned Parenthood is that it's like this abortion clinic," Kim says. "That's nothing what it's like. Hearing that first-hand really made it real for me." Kourtney adds, "Hearing the stories for sure was eye-opening."
Khloé goes onto make an important point, as well. "I'm a big fan of Planned Parenthood now," she says, before adding, "Meeting all the girls and hearing their stories and seeing how many women have been helped by some of the services they have to offer, I think people need to be more educated before they form opinions."
For those unaware, Planned Parenthood actually is dedicated to providing a variety of health services and sex education for both women and men. Yes, it does offer abortion services and abortion referrals, but that's not all that it does. As listed on its official website, it provides birth control, general healthcare, LGBT services, men's health services, women's services, and pregnancy testing, to name a few.
More so than ever, Planned Parenthood has become a major topic of conversation this year, especially due to talk of the organization possibly becoming defunded. Many Republicans continue to speak out against it. For example, in August, House Speaker Paul Ryan said (via CNN), "We don't want to commit taxpayer funding for abortion, and Planned Parenthood is the largest abortion provider." According to CNN, Planned Parenthood says only three precent of its services provided are abortions.
In May, Kim shared a photo on Instagram of herself and her sisters visiting Planned Parenthood in Los Angeles, which is the same visit featured in the above clip. Next to the photo, Kim wrote,
My sisters and I visited Planned Parenthood recently and learned that the House of Representatives forced through a bill that strips health care coverage from millions of people and raises health care costs, including Planned Parenthood patients. They are such an amazing place that provides so much to so many! #istandwithpp.
Khloé also took to Instagram to discuss their visit and wrote, "Visited @PPLosAngeles yesterday and learned so much. 2.5MM rely on PP for care -birth control, cancer-screenings, STD testing and so much more! #IStandWithPP."
For KUWTK to feature Kim, Khloé, and Kourtney visiting Planned Parenthood is a big deal. They are clearly making their stance known, especially when it comes to both health care and women's issues. Politics and other current events aren't an area they typically discuss, but this clip proves that when there's an issue important to them, they won't remain silent. Speaking out more about politics is also something Kim has done more and more of over the past couple of years, and KUWTK previously featured an episode partially focused on gun control.
The Kardashians' clinic visit is a great way for them to teach their viewers the lesson they also learned about the organization. It's important to keep in mind that while Planned Parenthood does offer women the option of abortion, that's not all that it stands for. And that's exactly the point the eldest Kardashian sisters are trying to make — and one everyone needs to start hearing.
Keeping Up With the Kardashians airs Sundays at 9 p.m. ET on E!