Kirsten Gillibrand's Plan To Beat Trump Involves Thinking Of Him As A "Toddler"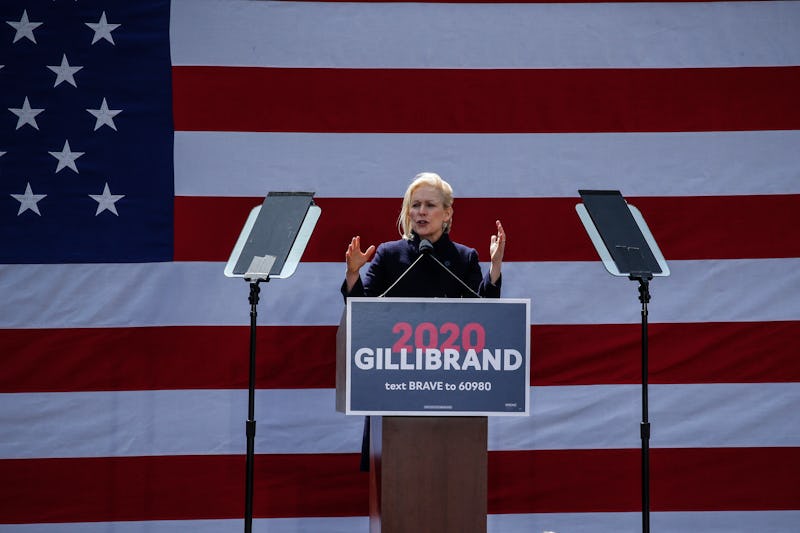 Kena Betancur/Getty Images News/Getty Images
Speaking at a campaign event in New Hampshire, one presidential candidate likened President Donald Trump's behavior to that of a small child. Addressing a crowd of voters, presidential candidate Kirsten Gillibrand compared Trump to a toddler, and suggested that he should be treated like one, too.
"I see him differently," Gillibrand said of Trump, according to CNN. "I see him as I would see a toddler who is melting down and making bad decisions. And you don't punch a toddler in the face. You don't say, 'Oh, you're just a little jerk.' No, that doesn't work. No, you actually just talk around them and say, 'Oh honey, but it's nap time. Let's go get your favorite stuffed animal.'"
Gillibrand was in New Hampshire to participate in a town hall event, according to NECN. While on her visit, she remarked that she believed Trump was just a smaller piece of a much larger cultural and political problem.
"I think he is a symptom of a much larger problem," she said. "I think the real problem that's happening in this country is that greed and corruption decide everything in Washington."
Gillibrand is one of many Democrats running in the 2020 presidential election, virtually all of whom are making it their job to separate themselves from the president and his policies.
Indeed, Gillibrand's campaign website bills her as having "the strongest anti-Trump record in the entire U.S. Senate." And, her campaign description continues, "she's voted against more Cabinet and judicial nominees than any other senator has."
Her campaign tagline, so far, has been "brave wins." She used the phrase in her formal campaign announcement video, according to CNN.
"Brave doesn't pit people against one another," the senator said. "Brave doesn't put money over lives. Brave doesn't spread hate, cloud truth, build a wall. That's what fear does."
Even when Gillibrand does not mention the president by name, she tends to cast herself as a champion of every policy proposal that Trump and the Republican party oppose. Like many from her party, she has come out in favor of expanding health care access and passing environmental reform.
"We need to remember what it feels like to be brave," she said during her formal announcement, per Slate. "We launched ourselves into space and landed on the moon. If we can do that, we can definitely achieve universal health care. We can provide paid family leave for all, end gun violence, pass a Green New Deal, get money out of politics and take back our democracy. None of this is impossible."
During her remarks, she said that she "would talk around him with a bolder and bigger vision for this country." However, it wasn't exactly clear how that would manifest, insofar as countering current Trump administration policies.
As the 2020 election picks up speed, many Democratic contenders will make their case for why they are the best possible person to not only oppose, but replace the president. For now, it's too early to tell who might take the lead, but as debate season nears, that picture will likely come into focus.