Kit Harington May Be Even Less Prepared For 'Game Of Thrones' To End Than You Are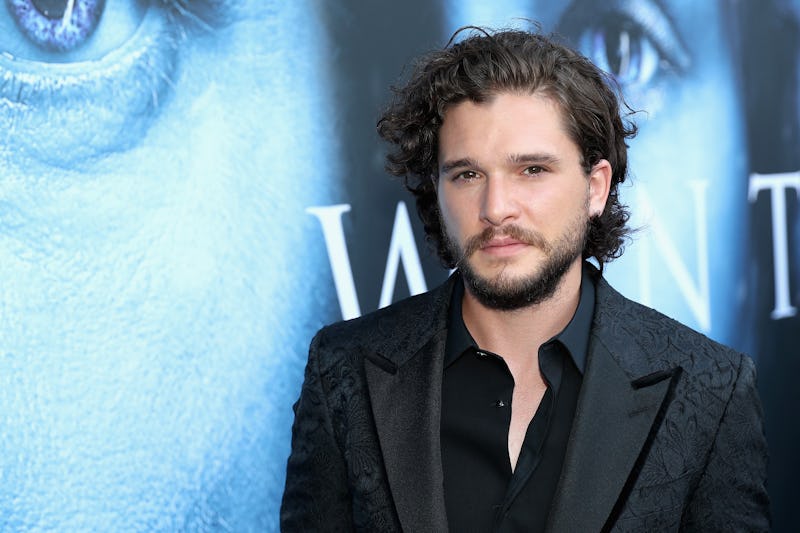 Neilson Barnard/Getty Images Entertainment/Getty Images
It turns out that Jon Snow knows quite a lot actually. According to Digital Spy, on Friday's episode of the British program The One Show, it was revealed that Kit Harington knows how Game of Thrones ends. The actor confessed that the entire cast had a read-through of the final six episodes earlier in the week, which seems to debunk his co-star Nikolaj Coster-Waldau's claim that the stars of the hit fantasy series wouldn't be receiving scripts this year. Harington admitted that knowing how the show ends is bittersweet, but not for the reasons you might think.
Game of Thrones has been a huge part of Harington and the rest of the cast's lives, and knowing that the experience will soon come to an end is leaving them all a bit nostalgic. On The One Show, Harington said,
"I cried at the end! It wasn't anything particular that happens. You have to remember, I've done eight years of it. I think, no one really cares about [Game of Thrones] more than us… It's been an institution longer than any other institution I've been in. School, drama school, anything."
Harington owes Game of Thrones for more than making him a household name, if not for the show, he may have never met his fiancé, Rose Leslie. For three seasons, Leslie played Ygritte, a wildling who Jon Snow fell in love with, and for the couple, art ended up imitating life. In fact, Harington has said that filming for Season 8 will have to be shutdown for his wedding to Leslie so that the cast and crew can attend the event.
As much as the fans are going to miss Game of Thrones, it's not hard to imagine the cast will miss it even more. Even though the end of the series means they have the opportunity to move on to new projects, there's a sentimental factor at play. Given how young most of the actors were when they joined the show, they've spent half of their lives as residents of Westeros. Harington said of the final season,
"I get a bit weepy thinking about it. It's going to be to a strange year. Saying goodbye to everyone, having your last scene with this person or having your last scene with that person. Not only you're attached to it, loads of people around the world are attached to it."
The show's status as a cultural phenomenon is going to make it even harder for Harington and his castmates to keep details about Season 8 quiet. So far, HBO has not confirmed a premiere date for the final season, but there are rumors that Game of Thrones won't return until 2019. That's a long time to keep mum about how one of the most popular shows on TV comes to an end. And Harington hasn't exactly been great at keeping secrets related to the show quiet in the past, so he's facing a real challenge.
In between Seasons 5 and 6, Harington was tasked with keeping Jon Snow's fate quiet, but in May 2016, the actor revealed to Jimmy Fallon that he didn't do a great job at not revealing that his beloved character would be resurrected. Harington admitted that he told his parents, Leslie, and "a few trusted people" that he would be in Season 6 straight away. But he also famously told a police officer who pulled him over for speeding that his character would be alive to get out of a ticket.
As nice as it is to know that the actors won't have to rely on someone reading their lines into an earpiece for the final season, Harington may end up wishing he hadn't revealed just how in the know he is this season. With winter so far off, everyone is craving spoilers, but Harington seems committed to keeping all of the Season 8 secrets to himself— at least until the next time he needs to get out of a jam.