Kourtney Has More Scott Drama On 'KUWTK'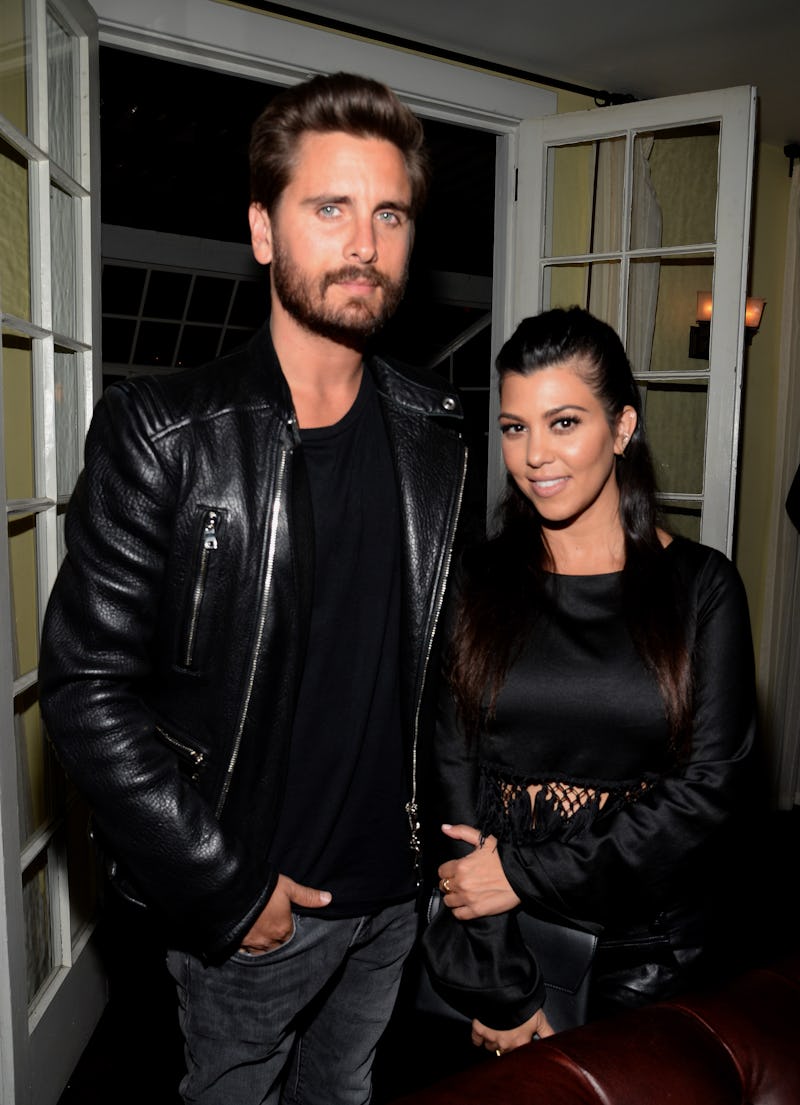 Chris Weeks/Getty Images Entertainment/Getty Images
Kourtney Kardashian and Scott Disick haven't been a couple in two years, but since they share three children, they're always going to be family. But how close is too close for them to be? On Sunday's episode of Keeping Up With The Kardashians, Kourtney was worried about Scott and his health, and even though it's difficult for her to see him suffer, she was still struggling to find the right amount of involvement in his life.
After leaving to spend quality time with Kendall and Khloé for the weekend in Santa Barbara, Kourtney started getting bombarded with phone calls and text messages about what Scott has been up to — mostly that he'd been drinking more lately and that photos had surfaced of him online with a woman.
Obviously, this wasn't really Kourtney's problem. Of course, Scott will always be part of her family, and anything that could involve her kids' safety is her business, but they're now living different lives, and as we saw earlier this season, Kourtney's already seeing someone new. But where is the line, exactly? As she said, it seems like Scott sometimes acts out to get her attention, so she was trying to break that pattern.
And remember how Kourtney filmed that segment for the KUWTK 10 year special where she dressed up in prosthetics and interviewed people about her family on the street? The show flashed back to when she and Khloé were filming it, and at the time, she got a call from a friend who was seriously concerned about Scott's wellbeing. So now that it was happening again — and since Khloé mentioned that she hadn't heard from him in a few days — Kourtney sent Kim over to check on him, and she was happy to do it... even though she was sick. Is that true sister love or what?
Besides, the way Kourtney made it sound, it seemed like Scott was in a really scary situation. "I just keep hearing that he's, like, out of control," she told Khloé. "And people have called me like, 'he's not going to make it to his birthday if he keeps going like this."
Sounds pretty serious, right? But as soon as Kim got to Scott's house, it was pretty evident that he was OK — at least, he was OK enough to make fun of Kim for what she was wearing, which sounds like the Scott Disick everyone knows and loves.
"Tell Kourtney to have a good weekend," he told Kim. "Rest assured that I'm fine."
And Kourtney did have a good time with her sisters, especially Kendall. Even though they'd been feeling a little weird around each other since they didn't spend very much time together, it seemed like that weirdness was definitely eliminated during their trip. A little drinking and a little relaxing was all it took, even though they admitted in their ITM interviews that they still have their awkward moments now and then.
It did seem like Scott was fine on the day Kim went to check on him, but it's hard to tell exactly what he's going through. Hopefully, he's staying healthy for himself and for his kids. It can't be easy for Kourtney to figure out how to be in his life without showing too much concern him, but it's obvious she has his and her family's best interests at heart.
Besides, KUWTK fans need Scott to be in tip top condition for the inevitable many seasons to come. Without him around providing his sarcastic commentary on this famous (and occasionally ridiculous) family, this show wouldn't be nearly as entertaining.