Krispy Kreme's Pumpkin Spice Doughnuts Are Returning (With A Bit Catch)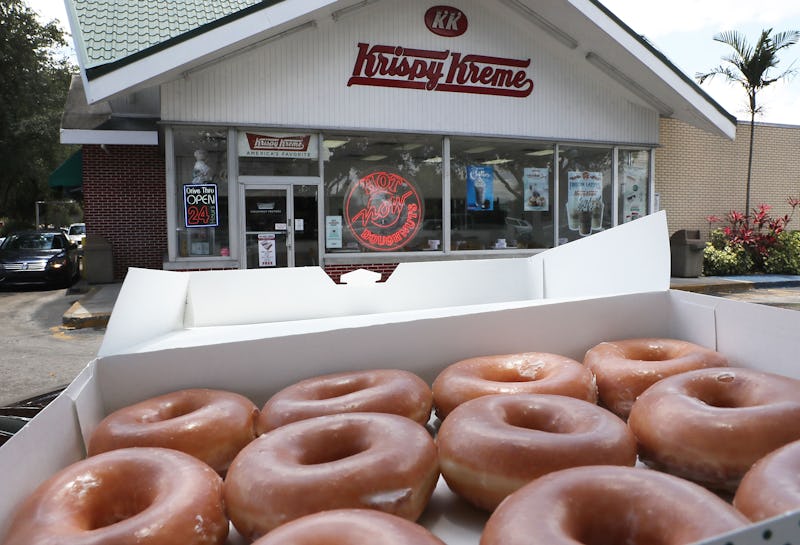 Joe Raedle/Getty Images News/Getty Images
September is here and temperatures are already dropping, which means it's just about time to start feasting on all things pumpkin spice — starting with Krispy Kreme. The doughnut company is about to reintroduce its seasonal favorite, the Pumpkin Spice Original Glazed Doughnut, to stores. But there's one big catch: You only have a very limited time to nab one of the treats.
As just announced on its Facebook page, Krispy Kreme is dropping its Pumpkin Spice Doughnut early in the season this year, on Friday, Sept. 8. But doughnut fans and pumpkin spice addicts will have to act fast. The company will only be offering the delicious autumnal treat for 24 hours. That's right: you'll only have one day to nab one of these festive seasonal snacks!
It's unclear why Krispy Kreme is only offering the fall-themed doughnut for a single day, but one thing's for sure: You'll want to make the time to run out and and grab one. Don't believe me? Watch this video, which shows as mini pumpkins magically turn into the yummy doughnuts. OK, so that may not be exactly how they're made, but they sure do look delicious. Just look at that sugary glaze!
To be fair, this isn't the first time in recent history that Krispy Kreme has made a particular doughnut available for only an extremely short window. Earlier this summer, the company released a special, limited edition chocolate glazed doughnut for the solar eclipse. It also brought its Reese's Peanut Butter Doughnut stateside for a few, short weeks.
So mark your calendars now for Sept. 8, when the Pumpkin Spice Original Glazed Doughnut returns to stores. They'll only be available for a very short time, so enjoy 'em while you can!