Kylie Jenner Always Books A Second Hotel Room For This Extra AF Reason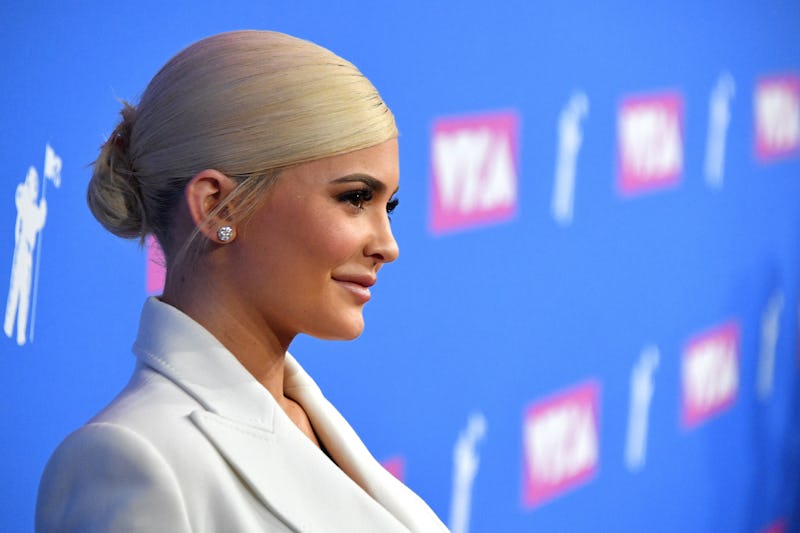 Dia Dipasupil/Getty Images Entertainment/Getty Images
Kylie Jenner may be known for her eponymous makeup line, but it's not her stash of cosmetics that get special treatment while she's on the road with boyfriend Travis Scott. Kylie Jenner gets an extra hotel room for her clothes while she's traveling, and honestly, it kind of makes sense. Let's be honest, if you could, you would, right?
On Wednesday, Jenner posted a makeup tutorial to her YouTube channel where she rocked an ultra cool pink inner corner highlight, but it wasn't the way she chose to rock color on her eyes that was the most fab part. It's that she books an entirely seperate hotel room for her clothes so she can get ready. Not only does the extra room give her more space to get ready (she actually stays in a room with Scott and baby Stormi), but it also provides more room for her daughter to play. Honestly, it's kind of genius.
Jenner reveals that she plans her outfits before she leaves to go with Scott on tour, and she hangs them up in the second room that she's booked. In the video, she explains that she hangs up all of the pieces she's brought with her so that she doesn't "have to think about."
Of course, Jenner having an extra hotel room to get ready really shouldn't be a surprise to her fans. It's not like followers of Jenner's haven't gotten sneak peeks into her home and glam room before. With so much makeup and fashion, narrowing what to bring down to a few things can't be easy, so why not rent an extra room and bring it all?
After all, just look at Jenner's glam room. Back in 2015, she gave fans a tour on her website, and revealed that she's got a serious penchant for wigs (but we all knew that). When she posted tutorials on the website, fans got an even better look at the room that was solely dedicated to getting Jenner ready for outings and events. If only we could all be so lucky.
Let's not forget her clothing and accessories. Just a few months ago, Jenner took to her YouTube channel to post a purse tour video. Yes, she has so many bags that she can dedicate a room to them and do a tour. From a Kris Jenner-themed to the bag she explains will be Stormi's first purse, there's a lot to choose from in the Jenner purse closet.
It's not her only one, though. Back in 2016, the youngest member of the Kardashian and Jenner clan also showed off her massive shoe collection. From heels to sneakers, she's got it all, and it'll make you start drooling just to see it.
While not everyone can have a second hotel room just for their clothes, not every one is Kylie Jenner. Honestly, if you had enough clothing and cosmetics to rent out a second hotel room, wouldn't you? Let's be honest, we've all got a little bit of Kylie Jenner levels of extra in us.