Kylie Jenner Wore A "Baby Mama" Necklace To Coachella, So All Of You Haters Can Chill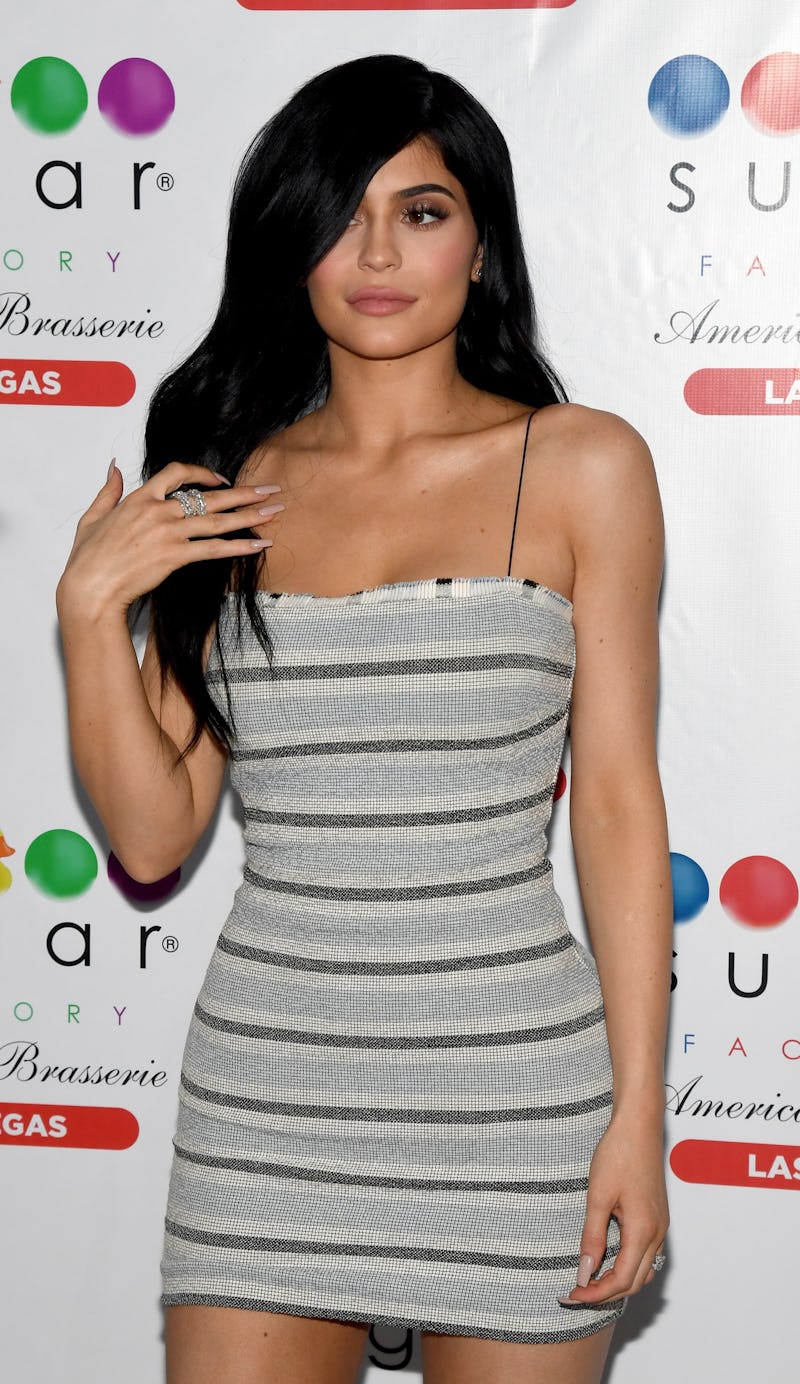 Ethan Miller/Getty Images Entertainment/Getty Images
You might have been busy looking at this celebrity's festival hair changes, but the best part is in the accessories. According to her Instagram photos, Kylie Jenner wore a necklace that said "Baby Mama" to Coachella. While people are criticizing this new mom for not being around her daughter enough, she's proving that she's keeping her close to heart — literally. The devil is in the details, my friends, and the KarJenner family knows that almost too well.
It has been roughly two months since Stormi Webster has been born, and already people are critiquing how Jenner parents. People aren't happy that she left her baby for the weekend to go to Coachella. Little do they know she was carrying a little reminder of her around her neck with the "Baby Mama" necklace.
If you visit Jenner's Instagram frequently, you'll notice that she started her time as a new mom wearing the "Baby Girl" necklace. Well, she traded it in for something a little more edgy for Coachella. The gold script "Baby Mama" necklace hung around her neck all weekend, along with a gold cross and pendant with diamonds on it.
Go ahead and keep on hating, but the queen of social media clapbacks is here to let you know through her jewelry that she doesn't care what you think of her. In fact, she's reclaiming the phrase "Baby Mama," which is sometimes used derogatorily, once and for all.
Jenner did not make mention of the necklace in any of her captions. Instead, she just posted her selfie and had the world notice for itself. Typical Kylie. She also has not responded to any of the mom-shaming comments out there, either. Because, let's be honest, it's her life and no one else's business anyways.
Jenner is constantly showing off her jewelry and accessories on social media. Many of them hold a hidden meaning in them. You know, like when she teases a new Lip Kit color or is hiding a pregnancy. This time was no different. She's giving herself the name baby mama, which proves that whatever you want to call her has no affect on her.
This might have been the first time that Jenner has gotten on a private jet and left Los Angeles since Stormi has been born, but she made sure her outfit proved she was thinking about her babe.
That wasn't the only babe that she was thinking about, either. According to Seventeen, the diamond bunched necklace was actually a Cactus Jack necklace, which is a reference to Travis Scott's record label. So take that, haters.
As of right now, you can't buy an exact replica of Jenner's "Baby Mama" necklace online. It is only a matter of time before the Kylie Shop starts selling them though. Because once a KarJenner wears something, it's instantly a trend.
While you can't buy the exact same necklace online, there are still ways to wear the title proudly. Brands like Soufeel offers personalized script necklaces for as little as $45. There's no word on where Jenner got hers specifically, since she didn't tag the brand in her images.
Jenner was showing her love for her daughter sartorially before Stormi even arrived. She showed off pink butterfly rings on Instagram, which the world soon realized was because of her baby daughter. No matter what you say about Jenner, she always has ways of making her own statement.
Next time you see a KarJenner outfit, make sure that you look closely. A lot of the time, there's more to their style than meets the eye. Especially in the dainty details.