La La Anthony Made A Huge Statement With Her Met Gala Look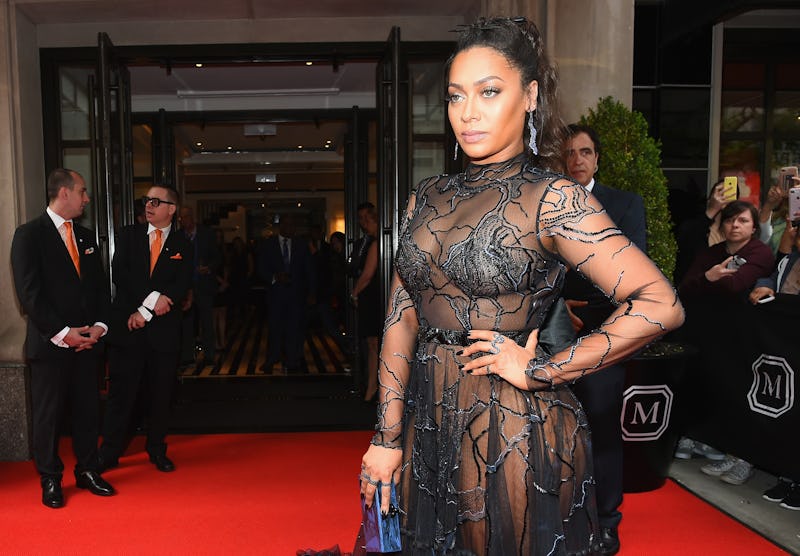 Ben Gabbe/Getty Images Entertainment/Getty Images
It's only been a month since La La Anthony split from her husband Carmelo Anthony for allegedly cheating on her with another woman after seven years of marriage. However, that wasn't going to stop the former MTV host from making an appearance and a statement at fashion's biggest event of the year. La La Anthony's 2017 Met Gala look involved a sheer, jaw-dropping gown and gorgeous rings worn on all her fingers except — you guessed it — her ring finger. The shade is real, y'all, and La La was more than ready to throw it straight in her ex-husband's direction.
On Monday night, Anthony stepped out on the red carpet dressed in a black "naked" number featuring a design that resembled shattered glass, a high neck, and an open back. She wore her hair in a high ponytail and kept her makeup light and glowy. In other words, La La looked sexy as hell, and the fierceness didn't stop there. Fans of La La's noticed almost immediately that the TV personality was rocking lots of rings all over her fingers. But a closer look quickly revealed that one of her fingers was naked —her ring finger — and all of Twitter erupted in comments aplenty supporting the newly single woman.
Slay, La La.
Her caption read, "Unbreakable."
And there it is — her undressed ring finger worth a thousand words.
In the past, La La Anthony has attended the Met Gala with Carmelo Anthony, but this year's event was all about her and boy, did she shine. Twitter couldn't agree more.
Same, Adelaide.
Jokes on jokes on jokes.
There may not be any awards at this event, but if there were, La La Anthony would walk away the biggest winner of the night.