Lady Gaga's Instagram Meditation After The Las Vegas Shooting Will Restore Your Calm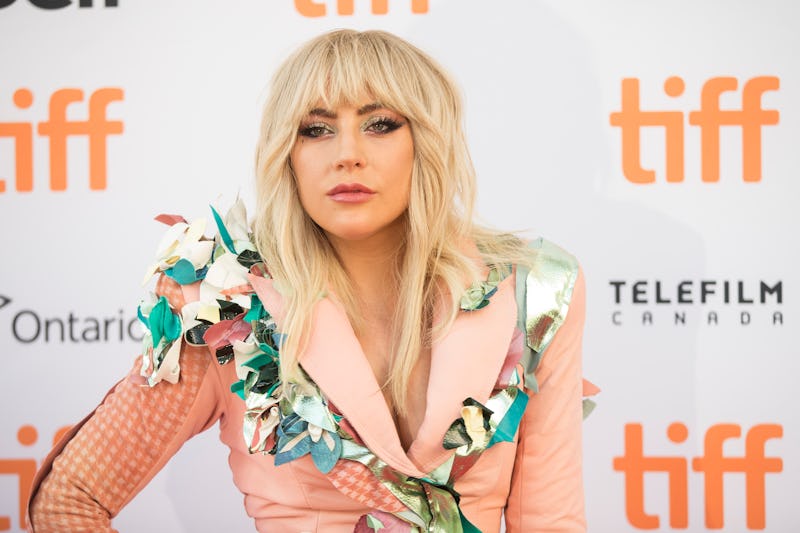 GEOFF ROBINS/AFP/Getty Images
On Monday, Oct. 2, global superstar musician Lady Gaga paid tribute to victims of the Las Vegas shooting with an Instagram Live meditation via her own IG account. Not only did the singer set out to provide a space for reflection, prayer, and mourning, but Lady Gaga opened up about her own mental health in order to lead the practice and help all who joined. The singer wrote in an IG post: "My intention is to provide a forum for us all connect to around the world, as a calling for world peace and inner peace."
Lady Gaga's motivation came from a very personal place, which she described in the post's caption: "If you choose to meditate with me I will explain how meditation is important in my life." The Instagram live video started with Gaga in a serene bedroom, lying over a bed with a white comforter and fluffy, white pillows. The 20-minute meditation started with intentional breathing exercise and her mantras "I am calm, I am light." It provided pure silence for fans to connect to themselves and reflect on the victims of the Las Vegas shooting, which is now the largest mass shooting in U.S. history. Fifty eight people were killed and over 500 injured when a gunman opened fire during Jason Aldean's concert at the Route 91 Harvest Festival.
Before lying on a bed in silence, Gaga helped guide viewers and allow them to understand how meditation "really helps [her] with [her] mental health." For a majority of the video, she remained on the bed, with her eyes closed, in silence, after encouraging viewers to do the same. At the end of the video, she told fans, "I hope that you all enjoyed that as much as I did."
Gaga explained that healing can come from inner calmness, which provides for human connectivity and overall happiness. "I think if we can all focus on ourselves being calmer and calmer every day, I really believe the world will become calmer and calmer every day," she said in the video. The singer later used herself as an example of how effective meditation and self-reflection can be, telling her fans, "I love you, and I'm getting better every single day, little by little."
The 31-year-old has been very transparent about her mental health. In December, Lady Gaga wrote an open letter about her PTSD. She also addressed how fibromyalgia has affected her in the recent Netflix documentary Five Foot Two. "If I'm depressed, my full body can spasm," she said in the film.
A few hours before the meditation, the Lady Gaga also posted a notice from the City of Las Vegas with information to donate blood and help victims find lost loved ones. The musician has been recovering during the past few weeks, but it's great to see her strength still shines through in times like these.
Lady Gaga isn't the only celebrity who has expressed her mourning over the Las Vegas shooting — celebrities like Mariah Carey, Khloe Kardashian, Kerry Washington, and Demi Lovato have also taken to social media to to share their thoughts and calls to action for better gun control. Ariana Grande had powerful reaction on Twitter, writing, "We need love, unity, peace, gun control & for people to look at this & call this what it is = terrorism." As a reminder, Grande's May concert in Manchester was the site of a deadly terrorist attack on U.K. soil.
And while every celeb's words of comfort help, Gaga's initiative has the potential to truly influence others. It's easy to succumb to the difficulties of life, but connecting to ourselves and each other is a step in a brighter direction.