This New Superhero Series Puts A Girl In Charge & She's Just The Hero We Need In 2017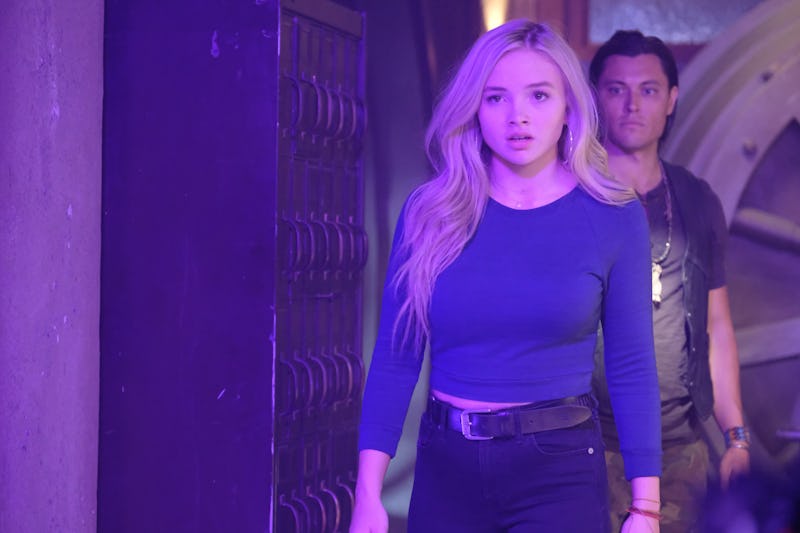 Eliza Morse/FOX
Lauren Strucker doesn't have your average teenage girl's problems. But, even though Natalie Alyn Lind plays a mutant in The Gifted, her character serves as a reminder that there actually is no average teenage girl. The only constant is change, as they say, and Lauren is definitely going through some major ones on the Fox series. When audiences meet her, the daughter of mutant prosecutor Reed Strucker (Stephen Moyer) has been hiding her abilities from her family and the outside world for her entire life. Once they're unleashed, however, she has to learn how to control them. Speaking to Bustle before the cast takes the mainstage for their panel at New York Comic-Con, Lind teases that Lauren Strucker's powers will eventually enable her to be a leader in the mutant underground.
"There are certain comic book fans who have guessed quite a few things about where our characters go. Can't say if they're correct or not," Lind says, with the smile of someone who gets to keep a really cool secret. "We have some very smart fans, who are amazing, but I think the show is interesting from our perspective because we're kind of growing into these characters ... So we start kind of working with our powers, we start really helping each other out, and start forming up with different mutants in the underground society. And we take sh*t over."
The "we" in this case would be Lauren and her brother Andy (Percy Hynes White), another mutant, whose own suppressed powers also stunned their parents, Reed and Kate (Amy Acker). And one popular theory about the future of the Strucker children — who appear to be original characters — is that they'll eventually become the Fenris twins. In the X-Men comics, Baron von Strucker's twins, Andrea and Andreas, develop their mutant abilities in the womb and grow up into supervillains, which would definitely be a turn for The Gifted.
But considering their experience so far with the establishment, a future shift to the dark side may not be so jarring as it initially sounds. The whole family has to say goodbye to their tense suburban existence in the first episode, when Sentinel Services learns about the kids and attempts to do with Reed's children what they do to the mutants they find on the street. Also in the pilot, Lauren defiantly speaks up for mutant rights at the breakfast table, directly challenging her father's job. The Gifted touches on some interesting ideas about social justice and the generational divide, and, whether the Strucker kids stay good or not, it's in the DNA of the X-Men to be an allegory for all kinds of oppression.
"Nobody really sees [mutants] as people, and I think that's disgusting and also extremely relevant to today's society," Lind says, with conviction. "No matter what skin color you are, no matter what nationality you are, no matter what you're into, no matter if you're gay or you're straight, everyone's the same at the heart ... And in this show, it really broadcasts that."
As the first season continues, Lauren is going to come into her power both physically and emotionally. The family connects with the mutant underground first out of necessity, but eventually will fully join their cause. And though Lauren comes from a much different existence than perpetual fugitives like Eclipse, Blink, Polaris, and Thunderbird, their shared outcast status and their strength brings them together to "create this new world," as Lind says. And in this new world, gender doesn't define one's position in the hierarchy.
"I think my character is just as powerful as my brother's," the actor explains. "I think my character is just as powerful as [Sean Teale] character [Blink]. Sean's character is just as powerful as [Emma Dumont's, Polaris] ... Especially Emma's character, she kind of sticks it to the man, she just doesn't put up with their bullsh*t." Lind also points out Lauren's mother, Kate, has no supernatural abilities to rely on. "She has to show her badassness through being a real person, and I think that's also extremely empowering," she says.
Kate's daughter, meanwhile, can generate and manipulate forcefields. Lind says that filming these scenes, which are "100 percent visual effects," made a feel a little silly on set. But there were a few exceptions.
"Like an episode where I push a car away," she remembers. "I was in the backseat strapped into the car, and when I went like this," — she pushes her hand away from her body — "is when they knew to [pull the car] ... Sometimes I forget that I'm not as cool as my character."
Lind proudly notes that the cast does all of their own stunts on the show. And fans should look out for her two months of parkour training ("The coolest thing," she enthuses) to be put to work in Episode 9. As for what's ultimately in store for Lauren at the end of the season, Lind is tightlipped but for one enticing hint.
"My character is not the person you thought she was," the actor says ominously. Brightening instantly, she adds with a laugh, "So, whatever that means to you."
No matter what befalls Lauren as the season plays out, the cat is definitely out of the bag when it comes to how much power this underestimated young woman actually wields.