FYI, Laverne Cox's Favorite Face Wash Wasn't Even Made For Skin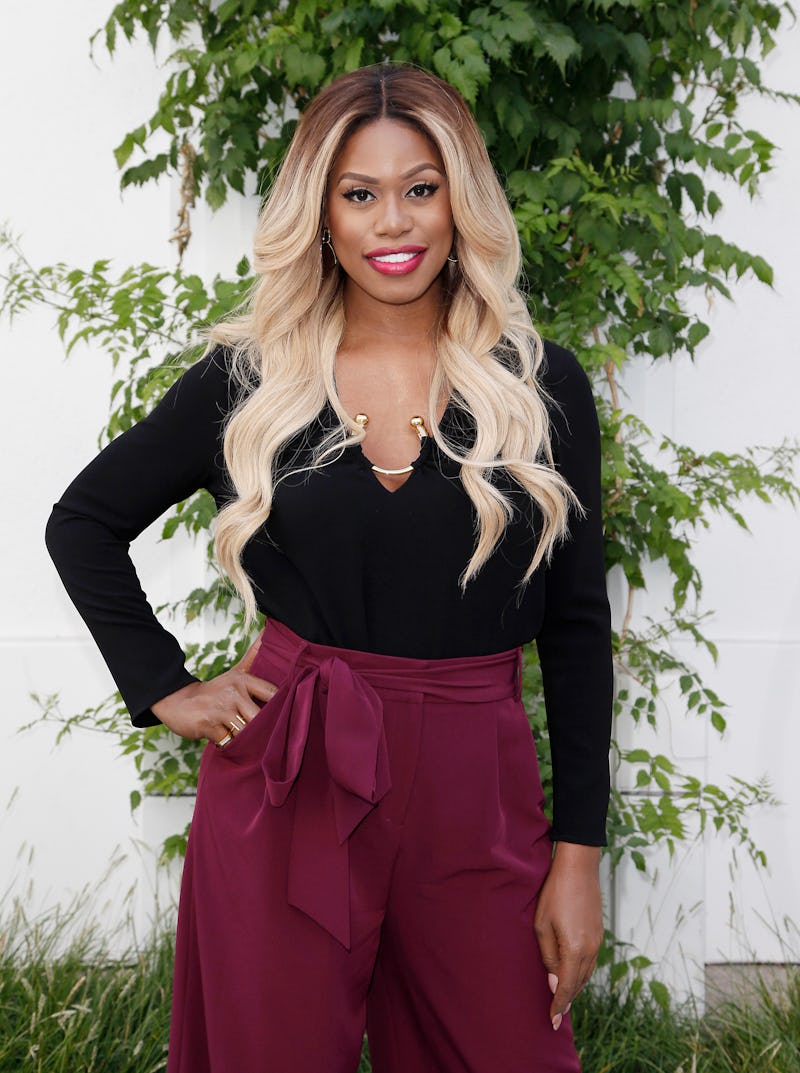 Tibrina Hobson/Getty Images Entertainment/Getty Images
Another day, another celebrity revelation that makes you question everything you thought you knew about beauty. The latest celebrity beauty hack to surface surrounds your favorite Orange is the New Black star. Apparently, Laverne Cox uses baby shampoo as face wash, so naturally, there are a ton of follow-up questions that need to be addressed.
A-listers are in-the-know beyond their vocals, acting skills and business savvy. They must have cracked the code when it comes to self care because they have the oddest beauty regimens that appear to work tremendously. It doesn't matter how strange things sound (say, Mariah Carey bathing in milk) or how simply ingenious the hack is (we're talking about Kylie Jenner's eyeliner trick that doesn't even use eyeliner). Celebs are clearly tapped into some secret network of beauty know-how that mere mortals could only hope to access.
That's why when Hollywood's finest reveal the truth behind their flawless hair, skin and makeup, fans are quick to take their routines for a spin. Their best tips and tricks generally aren't even that expensive or inaccessible. Take, Cox opting for baby shampoo over a fancy schmancy facial cleanser, a strange, budget-friendly hack that's obviously working wonders for the actress.
Chances are you've never made a store run to replenish your skin care stash and thought to add baby shampoo to the list. After all, the gentle soap is intended for use on an infant's precious mane, so that makes sense. Let Laverne Cox tell it, though, and you're missing out on an undercover, holy grail face wash. The actress told The New York Times the baby soap is a staple product in her beauty routine.
"I'm not as chichi as I appear. I wash my face with baby shampoo," Cox told the Times. "It's really weird, but if it's gentle enough for a baby, then it's good enough for me."
Cox is known for always serving face in a full, red carpet-worthy glam, so you'd think the star's routine would break the bank. As it turns out, she's a fan of the drugstore, which explains why baby shampoo tops the skincare regimen that she prefers to keep simple.
It may not sound like an adequate cleanser for ridding the face of dirt and impurities, but using baby shampoo can get the job done. In an interview with In Style, Dr. Joshua Zeichner, the director of cosmetic and clinical research in the department of dermatology at Mount Sinai Hospital in New York City, explains that it could be a worthy option.
"Shampoos and cleansers have similar designs in that they both use cleansing ingredients to remove dirt and oil from the skin and hair," Zeichner said. "Baby shampoos contains specific surfactants that are known to be mild so they are less likely to cause irritation or stinging of the eyes."
Still the doctor cautions against the use of baby shampoo for sensitive skin types, adding that it may disrupt the facade since it's not formulated for skin contact. That doesn't mean baby shampoo isn't ideal for snagging when you're out of your go-to cleanser or you're pinching pennies.
Given how radiant and clear Cox's facade always looks, it's safe to take her word that baby shampoo is a beauty essential. It's the multi-use substance that works for cleaning makeup brushes, effectively taking off eye makeup and more, so it looks like the gentle soap is a bonafide lifesaver.