A Huge Harry Potter Convention Is Coming To Texas Next Summer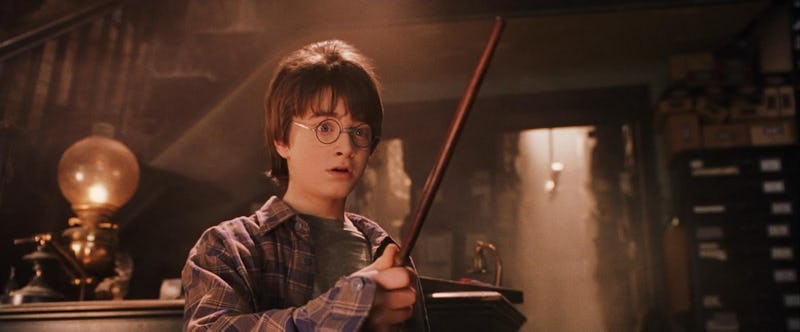 Warner Bros. Pictures
Texas is all set for a ~magical~ 2018. The state will host both the U.S. Quidditch Cup and the LeakyCon Harry Potter convention next year, so American Potterheads should start clearing space on their calendars. Alas, you will not be able to hit both events in one go. The U.S. Quidditch Cup flies to Round Rock, TX in April, and LeakyCon Apparates into Dallas in August. For those of us Potterheads who live outside of the Lone Star State, 2018 will bring a weighty decision: Quidditch or a Harry Potter convention?
The brainchild of Harry Potter fansite The Leaky Cauldron, LeakyCon is an annual Harry Potter convention held in a different city each year. Previous LeakyCons have descended upon Dublin, London, Orlando, Portland, and Chicago, drawing thousands of Potterheads to hotels and convention centers around the English-speaking world.
LeakyCon 2018 takes place at the Hyatt Regency Dallas from Aug. 10-12. Tickets go on sale Nov. 15, and single-day passes are priced at only $59. If you want to spend the full weekend in Dallas, you'll need to pay a bit more for a $149 General Pass. Potterheads who want the V.I.P. treatment may purchase a Marauder Pass for $349, "which includes celebrity autograph and photograph sessions and exclusive merchandise," according to guidelive.com.
If you've got hot plans for August 2018, you can always attend the U.S. Quidditch Cup 11 when it comes to the Austin suburb of Round Rock, TX on April 14-15. Tickets for the event are not yet on sale, but you can expect information on that front to appear any day now. Tickets for the Kissimee, Fla.-hosted U.S. Quidditch Cup 10 started at the low, low price of $12. Those Potterheads for whom Texas is too far a drive should note that spectators may attend any of the eight regional championships, which will be held across the country between October 2017 and March 2018, for free.
No talent has been announced for LeakyCon 2018, but previous events have featured Harry Potter actors, special-effects creators, Harry Potter podcasters, Wrock — that's wizard rock — musicians, YA author John Green, and even Starkids, the theater troupe responsible for A Very Potter Musical. When it comes to securing guests, LeakyCon seems to outdo itself every year, so one can only imagine what the organizers will cook up for 2018.
Which Harry Potter actors and crew members do you most want to see at LeakyCon 2018? Let's talk about it on Twitter!