Congresswomen Are Working Across Parties To Stop The Shackling Of Pregnant Prisoners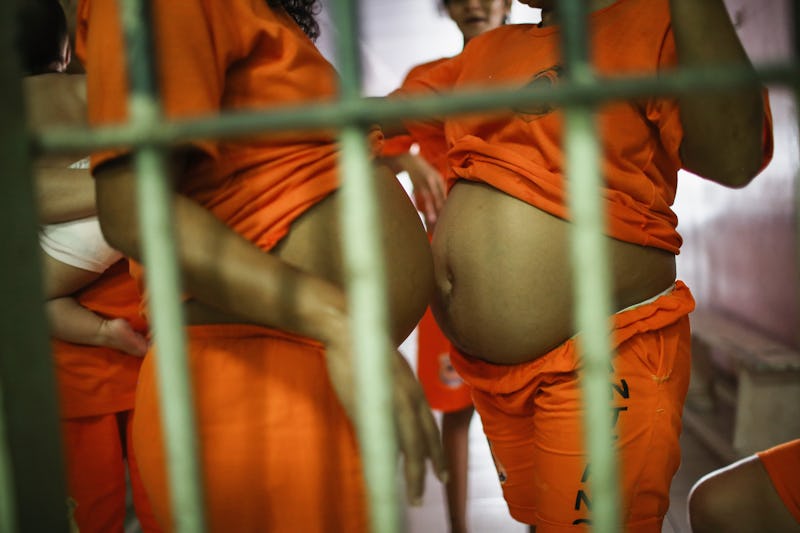 Mario Tama/Getty Images News/Getty Images
These days, it's hard for Republicans and Democrats to come together on issues, but a bipartisan group of congresswomen in the House seem to have found a topic they can all get behind. A group of bipartisan female legislators want to ban shackling pregnant inmates in federal prisons, according to The Washington Post. They introduced a bill to that effect and on Thursday announced that it would also set the bar for the minimum amount of care both incarcerated pregnant women and their babies could legally receive.
The bill would also create programs to train guards working with the expecting inmates and launch a study that looks into the care of pregnant incarcerated women, according to the introduced legislation. The act will be known as the Protecting the Health and Wellness of Babies and Pregnant Women in Custody Act; more simply, it's the Pregnant Women in Custody Act.
According to The Washington Post, the legislation would virtually codify into law rules that are already in place under the Federal Bureau of Prisons (BOP). Their policy says that pregnant women shouldn't be restrained unless they are a threat or an escape risk.
The bipartisan bill was sponsored by California Democrat Rep. Karen Bass and Utah Republican Rep. Mia Love. Love wrote about the bill on Twitter, emphasizing the fact that the legislation had support from both Republicans and Democrats. "I'm proud to co-introduce bipartisan legislation (W/ ‪@RepKarenBass (D-CA) to outlaw the shackling of pregnant women and provide a standard of care in federal prisons," Love wrote. "The majority of women Republicans and Democrats have signed on with us."
Meanwhile, Bass emphasized that shackling a woman can lead to complications and dangers for a pregnancy. "The idea that a pregnant woman is going to escape anywhere when she can barely walk is ludicrous," Bass told The Post about the bill. "Shackling women on the wrists, waist and legs is a dangerous practice and a cruel practice."
The Post noted that medical experts say that restraints can cause women to be unsteady and fall, which can lead to complications during childbirth. The American Medical Association and The American College of Obstetricians and Gynecologists also oppose the practice of restraining women during childbirth, The Post noted. Meanwhile, the American Psychological Association wrote in a release that shackling expectant mothers is a "dangerous and degrading practice [that] stands in direct conflict with our commitment to opposing cruel, inhuman, and degrading punishment and to promoting human and civil rights." This all comes as women are being incarcerated at higher rates than in past decades, and about two dozen states are fighting to prohibit shackling pregnant inmates, The Post noted.
For further context about the fight to free pregnant inmates of their shackles, back in 2012, ABC News reported that a woman named Valerie Nabors gave birth to her daughter in prison with her legs shackled during labor — breaking Nevada state law. Nabors sued the the state of Nevada and alleged she separated her pelvic bones during labor because of her restraints, The New York Times reported.
All this is to say that there's been quite a bit of build up on the front of restraining incarcerated women. This bill will be one to watch, whether you're an advocate for inmate rights or you just want to see something bipartisan happen in Congress.