LFO Singer Devin Lima Has Been Diagnosed With Stage 4 Cancer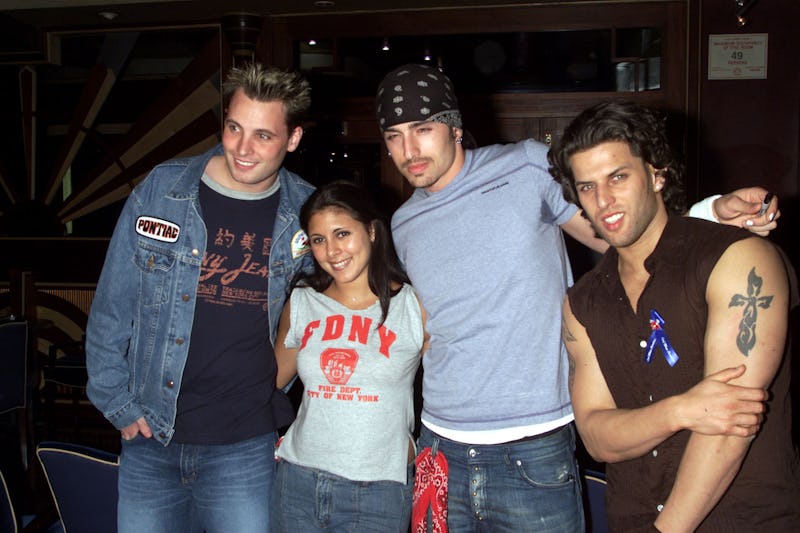 Gabe Palacio/Getty Images Entertainment/Getty Images
Sad news for boyband fans everywhere. LFO singer Devin Lima has been diagnosed with stage 4 cancer, according to a statement his rep, Alaina Bendi, issued to Us Weekly on Monday. Lima is suffering from adrenal cancer, a rare type that only affects one out of every one million people. And although he underwent surgery last week to remove a tumor, his battle isn't over yet and it will involve treatment.
Bendi's statement to Us said:
"While the tumor was removed in its entirety, the concern is that the cancer cells may still be present in the body so Devin will go through chemo and radiation as part of his treatment plan."
She also added that Lima's friend and fellow LFO bandmate, Brad Fichetti, has "been by his side since day one when Devin fell ill," so it's no surprise that he was the one who took to Instagram last Monday to share the news with the band's fans and give an update on Lima's condition. Although the post was written before the results came back positive for cancer, Fichetti said that despite the fact that Lima was in "a tremendous amount of pain," he was in good spirits and planned to get back to making music as soon as his diaphragm was healed after surgery.
LFO may have reached the height of their popularity in 1999 when "Summer Girls" topped the charts, but this year, they were preparing for a comeback. In July, they released their latest single, "Perfect 10" — their first since losing frontman Rich Cronin in 2010 when he had a stroke after battling myelogenous leukemia for five years. The band was set to head out on tour next spring, but after Lima's diagnosis, the tour — to be called "Rich In Love" in memory of Cronin — was postponed, although it sounds like they plan to reschedule when they have a better idea of what Lima's recovery will look like.
When news first broke of Lima's tumor last week, Fischetti told Page Six:
"Devin's surgery went very well. The tumor was successfully removed. His left kidney and adrenal gland were also removed as they were engulfed by the football size tumor in his abdomen. Thankfully, the surgeons were able to save all of his other internal organs."
Following surgery, Fischetti shared a video about Lima's surgery on LFO's YouTube page, including footage of him in the hospital while he was recovering after his operation. Fischetti explained that even though his tumor was quite large, the surgery went well. Lima, wearing his sunglasses even in his hospital bed, seemed to be in good spirits, cracking jokes and blowing kisses to the camera.
And then, on Monday, Fischetti shared a video update after Lima had received the pathology results that determined he had cancer.
In the video, Fischetti explained that Lima is now home and resting, and that further treatment is necessary because his cancer is aggressive and doctors are "concerned there may be cancer cells present in his body." Fischetti added:
"It's devastating news, but at the same time, there's nobody I know stronger than Devin Lima. No one has a stronger body, mind, or soul, and if anybody can defeat this, it's Devin. I know with your prayers, and your thoughts, and your positive energy coming Devin's way, there's no doubt that he will beat it and achieve the goals he wants to achieve, including getting back on the stage."
Here's hoping Lima has a speedy recovery. With Fischetti by his side and his fans rooting for him, it sounds like he has plenty of support during this difficult time.